Two weeks ago, we mentioned the Greater Denton Arts Council was circulating an online survey assessing the need for performing or studio space. The survey will help Denton officials determine plans for City Hall West. The committee working on plans for the old city hall is envisioning a mixed-use plan with arts space. A presentation in the works has plans for original council chambers to be restored as a performance area, with seating for about 300.
The restoration committee will have a public "open house" in August. Randy Hunt, a member of the committee, said a date will be announced.
■
It's official: Country artist Pat Green will play the North Texas Fair and Rodeo on Aug. 18, the first Saturday of the rodeo. Heather Bohn, the CEO and owner of HBPR, sent out a press release on Monday announcing that Green has a new single, "Friday's Comin,'" co-written by Zane Williams. The release also included Green's upcoming tour dates.
■
Willie Hudspeth plans to join John Wiggins, a.k.a. Reggie Dee, a South Florida radio personality, on his cross-country Walk for Unity to shine a light on racism next month. Wiggins is planning a 90-day, 3,300-mile trek from West Palm Beach, Florida, to Seattle. Hudspeth says he'll lace up his walking shoes and join Wiggins when he hits the Texas-Louisiana state line around Aug. 28. When the group hits Dallas, Hudspeth says they will whisk up to Denton for a rally before Wiggins heads out. See more on Hudspeth's GoFundMe page.
■
Lewisville officials hired Sanger artist David Iles to create a bronze sculpture of Wayne Ferguson, former mayor and land developer for the city. The Ferguson family recruited Iles for the project, which will eventually install the bronze likeness in Wayne Ferguson Plaza, located in Old Town Lewisville. The sculpture will depict Ferguson seated on the wall along the boardwalk, under a redbud tree about 50 feet from the gateway off Charles Street. He will be wearing his favorite boots and hat while looking at a map of the plaza.
City officials reported that the sculpture will cost $90,000 and should take eight to 12 months for Iles to complete. Iles' work is well known in Denton. His bronze sculptures of native Texas animals are at the University of North Texas Environmental Education, Science and Technology Building, and his bronze sculpture November Devil is at the corner of Locust and Hickory streets on the Square.
■
CableTV.com decided to set itself about some important work: finding out which Marvel superhero is preferred by each state. The website was inspired by last weekend's release of the latest Marvel movie, Ant-Man and the Wasp. Texas stayed true to its reputation and chose Captain America as its favorite Marvel superhero. The most popular superhero of all in this survey? Iron Man. Congratulations, Mr. Stark. But around these parts, we prefer a super soldier.
■
We have a mystery on our hands. A reader told us a few weeks ago that a bench behind Wells Fargo Bank had disappeared. The metal bench was at the corner of Locust and East Walnut streets for years. The bench was part of a sad story: A 24-year-old man was found dead on the bench after an overdose in 2016. Officials at Wells Fargo, Jack Bell Property Management and city staff have reported that they don't know the whereabouts of the bench. Where could it be?
■
Chris Hayes, an MSNBC pundit and an editor at The Nation, took an unnecessary swipe at an essay by Denton business owner Emily Roden in a Tuesday tweet. Hayes tweeted about an essay Roden penned for RodenforDenton.com (a blog by her husband and former City Council member Kevin Roden) that resurfaced on The Dallas Morning News website in March — after it was originally published in December 2016.
In her column, Roden recalled serving on a jury for a man tried for sexually assaulting his girlfriend's young daughter. Rex Tillerson, the former secretary of state under Donald Trump, was also a juror. Roden was surprised and moved that Tillerson not only didn't dodge jury duty but helped fellow jurors make a decision to convict.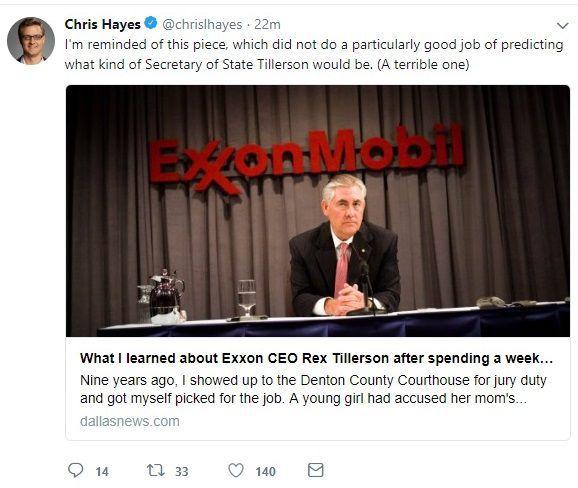 Hayes used the essay as a reminder to his followers that he thinks Tillerson was a "terrible" secretary of state. The degree of sneer in the tweet registered near 11.
■
Don't know if we'd call it good aim or not, but someone at the Yankee Doodle Parade last week hurled a rubber ducky toward the rooftop of Lone Star Attitude Burger Co. and beaned Emily Laughlin in the face. She wasn't seriously injured (of course), but her husband, Jake, caught the flying bath toy. Work on those blocking moves, Jake.
■
Equal Justice Initiative, the good people that gave us the National Memorial for Peace and Justice in Montgomery, Alabama, have a summer reading assignment for us. This week, they released a new report, Segregation in America, at segregationinamerica.eji.org. The report focuses on civil rights-era people and powers that "opposed racial inequality to better understand the challenges before us today." We note, with considerable gravitas, that the report includes prominent Texans and journalists from that era.
Parting shot
"Every time I change wives I should burn the last one. That way I'd be rid of them. They wouldn't be around to complicate my existence. Maybe, that would bring back my youth, too. You kill the woman and you wipe out the past she represents."
— Pablo Picasso, iconic artist of the cubism movement