Denton business owner and transgender activist Amber Briggle saw the Texas flag she won in a League of Women Voters silent auction hoisted over the state Capitol on Jan. 8. Briggle requested that Rep. Donna Howard, D-Austin, raise the flag in honor of transgender Texans. Briggle is the mom of a transgender son, Max. The flag was flown on the first day of the 2019 legislative session.
Calling all fashion designers. SCRAP Denton, a local school and community reuse nonprofit, has opened registration for Trashion Fashion — a fashion show featuring garments made of discarded material and items. Designers of all ages are invited to rescue items and material destined for the landfill and turn them into gowns, skirts, blouses and more exhibited at the Redbud Festival. Register online. SCRAP Denton will hold two informational meetings at 5:30 p.m. Jan. 22 & 24.
City councilman Paul Meltzer shut down a scam artist who cloned a relative's Facebook profile and in stilted English invited Meltzer to apply for a loan "program." Meltzer asked "Remind me... are you still in Romania or have you gone back to Ukraine?" The scammer immediately said they'd returned to Ukraine, and gave up when Meltzer needled the con artist about family.
The Bearded Monk is a downtown growler bar that first spawned T-shirts and pint glasses with its cool logo. Most recently, Cast N Play, a company that designs tabletop models created by 3D printers, designed a Bearded Monk mini model. Local photographer Ed Steele printed the figurine out. It's a dark gray figure of the hooded monk holding a frothy beer.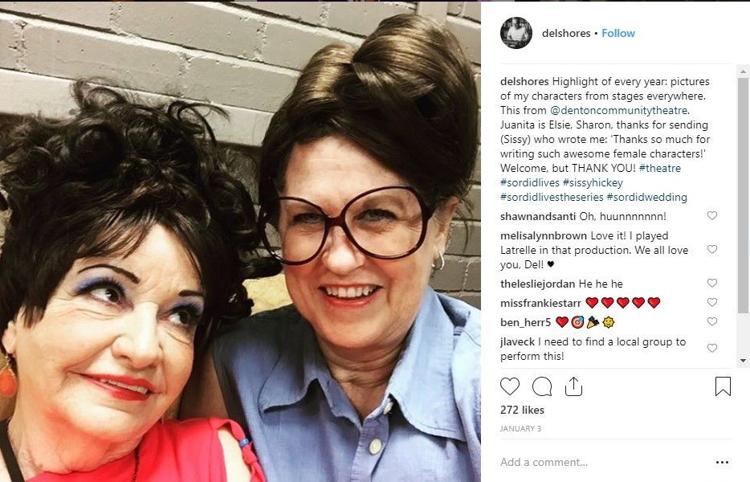 Texas playwright Del Shores has a lively Instagram account. He loves to see photos of his characters on stages everywhere. On Jan. 3, Shores posted a photo of Elsie Barrow as Juanita and Sharon Barnhill as Sissie in Denton Community Theatre's 2018 staging of Shores' Sordid Lives.
Local attorney Adam Whitten unlocked his Twitter account this year to get an answer to one very important question: Can Jason Momoa of Aquaman eat 50 hard boiled eggs in an hour? Diligently every day this year, Whitten tags a new account daily that's connected to Momoa. So far, no answers, but we respect the journey. Oh, and Mr. Whitten, where is this curiosity coming from? Did Momoa mention an admiration for Cool Hand Luke, or are you hoping to put the beefy actor's apparent strength to the test?
Parting shot
"Your success and happiness lies in you. Resolve to keep happy, and your joy and you shall form an invincible host against difficulties."
— Helen Keller, a writer who persevered beyond blindness, deafness and muteness