A few weeks ago, we told you that Denton attorney Adam Whitten was on a mission to find out if the world of Cool Hand Luke and the universe of Aquaman might intersect. Whitten has been tweeting to all the colleagues of superstar Jason Momoa (who just played the title role in Aquaman) asking if the beefy actor can chow down on 50 hard-boiled eggs in an hour. Finally, a Momoa-adjacent celebrity responded.
Dave Bautista, best known as the hulking Drax in Guardians of the Galaxy, weighed in on Sunday night: "No one can! Except me and Luke! But no one else, and I mean no one else can eat 50 eggs in an hour."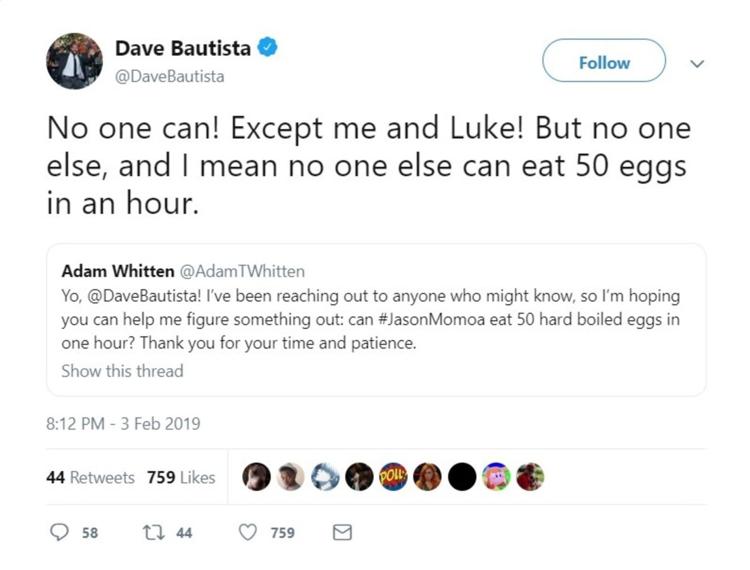 ■
A reader wants to know what happened to the flying rubber chickens at University of North Texas basketball games.
Over the years, during halftime at Mean Green home game, a group would launch a rubber chicken in the air, and people in the stands would try to catch it with a basket attached to their heads.
Denton Record-Chronicle sports reporter Brett Vito isn't sure what happened to the stunt. Here's hoping the rubber chickens fly once more.
■
Both Serve Denton and the United Way of Denton County already do a lot of work in Denton County.
But both nonprofits have taken an intentional step that could pay dividends in the county for decades to come.
Both organizations have nonprofit leadership programs to train volunteers to be good stewards of nonprofit money and time and to develop a keener intuition about nonprofit missions and visions.
The United Way of Denton County celebrates 10 years of Project Blueprint, a training program that grooms volunteer leadership.
(Thirteen 2018 graduates completed board training: Heather Barahona, Tanya Blixt, Rodney Coe, Marsha Cooper, Karla Fopiano, Cynthia Gill, Angela Grubke, Jessie Hendrickson, Jamel Jackson, Alysia Jordan, Nia Simmons, Kim Vaughn, and Jodi Vicars-Nance.) Project Blueprint looks more corporate, with leaders presenting training on board operation and governance, fundraising, strategic planning, conflict resolution and advocacy.
Serve Denton's Nonprofit Leadership Program looks more volunteer-oriented, teaching strategic planning, work/life balance, board dynamics, leading with a coaching approach, developing a personal philosophy of leadership and partnering with your board for fundraising success.
■
Are you a movie lover? Well, the Milwaukee, Wisconsin-based Marcus Theatres just bought Movie Tavern. The new parent company will charge local patrons $5 for admission to any movie on Tuesday. You get some free popcorn to boot.
■
Denton musician and sound engineer Kelly Upshaw recently got to mix sound at Sons of Hermann Hall for Josh Radnor (Ted from How I Met Your Mother) and Australian actor and musician Ben Lee. Radnor and Lee were opening for singer-songwriter and pianist Rachael Yamagata.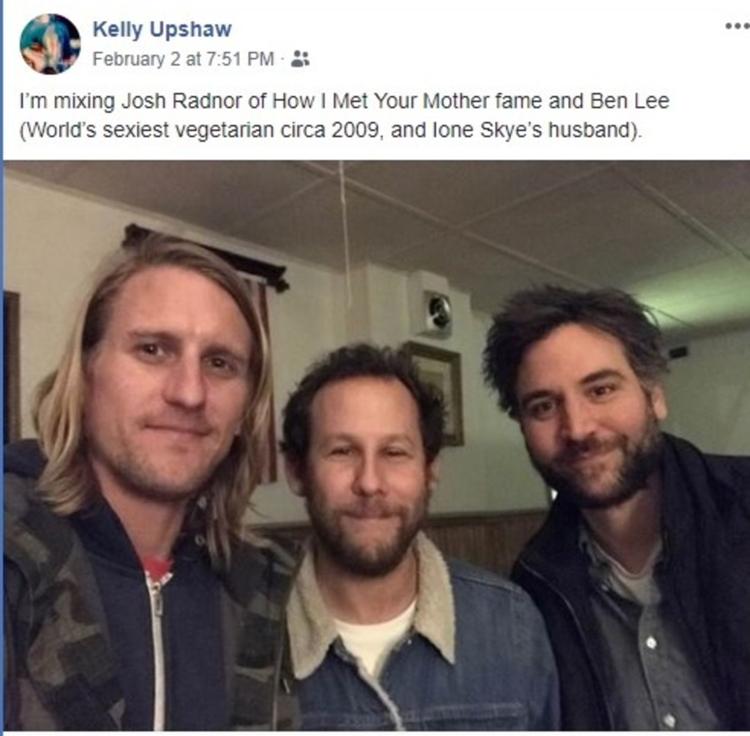 ■
Jennifer Leitham, a jazz double bassist, will be on the UNT campus on Monday and Tuesday, Feb. 11-12. She'll be present for the screening of I Stand Corrected, a documentary about her journey as a transgender woman and how she risked her career to have gender reassignment surgery. Leitham will sit in on classes Monday, and will speak, perform and lead a master class on Tuesday. Her visit is presented by the UNT Office of Equity and Diversity and the Black Out Alliance.
■
A Denton County Commissioners Court meeting on Tuesday featured Willie Hudspeth giving a clapback appropriate for the start of Black History Month. Commissioner Ron Marchant told Hudspeth he's been praying for Hudspeth recently. Marchant referenced lyrics from a Tasha Cobbs song called "Break Every Chain" to tell Hudspeth that he hopes Hudspeth can achieve his goals. Hudspeth, who at most commissioners court meetings speaks publicly so officials can see the effects of racism, said, "I'm not going to be here to break your chain."
Parting shot
"God created man and, finding him not sufficiently alone, gave him a companion to make him feel his solitude more keenly."
— Paul Valery, French poet, 1871-1945