Serve Denton's staff is growing. University of North Texas graduate Julie Elliott has been chosen to be the nonprofit agency's development director. Elliott started out at the nonprofit as a communications intern. In her new position, Elliott will write grant proposals, research grants and develop relationships between the nonprofit and donors. Serve Denton provides low-cost office space to local nonprofits and administrates the Wheeler House, a transitional housing nonprofit which provides a home for single mothers and their children for three to six months. Elliott earned a bachelor's degree in emergency administration and planning from the UNT in 2016.
Denton County Transportation Authority unveiled its new website on Monday. It has a responsive design that moves riders from a desktop computer view to their smartphones. The best update is in the schedules and maps, which you can zoom for a closer view of surrounding landmarks, streets and buildings. Also better: You can enlarge the route maps and without losing readable resolution. You can also get to the fare pass purchase point without as much hunting.
Denton band Sad Cops tweeted to popular beverage company La Croix asking for a sponsorship, seeing as the band just made its second music video including the bubbly drink. La Croix sent the band what looked like a small shipment of cases of the drink. (For those of you who don't know what La Croix is, another tweet said it best "La Croix tastes like someone ate a fruit salad and then burped into your water bottle." It's basically seltzer water with a hint of flavoring.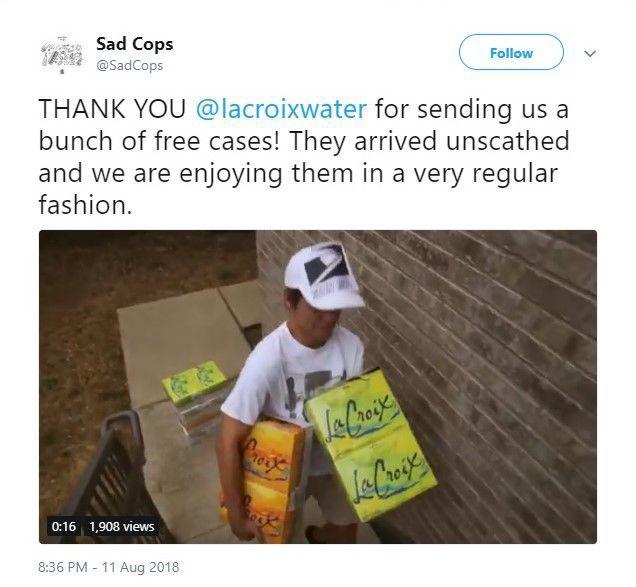 We told you about the 2018 Vote Town Hall from 7 to 9 p.m. Sept. 20 at Martin Luther King Jr. Recreation Center. The event just announced its participants: Texas state Sen. Royce West, national voting rights coordinator Justin Kwasa of the Washington, D.C.-based Lawyers' Committee for Civil Rights Under Law and Emily Meisner, president of Denton Vote Group. An expert panel will attend to take and answer questions: Sheri Gipson, Texas Department of Public Safety; Bob Lydia, Texas NAACP; Willie Hudspeth, Denton County Branch NAACP; Lillian Adams, LULAC; Christina Adkins, Texas secretary of state; Sharon Watkins Jones, ACLU of Texas; Courtney Cross, League of Women Voters of Denton and Paula Paschal, Denton County Elections.
The town hall will demystify voting — explaining voter identification laws, required documents for voting and the like. The event also will broach voter identification laws, voter suppression redistricting and election protection. It's free, and attendees can register to vote at the event. If you aren't sure if you're registered, visit https://www.vote.org/am-i-registered-to-vote/ and fill out your information. Texans must register by Oct. 9 to vote in the 2018 midterm elections on Nov. 6.
Courtney Marie, a Denton poet and co-founder of the city's coolest creative collective, Spiderweb Salon, is publishing her first solo book through local indie publisher Goliad Media.
CoServe Electric donated $17,196.45 to Our Daily Bread, Denton's nonprofit soup kitchen. The donation will fund the renovation of the kitchen at St. Andrew Presbyterian Church, where a crew cooks and serves lunches Monday through Saturdays (and dinners on Monday nights). Chef Liz Whitaker said in the agency newsletter that her cornbread will come out "level" once the church kitchen gets a new oven.
Small churches can do big work. Krum First United Methodist Church assembled 168 backpacks, each of them filled with school supplies, for needy children who attend Krum Independent School District schools. And on Monday, the church hosted a prayer breakfast for Krum ISD teachers before they began their in-service work at back-to-school preparation.
Parting shot
"This is what happens when the whole state prays for rain. Texas. Go big or go home."
— Abril Goforth, former pastor of Blue Mound United Methodist Church in Denton and current senior pastor at First United Methodist Church of Lewisville