We couldn't help but notice all the creative ways people tried to prepare their vehicles for last week's threat of "giant" hail, with some efforts likely to make no difference when ice the size of a softball is hurtling toward a windshield at 100+ mph. People parked under trees and overhangs and elevated freeways. They wrapped their cars in everything from cardboard and bubble wrap to pool noodles and sleeping bags. We suspect many people had no other option to try to protect their most costly investment. But we suspect others could benefit from a little more planning or simply channeling Marie Kondo and cleaning out the garage.
Last Friday, when the last note Denton soprano Bunny Hodges sang at the community Good Friday service vanished into the air at First Christian Church, the only sound was that of weeping.
Music minister Mark Graham assembled a service of scripture and song that took Christians who attended the service through the stations of the cross.
Graham brought in some of the best voices in the region to perform solos with the church's choir.
University of North Texas voice professor and bass Jeffrey Snider sang two pieces. "Via Dolorosa" was his most memorable. Soprano Helen Reikovsky took on Barber's "The Crucifixion" from Hermit Songs.
Baritone and rising star Malcolm Payne Jr. sang a stirring rendition of "Take My Mother Home."
UNT music professor and cellist Nikola Nino Ruzevic didn't lose his composure when his cello slipped on the church's tile floor — not once, but twice — during his performance of Saint-Saens' "The Swan" and Bach's "Andante."
It was an exemplary service, and by the number of people in tears, a meaningful moment at the end of Holy Week.
Let's take a moment to appreciate the guts and sense of humor on the part of some musicians who will perform at the Denton Arts & Jazz Festival this weekend. A band called Bayou A Drink plays the Festival Stage at 4 p.m. Friday. A group of current events lovers seems to have coined their group Immigrant Punk (2 p.m. Sunday at the Celebration Stage) and Skip & the Bad Hombres tip a red MAGA hat to the commander in chief (or maybe the band bites its thumb at the Oval Office?). We're suckers for funny or clever band names here, and this year's lineup obliges.
Glen Farris is a Denton resident and musician — and he's also a foodie. His wife, Alyssa Stevenson, is a fantastic home cook (she wrote the food-centered Flavor Junkie feature for the Denton Record-Chronicle's short-lived magazine Little D After Dark). Stevenson snapped a photo of her husband's rib-eye roast and posted it on Instagram. Then, a senior food editor from Bon Appetit re-posted it. Farris' only gripe? His wife didn't tag him. Sounds like married life in the era of social media to us.
Alexey Root, a Denton resident and the 1989 U.S. women's chess champion, will make an appearance at the 2019 National Junior High School Chess Championship. The championship will be held this week — Thursday through Sunday — at the Gaylord Texan Resort & Convention Center in Grapevine.
Serve Denton named Bartel Ready Mix its business partner of the month for April. The business donated $36,000 worth of concrete for the Serve Denton Center and the Wheeler House. In 2015, when Serve Denton was opening the Wheeler House, Bartel Ready Mix donated all of the concrete needed for a new parking lot — valued at $21,000. The Wheeler House is a transitional housing facility for moms and their kids managed by Giving Hope Inc. In 2019, Bartel Ready Mix gave Serve Denton a discount on concrete to help with the expansion of the Serve Denton Center — valued at $15,000. Serve Denton partners with other nonprofits to make services more accessible to people in need.
We noticed that the downtown Denton Wells Fargo location was putting the finishing touches on what looked like a new ATM on the Locust Street side of the building. The contractor applying caulking might have been sealing a new surface around the console of the machine, but the whole thing looked new.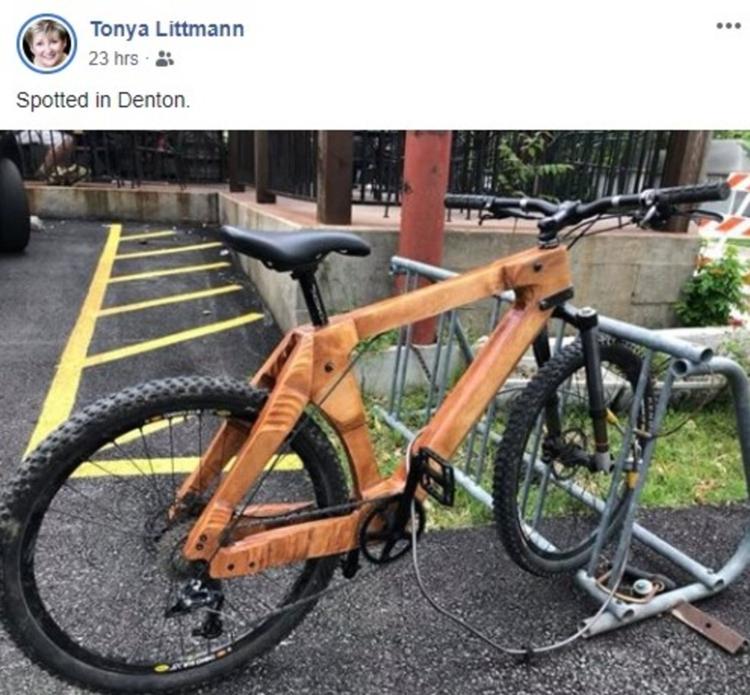 Someone in Denton fashioned a homemade bicycle frame out of wood. A local artist, Tonya Littman, saw the bicycle and its rider, who explained that he made the bike himself. Impressive.
100 Dentonites Who Give A Damn is a group that gathers four times a year for a one-hour meeting. During the meeting, each member writes a $100 check to a charity that the group selects for a combined donation of about $10,000. On Tuesday night, the group — which brought 85 donors together — gave $8,500 to First Refuge, a ministry of First Baptist Church that offers dental and health care, a food pantry and counseling for people in need. The donors watched presentations from First Refuge, Denton County Friends of the Family and Cumberland Presbyterian Children's Home.
Parting Shot
"'Mom wanted me to be a scientist. Dad wanted me to be a lawyer,' I thought as I wiped the last of the make up off from the Super Saiyan Showdown event."
— Sonny Strait, Denton artist and voice actor