TV-PG, about 27-35 minutes per episode.
Critic's note: The following thoughts are based on the new series' first three episodes made available to the press. The series debut on Disney+ this Friday will include a two-episode special, with new episodes releasing each Friday. The first season will have eight episodes in total.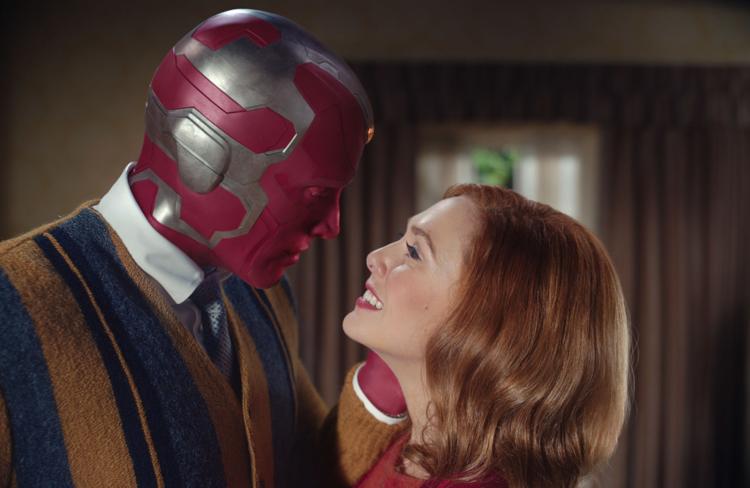 Marvel Studios has always kept us in the dark with its projects. Considering its films have pulled in millions upon millions of dollars, who could blame these filmmakers? The Disney-owned company knows how much viewers love these characters, the colorful universe, and the surprises along the way. It gets us talking, speculating, and wondering the true fate of these Marvel superheroes.
With the infamous snap, Thanos' wrath, and Spider-Man: Far From Home in the rearview, Marvel Studios continues to push its creativity and explore the characters within its team roster. This has led us to Disney+ and its series structure, giving us more time for things to get daring — as they do with the first series outing, WandaVision.
Set after the events of Avengers: Endgame, WandaVision centers on Wanda Maximoff (Elizabeth Olsen), a.k.a. Scarlet Witch, and super android, Vision (Paul Bettany), as they try to live out an idealized suburban life in a small town. It's as if they are stuck in various historical sitcoms, such as I Love Lucy, The Dick Van Dyke Show, The Brady Bunch, and (naturally) Bewitched. None of the town's residents - including Kathryn Hahn, Teyonah Parris, and someone I believe to be a disguised David Schwimmer (or a damn-good look-alike) - knows this power couple has supernatural gifts and abilities.
But how can this be? Where does this fit in the Marvel Universe? Are Wanda and Vision trapped in some Pleasantville/Truman Show experiment? When does the truth kick in?
So, what's going on? (Spoiler-free)
The series is directed by Matt Shankman, who directed various episodes of television like Game of Thrones, It's Always Sunny in Philadelphia, and The Boys. It's the first of many shows among a growing arsenal of Marvel series that will premiere on Disney+. The Falcon and the Winter Soldier, Loki, and Hawkeye will hit later this year or next.
Obviously, I want to protect your viewing experience as much as possible. All I can say about the plot is something is off about this suburban lifestyle and nothing is as it seems. As clever, fun, and funny as it is to see these superheroes walking around in these spaces, trying to live normal lives (like Vision doing a desk job), at some point, the secrets have to be revealed.
But will you have the patience to wait for it?
Does Disney+'s one-episode-per-week model fit?
Disney+ releases episodes weekly rather than all at once.
Here, that may prove to be a frustrating experience. Watching these three episodes is like watching a fraction of a David Lynch movie. If you've ever seen Lynch's work, you know how erratic, confusing, and difficult it can be to immerse yourself in the story. Everything is left of center, and you feel like you're a part of an extended joke that seems like it's never going to end. The line between reality and illusion is blurred, and it proves to be an acquired taste in WandaVision.
With The Mandalorian, each episode is more straightforward. They each have a beginning, middle, and end, and it wraps up in a fashion that has you curious to know what's to come the following week. While each story in WandaVision has its beginning, middle, and end, along with a tease of what's really going, you may not feel as compelled to tune in each week.
This is going to be a slow burn series where what happens during its first season's conclusion will either make or break it. When you're dealing with surreal material like this, not being able to roll through the entire series in one sitting is admittedly taxing. It may cause you to say, "This is just too weird," and you may fail to connect, especially coming off more than 20 Marvel movies that (more or less) follow the same kind of approachable narrative structure. This is the first entry that is really going for something else entirely. So, it depends on what kind of viewer you are. You may watch some and be like, "Eh. I will wait until more is revealed and more episodes come out, so I don't have to sit confused as long."
What works best?
The performances are delightful. It's pure joy to watch Olsen and Bettany poke fun at these sitcom roles, speak in the exaggerated tone of the period, and try to blanket the truth about themselves. There are even amusing little ads inserted in each episode. (Pay close attention to some of them.) So, it's clear everyone is having a ball, hamming it up to the sky, most notably Kathryn Hahn as a nosy neighbor. Her wink-wink delivery is simply delicious.
Overall thoughts
It's a bit of a mixed bag thus far. Too challenging to judge it from what little is here. It's incredibly different and weird, but it also plants a smile on your face. So, give it a try, talk to others who've seen it after, and see if you want to continue or wait until the story has opened up more.