Except for flashes of gold, bronze and platinum, the art in Randall M. Good uses mostly colors found in the soil.
Deep reds, browns, tans and terra cotta make up most of the palette of "Cantos From the New Pantheon," which is the final exhibit at UNT on the Square before the university's merchandising and hospitality college takes over the downtown space.
The paintings in "New Pantheon" do have pulses of color — brilliant peacock-feather blues, tart oranges, gentler blues and muted greens.
But this exhibit considers the Earth, and the shroud of clay, soil and loam that gives every living thing its food. It's energy. It's reconstituted sunlight, water and air. But then "New Pantheon" is bigger than Earth.
"Many years ago, I was looking for new material. Something that has never been treated artistically," Good said. "So much of my work has been about Judeo-Christian themes, and the Renaissance, with the Roman and Greek styles, have very much been my subjects and my style."
Good considers himself a nature lover.
"I love the way all life interconnects," Good said. "I'm very interested in the environment, and I'm very concerned about it, and that's part of this work. But sometimes, you don't want to lecture people or shake your finger at them. So you have to find a way to bring them into the idea."
"New Pantheon" is just that. It's a new story about the creation of the universe. Good said the stories grew out of daily walks he'd take with his two Weimaraners. He'd indulge in the favorite pastime of many a dog owner.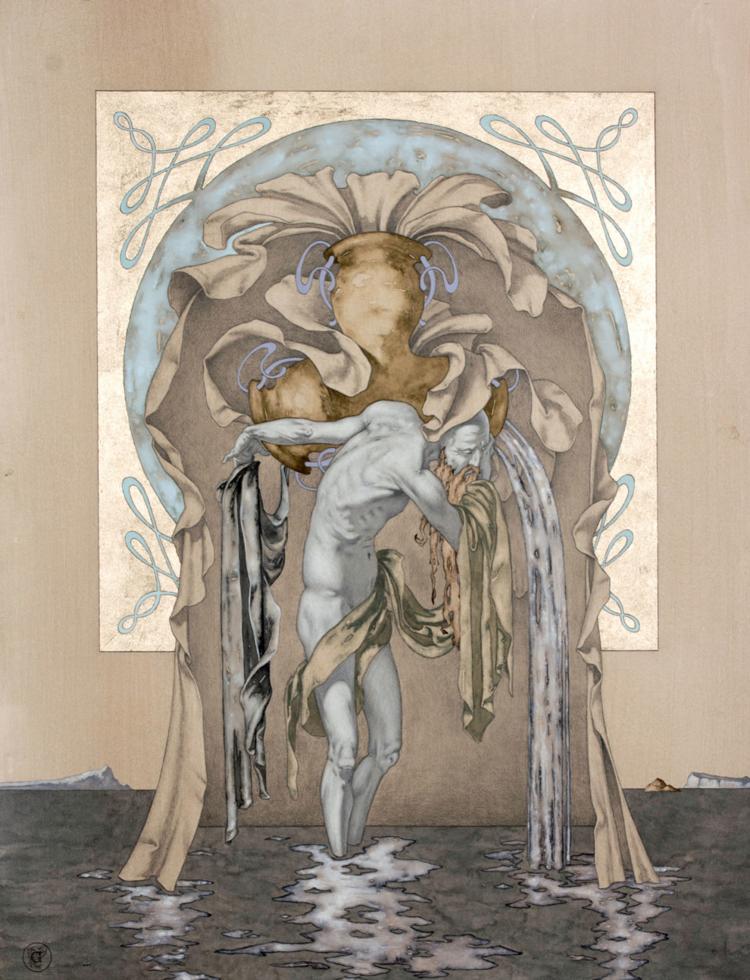 "We'd be walking and I'd see something and tell the dogs what it was. We'd talk about where snow comes from," he said. "One day, we were walking past this brand-new development, and everything had been bulldozed. Every tree had been bulldozed except for one."
The lonely tree became a part of Good's personal cosmogony — his story about the origin of the universe. "New Pantheon" is a collection of large works (there are small study sketches and some small works) about the creators of the universe and the Aeoli and Macheum — angels and entities that embody elements like wind and water or concepts like justice and self-awareness.
"New Pantheon" is a collection of large works (there are small study sketches and some small works) about the creators of the universe and the Aeoli and Macheum — angels and entities that embody elements like wind and water or concepts like justice and self-awareness.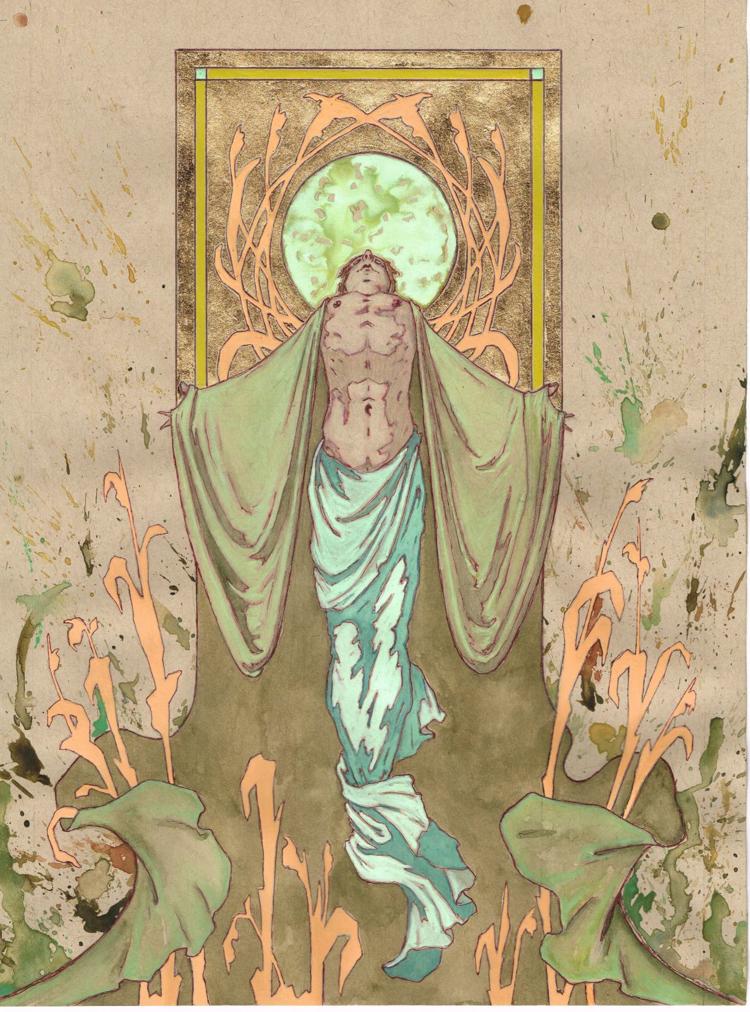 "I started writing this creation story, this cosmogony, to explore my own beliefs," Good said. "I actually never meant for anyone to read them. I was just working through the ideas as a way to visualize the art."
Good ended up doing some readings from the creation story, which he collected in a book titled The Shael Ovalis. Its metaphors are familiar. Creation happens in a sort of big bang, and then the angels become stewards of the creators and the creators' children — demigods.
The stories and the paintings are strongly metaphorical, and Good draws from his classical painting techniques to render images of the characters. There's Typontus, the Aeoli of oceans, rivers and lakes — a sinewy, older figure depicted with a vessel that pours water into the world. There's Nayabella, the haughty, self-centered angel of spring and fertility. She's depicted as a nubile woman with buttery curves and luxurious hair, with roots and shoots growing from her. Gaigophrates, the Aeoli of the Earth, is the most arresting of the exhibit, with vein-like roots surrounding him and pointing to his heart.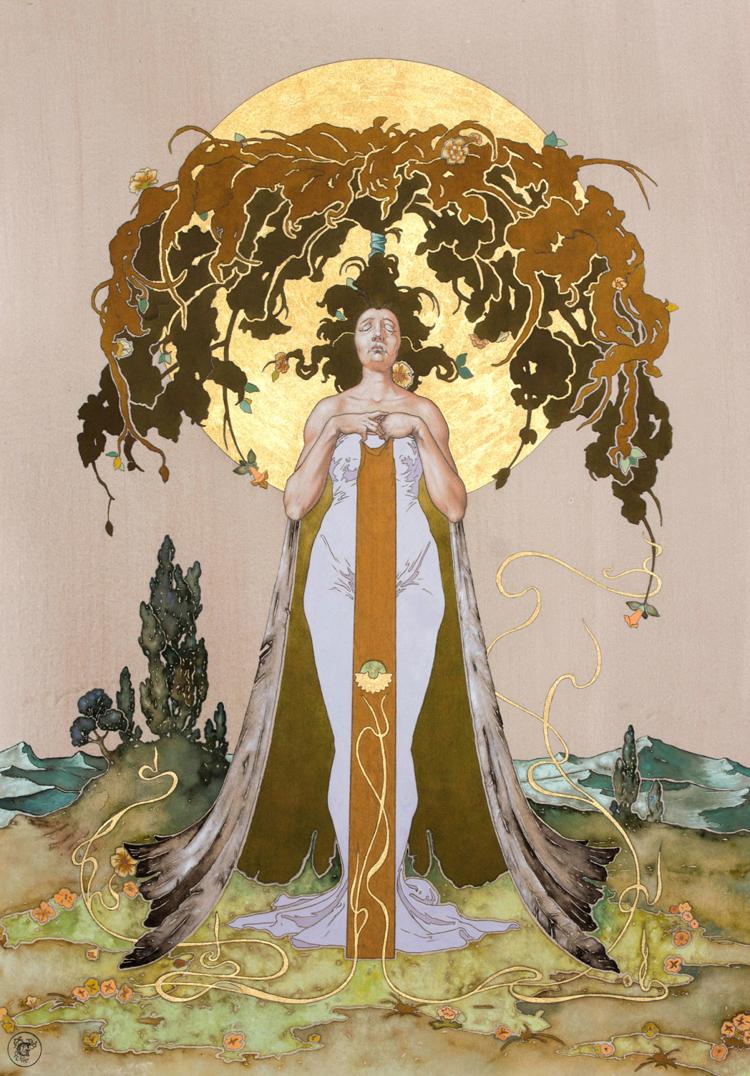 Good creates an icon-like halo around or near each figure painted. His references to Renaissance masterworks show up in the elongated limbs of the figures and in the drama created with the different types of gold leaf — both warm and cool in tone. Shades of Rembrandt come through in Aegeostatius and the Last Tree on Earth. The angel appears broken and exhausted, tangled in the limbs of a bare tree. His raven-colored wings suggest a cross.
"It does look like a crucifixion," Good said. "You can see echoes of Rembrant's The Descent From the Cross. Those masterworks are a big part of my art."
As the project grew, it also went deeper. Good and his wife were at a performance of Faerytale Music, the brainchild of Denton vocalist and musician Lisa West.
"We turned to each other at the same time and said, 'If there is a voice to give life to these stories, it's this one.' Lisa's voice is so ethereal, so otherworldly," he said. "It was just perfect."
West said she was entranced by Good's stories, and absorbed by the written tales. She wrote and recorded music for a backdrop. At the exhibit's opening reception on Friday, she improvised songs about the characters and the narratives of the creation story — conflict, war, creation and consequences.
The music broadens the emotional palette of the art, West said.
"I'll read some dialogue, and there will be some songs," she said. "Some of these stories are really about humanity. And you. They are about the consequences of your choices."
West said the story feels like a universe created by J.R.R. Tolkien, whose work Good confesses he's never read.
"He says he's not a writer, but from what he's given me, he's a writer," West said. "I was really able to relate to this work, and how it addresses us, and who we are when our egos are out of control."
West said she was especially drawn to Elcinoe, the angel depicted as releasing her tears over the Earth. The metaphor suggests the damage humankind is doing to the planet, Good said.
"There are characters you feat only because I fear those things in myself," West said. "Elcinoe is very loving and caring."
In the story, Elcinoe is in love with another demigod, Coellinyus, who is captured and exploited by humans.
"She's been collecting his blood, sweat and his tears for so long, when she finally releases all of her rage, well, the idea of unleashing that on someone, I could do that. It's scary," West said.
Good said he appreciates the colors West has brought to the project. Her work merges classical and jazz elements, and Good said she brings an emotional heft to the project that lends to his own discoveries as he continues to paint.
"I think of Lisa as a Homeric bard. She's a storyteller," he said. "I think this work is something that will occupy me for the rest of my career. I want to plant my flag someplace, and I think artists do their best work when they have something to say. I figure that when I die, I'll be working on one of these."
The exhibit runs through Thursday.