There's always a smorgasbord of sights, sounds and smells at the Denton Community Market. Lately, there's been one more thing to see: A pop-up art element you have just two weekends to see.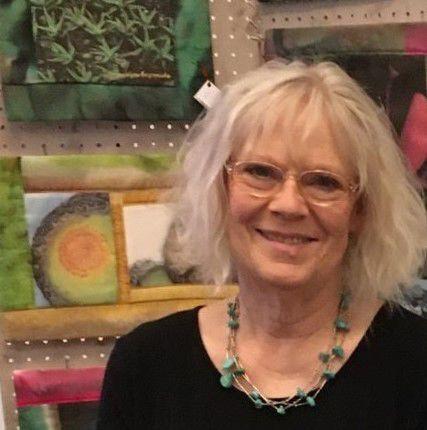 This weekend, Denton fiber artist Ellen Frenkel will exhibit one of her latest works — a meditation on human impact on the environment — displayed on a kiosk the viewer can study while walking around it. For the young and curious, Frenkel will have objects that viewers can touch, smell and inspect as they consider the state of the environment.
Frenkel said she learned about the program through her son, Will, who is also an artist.
"He said, 'You should do this,'" Frenkel said. "But I told him I don't do public art. I work in silk, and it fades in the sun."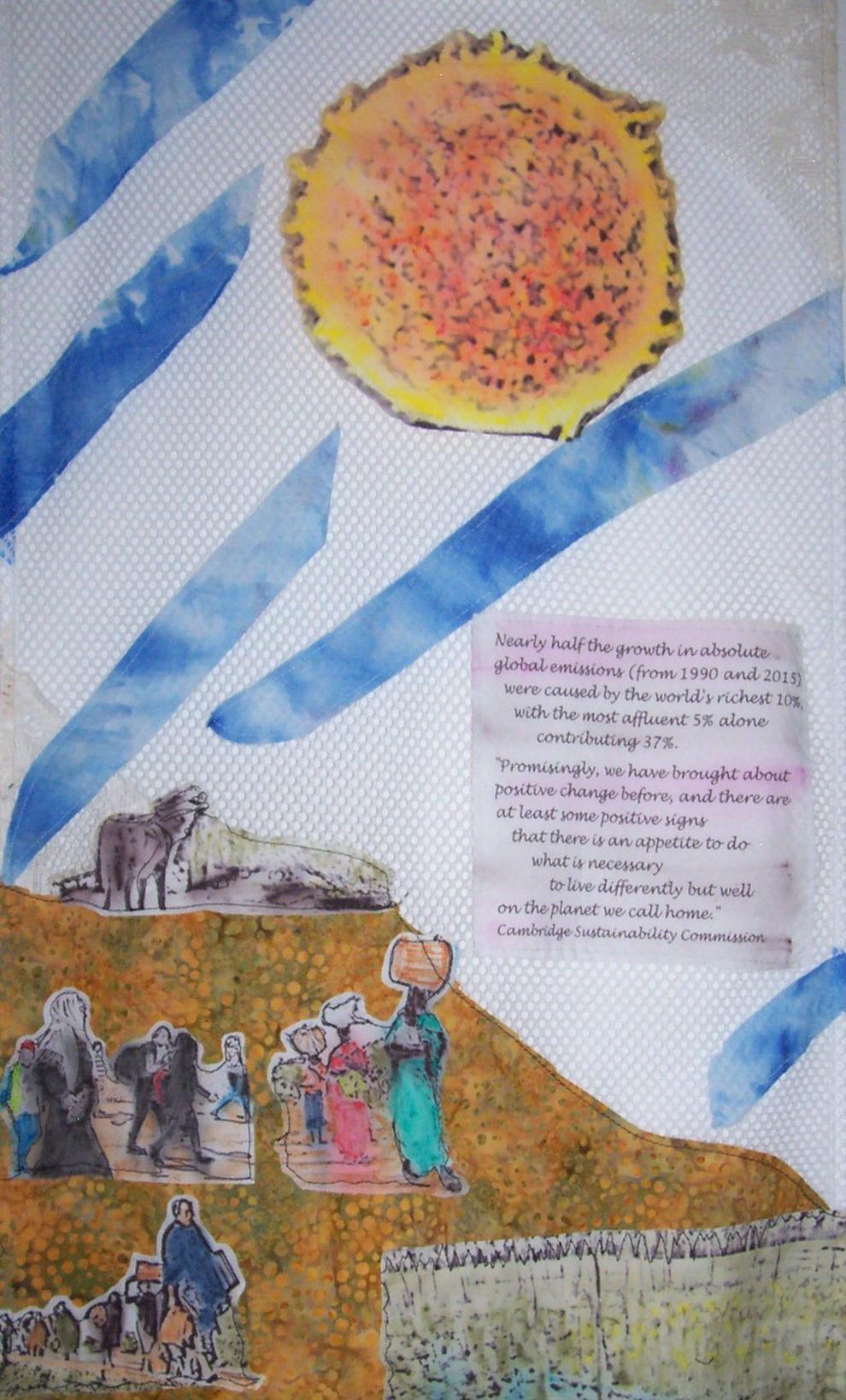 But she looked into the program and submitted an application, and got the green light for a piece. When an artist is selected, they have to exhibit work on two consecutive Saturdays. The market is open from 9 a.m. to 1 p.m. each Saturday at Carroll Boulevard and Mulberry Street, through November.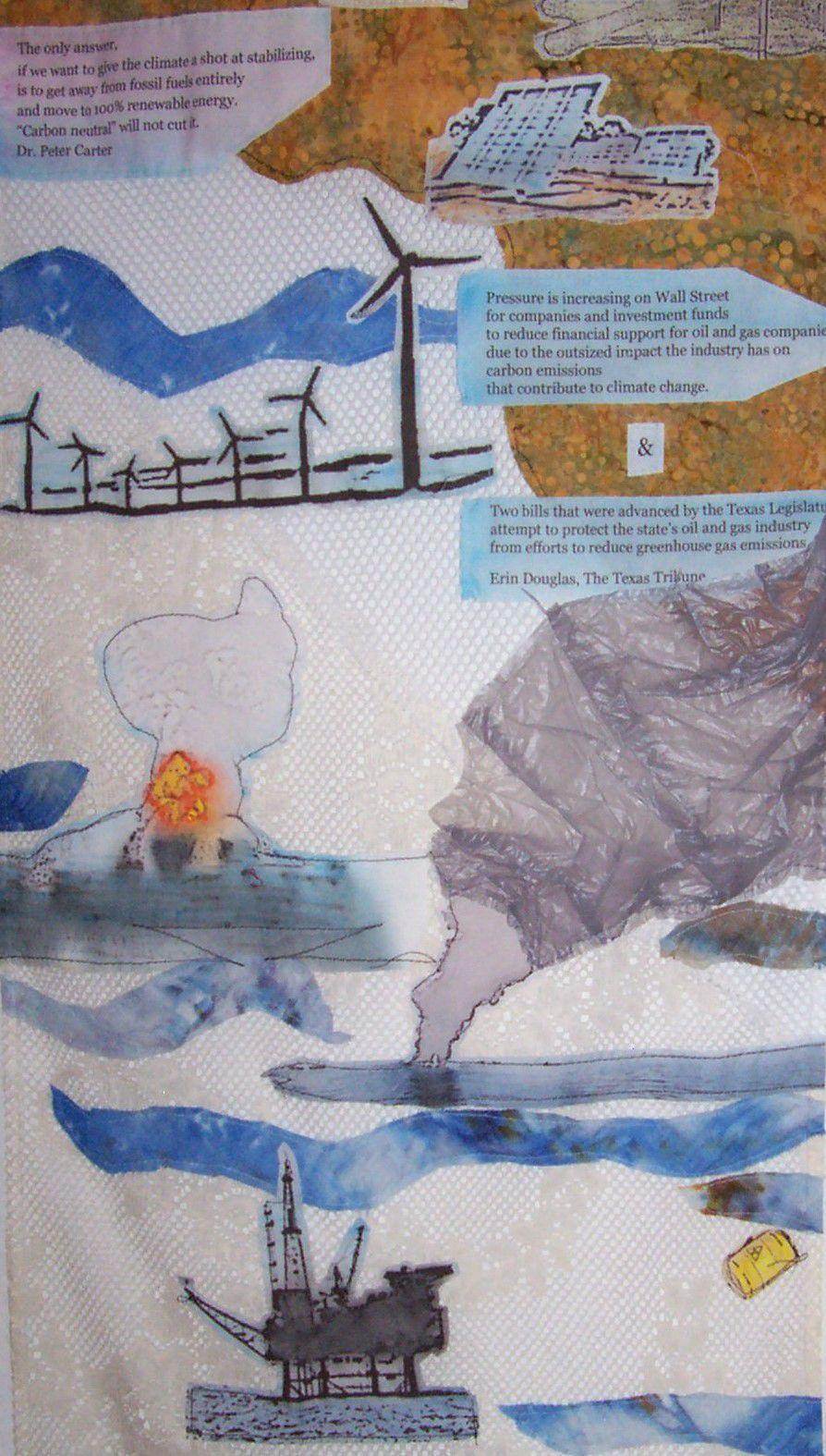 Frenkel's piece takes up most of one of her apartment walls, where she worked on it before building the kiosk for the market display. Spread out, it is reminiscent of a word map, but instead of telling a literal story about land, people, animals and water, the piece considers how human activity affects the planet.
Using the techniques of sewing, painting and collage, she reflects on population, energy and waste by populating the piece with printed, then painted images of people, animals, factory farms, smokestacks and all manner of shipping objects. An image of a Denton power station figures in to the piece. She suggests water with hand-dyed silk swatches, and earth with an expanse of earth-colored fabric. Animals and images dot the landscape, and quotes from scientists and articles are spread throughout the piece. Parts of plastic shopping bags are stitched onto the piece, as well as bits of plastic and found objects.
"I wanted to display it as a kiosk so people can walk around it," Frenkel said. "I also felt like this topic is about a cycle."
Frenkel, who uses quilting and hand embroidery techniques in her work, said her art broaches topics such as human rights, guns, homelessness and social justice. She exhibits the piece on June 5, World Environment Day.
"I wanted this to be serious, but I didn't want it to be depressing," Frenkel said. "I wanted people to look at this and feel hopeful. I'm not a scientist or an expert. So I worry about using something that someone who knows more about the topic could find that I'm wrong. So I lean more toward working with ideas and getting people to think about their part in it."
Frenkel's hands-on activities will include objects like the ocean in a bottle, smell tests, a station that will allow children to identify recyclable materials and a garden in a bowl.
Caro Kauffman, the president of the market's board, said the market brought the public art pieces into the market in 2020.
"We needed to come up with an alternative to continue to support the artists in our community," Kauffman said.
Galleries closed during the pandemic when emergency orders banned mass gatherings. For a town like Denton, which has public galleries full all year, the pandemic was a blow for visual artists accustomed to exhibiting their work.
At the community market, artist could display their work, and people could enjoy it outdoors and with plenty of social distance.
"This was something where artists could display their work at their leisure during market hours," she said.
Susan Thornton, the market's performance and art manager, said artists interested in having a public art piece at the market can inquire about the program on www.dentonmarket.org.