Sometime over the weekend, a vandal defaced the newly painted mural Foundation of Our History at Robertson Street and Bell Avenue.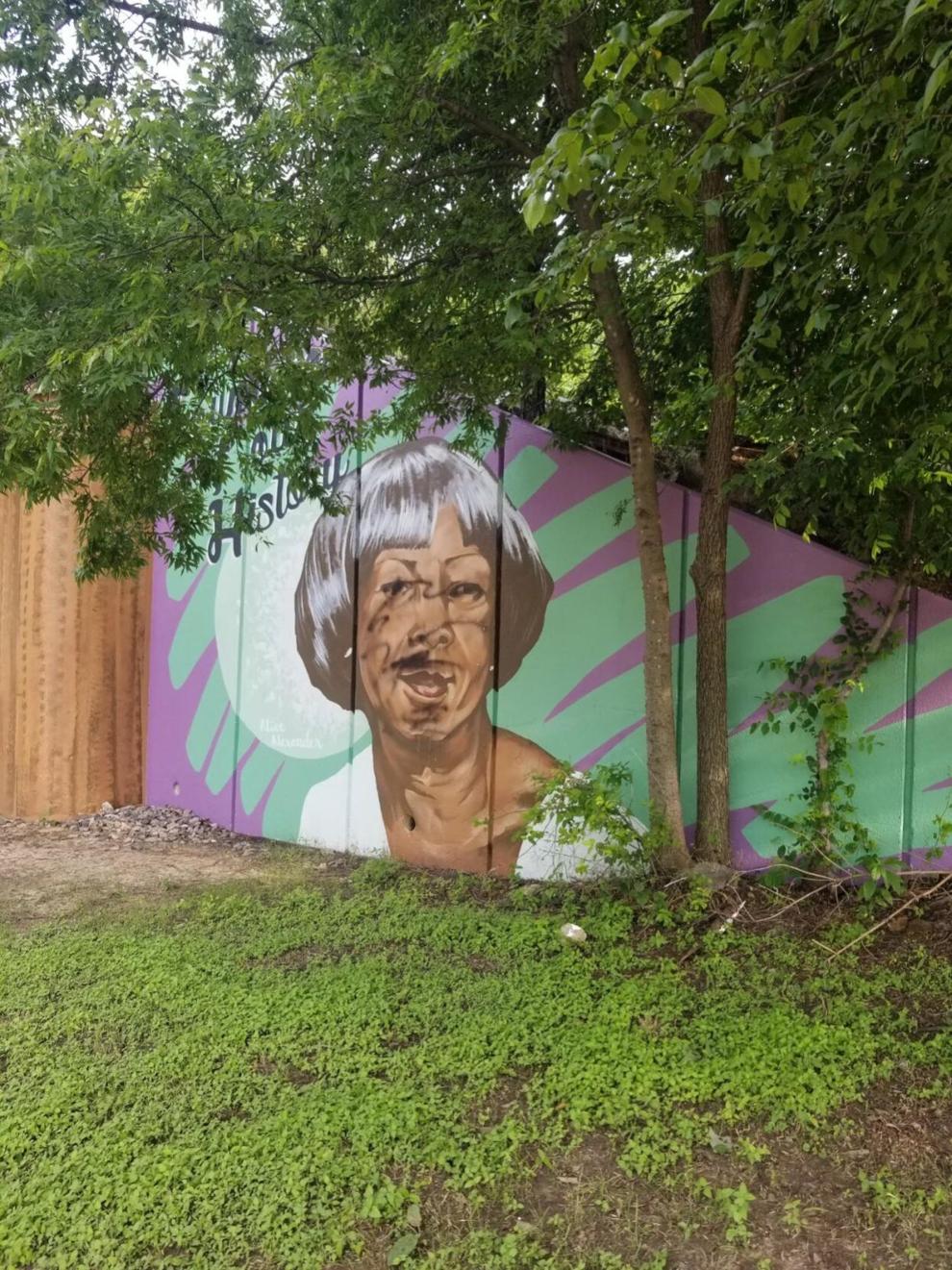 The mural honors Denton's influential Black women leaders and lifelong residents: Betty Kimble, Ruby Cole, Alice Alexander, Alma Clark and Dorothy Minter. Minter worked as a special education administrator for the Denton school district, and Alexander was among the teachers who made the transition from segregated to desegregated schools in Denton. Cole retired as a successful businesswoman. Clark and Kimble were both community activists who ushered real change over the decades.
An earlier iteration of the mural was first painted on the side of a consignment store run by Willie Hudspeth, a local activist who has promoted Black history and anti-racism in Denton for decades. When the owner of the building sold it, Denton's public art committee worked to paint a new version of the mural.
The vandal targeted Alexander's portrait with dark spray paint.
"I was just out there with the city earlier today while they were pressure-washing it off," said Dan Black, the muralist who recently completed the piece at Robertson Street and Bell Avenue, which is considered a gateway to Southeast Denton. That's the region many of Denton's Black residents settled after city and Texas Woman's University leaders forced them to relocate from Quakertown between 1920 and 1923.
"The graffiti coating they used did great. I got some supplies to touch it up. ," Black said, adding that he planned to work on the mural Tuesday night.
Denton Police Department spokeswoman Amy Cunningham said police are investigating the incident but won't know the severity of the crime until the damage is assessed.
"Any charges would depend on the amount of pecuniary loss caused by the offense," Cunningham said. "It is a Class C misdemeanor if the amount is less than $100, a Class B misdemeanor if the amount is $100 or more but less than $750, a Class A misdemeanor if the amount is $750 or more but less than $2,500."
Police will search for and review any surveillance footage captured from nearby cameras in their investigation.
Black said the vandal or vandals used "a rattle can" to apply the paint, but they also threw eggs at the portrait.
"I don't even want to speculate about why someone would do it," Black said. "There's no way to know why someone would do it."
Black said he developed artistically in graffiti art spaces, which conditioned him to get accustomed to having his work "tagged," or painted over by another artist. Black said he's had other murals tagged, but mostly, people confine their interactions to taking photos of his work.
"It's pretty unique [to have vandalism] for a project of this size," he said. "I've definitely had my murals defaced before, but it's been in a location where there is more of a graffiti culture. I don't know many graffiti artists who walk around with eggs in their pocket."
Black said it was curious to see the paint on Alexander's portrait.
"I can tell you that people would see me painting, people from the neighborhood, and they'd stop — like they'd block traffic to tell me that these women taught them or how they had been in their lives. By far, it was Mrs. Alexander that people talked about the most. She was the one of the group that people mentioned the most. I don't know if there was some kind of vendetta, but like I said, I don't even want to speculate."
Drew Huffman, the assistant director of Denton Parks and Recreation, said the city's public art is routinely defaced. The parks maintenance program regularly checks public artwork and also gets alerts about vandalism through the Engage Denton app.
"They get cleaned yearly, or as needed," Huffman said. "Some probably need it once a year. Different groups in our crew have routes so that we are able to check on all the routes. Murals are watched, and they are either cleaned yearly, or if they need any touch up work, that's usually on a five-year plan."
Newer murals are treated with a powder coating that protects them enough that they need touch-ups every 10 to 20 years.
"Most of the work we do maintaining the public art in the city has to do with them being outside in Texas. It can get really cold sometimes, and then it gets really hot a lot, and we all know about the hail here in Texas. Most of the maintenance is for that."
Black said the city plans to officially present the mural on June 17.