Premieres Wednesday on Amazon Prime Video.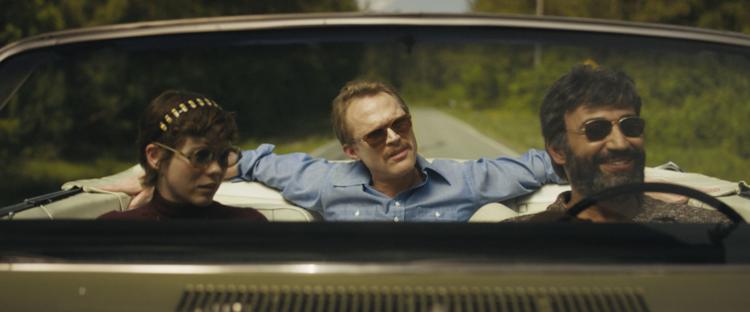 Many of us have that family member with whom we can connect and teaches us that love has no boundaries. Someone you can talk to for hours, run the gamut of topics, and learn valuable lessons from.
To the young, kindred spirit of teenage Beth Bledsoe (Sophia Lillis) in Alan Ball's endearing, '70s-set Uncle Frank, that person is Paul Bettany's titular character. Frank, who lives in New York, far away from his family in Creekville, South Carolina, is an outsider of sorts just like Beth. He's more refined and perceptive than the other relatives in the Bledsoe family. In fact, Frank is the one who tells Beth she can change her name, do whatever she wants in life, and go to any college.
A sweet moment that highlights Frank's character happens early on when he and Beth discuss another family member becoming pregnant at a young age. Frank tells Beth he would be willing to pose as her father to get her on birth control should she ever want to.
Flash forward a few years: Beth is a freshman at New York University, where her beloved uncle is a revered literature professor. As a new student, Beth faces new challenges and experiences. This becomes especially apparent when Beth shows up at Frank's Greenwich Village flat uninvited, where she discovers why Frank has kept himself at a distance. He's gay and has been secretly living with his partner, Wally (a warm and Oscar-worthy Peter Macdissi), for over a decade.
What follows is a heartfelt and funny coming-of-age drama about Beth's eyes opening to family truths, LGBTQ+ communities, drugs, and non-white perspectives. Following a family tragedy that sends the Bledsoe family home, it also is a bittersweet road movie. Ball, who both wrote and directed Uncle Frank (and 2007's Towelhead), has his well-balanced foot in both narratives. He creates a nuanced drama that's impeccably self-controlled and has a deep emotional well.
What's perhaps most impressive about Uncle Frank is how it maintains its story trajectory through the careful editing of a disciplined storyteller. Ball has displayed this quality with incredible grace throughout his career. Looking back at his scripted works such as American Beauty, Six Feet Under, and True Blood, he segues from scene to scene without wasting his moments. There are just enough details laid down for you to understand these characters and where they come from, no matter how little screen time a talent gets.
Take, for instance, one of the film's funniest scenes, which involves Beth and her parents (Judy Greer and Steve Zahn) having dinner with Frank and Charlotte (Britt Rentschler), a friend posing as Frank's girlfriend. Charlotte makes many comments that cause Beth's parents' heads to tilt slightly to the side. Frank's friend then tries to blanket the discomfort by calling herself the b-word. Beth's mother excitedly adds how her husband calls her that like it's some badge of honor without hesitation. It definitely shows you the opposing worlds that these characters live in, which has its humorous moments and its heartbreaks.
Ball chooses his story reveals wisely, using flashbacks that focus on Frank growing up under the strict and religious roof of his father (Stephen Root). Frank is wrestling with a lot of pain, and Beth and Wally are working to create a healing path for him. It's painful to watch these happenings, but they're also beautifully melancholic. There's one scene, in particular, that hits like a shotgun blast to the heart. You'll know it when you encounter it.
As emotional as Uncle Frank appears to be, Ball irons out the picture with all the feelings of life. It's never too much to bear or too little to desire more. It's actually quite a joyous and rewarding experience – and perfect viewing for mature families to watch over Thanksgiving. You'll fall in love with it.