1191856 - "Coming 2 America" - C2A2_2021_Unit_3900x2600_IAW_KeySet_02630R
1191857 - "Coming 2 America" - C2A2_2021_Unit_3900x2600_IAW_KeySet_02535R
1191854 - "Coming 2 America" - C2A2_2021_Unit_3900x2600_IAW_KeySet_03430R
1191852 - "Coming 2 America" - C2A2_2021_Unit_3900x2600_IAW_KeySet_03779R
1191846 - "Coming 2 America" - C2A2_2021_Unit_3900x2600_IAW_KeySet_07177R
Rated PG-13, 109 minutes.
Now available to stream on Amazon Prime Video.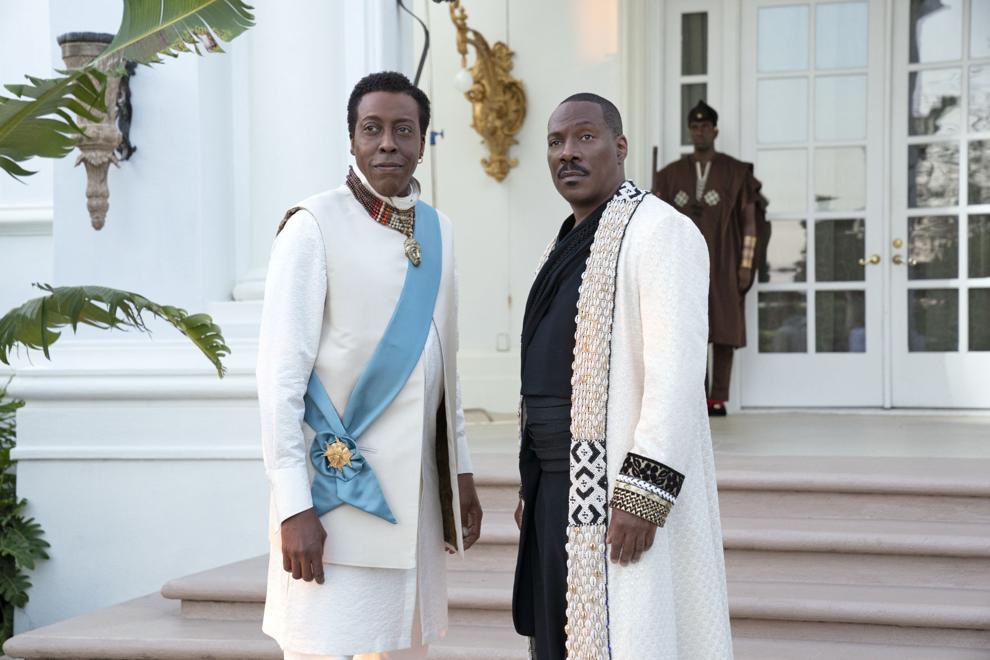 Coming 2 America is yet another comedy sequel in a string of terrible twos (Zoolander No. 2, Dumb and Dumber To, and Jay and Silent Bob Reboot) that's frustratingly bad.
The much-anticipated sequel to the 1988 original film brings the action back to Queens, New York. Well, just for a bit. There's little movement between a barber shop, a church, and the royal home in the African country of Zamunda (a.k.a. rapper Rick Ross's mansion in Atlanta). The film wrapped before COVID, but it looks like it was made with limited sources. The green screen polish and mostly interior settings don't expand the world in any exciting ways.
The plot concerns newly-appointed King of Zamunda, Akeem (Eddie Murphy), facing a potential military coup, led by Wesley Snipes's General Izzi. To stop the takeover, Akeem and his confidante, Semmi (Arsenio Hall), venture back to the states to find Akeem's long-lost male heir (Jermaine Fowler).
Aside from KiKi Layne's performance as Akeem's daughter and some wonderfully designed costumes (by Ruth E. Carter), there's not much to the second Coming. It's remarkable how unfunny and senseless it is. You can feel the charm and originality deflate within minutes. Rather than feature quality gags like Akeem learning to mop or navigate his fish out of water story, we get Akeem's son trying to remove the whiskers of an African lion to prove his worth as a prince.
The culture doesn't feel genuine enough to warrant any laughs or emotional connection. The familiar faces are placed on the back burner in favor of new characters who fail to live up to the kineticism of the original players. It's a tall order to capture the spirit of the original film, and this new entry is nowhere close to wearing a crown.
Stick to the original Coming to America or watch Craig Brewer's other (better) comedy, Dolemite is My Name.