Locals have spoken: They won't let the pandemic cancel Halloween.
Let there be candy, costumes and lavishly decorated yards, because Denton means to celebrate All Hallows' Eve with some caution, ingenuity and cheap DIY tricks. (See what we did there?)
For Denton resident Kylee Cameron, an oldie but goodie will suffice to keep the Halloween tradition of treats alive during COVID-19.
"We're leaving out a bowl the lazy way, but I can't risk it as I am immune-compromised, and COVID is still raging," Cameron said.
Cassie Fellows, a Texas Woman's University alumna, said locals who have compromised immune systems can take an additional step to give out candy more safely.
"You can leave treat bags," Fellows said. "That way there is no digging. Also, hand sanitizer is a good way to kill germs. So is washing. [The coronavirus] doesn't live on surfaces very long."
For Julie Evans, about $18 worth of orange spray paint, PVC pipe, fuzzy spiders and fake spiderwebs created a candy chute for her home in the Cooper Crossing neighborhood.
"We love Halloween," Evans said from her carefully decorated living room. Several creepy clowns glower across the room, and a big, stuffed black cat sits on the coffee table near a bowl of candy. A scarlet upright piano is draped in a garland of skeleton hands with a copy of the book Helter Skelter: The Manson Murders resting on its music stand, and a figure in a yellow rain slicker (is it Georgie or Pennywise from the horror movie It?) hovers behind the signature red balloon.
Through the window behind Evans stands a large metal Tyrannosaurus rex in the backyard. Soon, the T. rex will wear a Halloween costume, too.
The Evanses have lived here for 21 years and reared their children there. Julie Evans recently retired from her job as an aide in the special-needs program at Borman Elementary School.
"My mom and dad love giving out candy, and my sister has a little girl who is going to try to get out this year," Evans said. "But it's also important for us to be as safe as possible."
Evans' husband recently had open-heart surgery — a surprise given his marathon running and healthy diet.
"I've been disinfecting everything," Julie Evans said. "So we decided to make the candy slide, so we can still give out candy but also socially distance ourselves."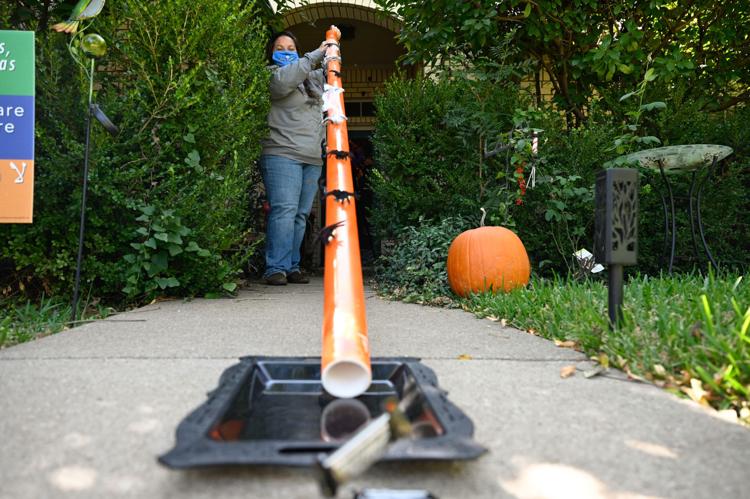 The Evanses bought a 2-inch-diameter PVC pipe, cut it to about 7 feet and then fastened a PVC elbow to the couple's camera tripod. Julie Evans spray-painted the pipe orange and glued big, black, fuzzy spiders on the march up and down it. Then she added some synthetic spiderwebs for effect.
"At first, my husband was throwing the candy in it. That didn't work. So I dropped the candy in there, and — poof! — it worked. It went pretty fast," she said. The couple will add a T-shaped PVC support to keep the contraption steadier.
Evans said the riddle then was how to encourage children to give one another space. In years past, the Evanses would hurriedly drop handfuls of candy in bags for children who crowded and stood shoulder to shoulder at their door.
Julie Evans solved the problem with two pumpkin-themed placemats. One will be right at the business end of the candy slide. The other will be six feet away from the first.
"I'm going to use wipes to disinfect the black plastic tray where the candy lands," Evans said.
The Evanses will stay near their porch, wearing masks and gloves. In years past, they would set up camp in their yard, where they would great trick-or-treaters and share the bounty from a cauldron full of candy — a mix of "really good" chocolate, gum, Smarties and other sweets.
"I can see us using this for the next few years," Evans said. "It's hard to know how many people are going to get the vaccine, so I can see us needing to be careful for the next several years."