Barbara McCraw paints with thread.
She immerses the viewer into fathoms of color and motion using a traditional form.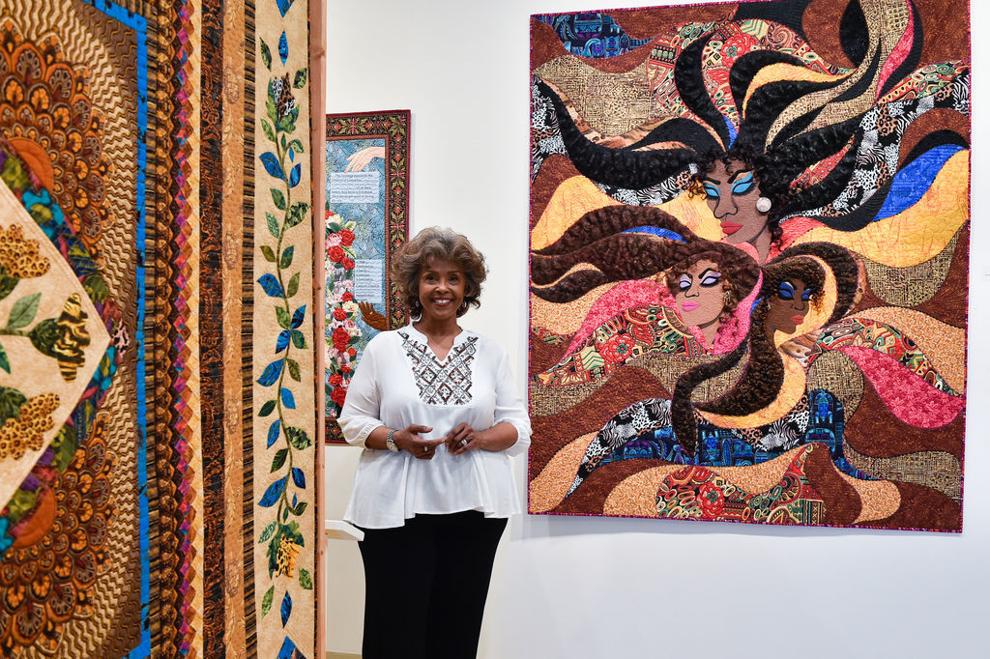 "For a long time, I wouldn't call myself a master quilter," said McCraw, a Denton resident and fiber artist.
Oh, and she's not sure she's comfortable being called an artist either.
A glance around the Gough Gallery and "Life Stories Told Through Quilts: The Quilts of Barbara McCraw" confirms that McCraw is both a master quilter and an artist. The exhibit is a joint presentation of the Denton Black Film Festival and the Greater Denton Arts Council.
McCraw came to quilting as an adult. She grew up with a mother who altered her children's store-bought clothes and made frugal use of whatever came off the rack.
"She'd take that magic thread out of the clothes to alter them, really carefully, really slowly. She'd pull the thread and pull it out. Then she'd soak it in water to straighten it out. She'd let it dry and she'd use that thread."
Sewing was part of her mother and grandmother's homemaking skills, but McCraw said her interests were elsewhere as she grew up.
McCraw and her husband, Ernie, moved to Denton in 1995. Ernie McCraw had built a successful beauty business in Chicago, and Barbara was a hospital medical technician.
In Denton, Ernie worked for Sally Beauty, traveling to beauty businesses across the country. Barbara McCraw worked in phlebotomy for years, drawing blood from patients awaiting test results.
McCraw came to quilting through her work as a medical technician.
"Ernie told me one day that AIDS Services of North Texas [now Health Services of North Texas] was looking for someone who would draw blood from patients who were HIV positive," she said. "At that time, they still had trouble finding people to draw blood from HIV-positive patients. A lot of people were still afraid at that time."
Barbara McCraw said she and her husband weren't at all uncomfortable with the idea of serving HIV-positive patients.
"We weren't bothered at all by working with gay people. When you work in the beauty business, you meet a lot of gay people, and they become friends," she said. "I told Ernie, 'I can do that. I can go draw blood.'"
She had been working a shift at the clinic, a tough shift that required her to draw blood from a patient whose arms were bent in a rigid freeze. McCraw said she recalls having to climb onto his bed, reassure him that she'd be gentle, and use her knee to force his arm down far enough to insert a needle. Afterward, said she passed by a room where a group of people were sewing.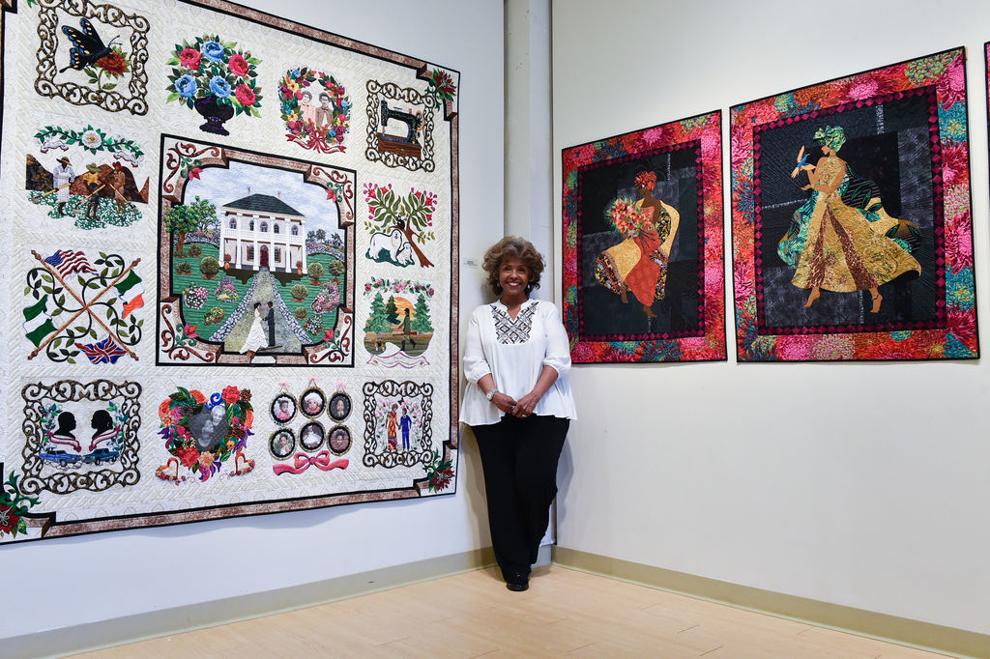 Her interest piqued, she walked into the room.
"I asked them 'What are you guys doing?' It turns out they were working on the Names Project," she said.
The Names Project AIDS Memorial Quilt is an enormous quilt made to celebrate the lives of people who have died from AIDS-related causes. It is thought to be one of the largest works of art in the world.
Two of the women stitching the quilt pieces at the clinic that day were members of the Denton Quilt Guild. McCraw said she started attending meetings and slowly started learning to quilt.
Quilting is an old form. On the American frontier, women would save scraps of fabric, stitch them together with a backing and a soft center called batting. The front of a quilt is usually decorative, with fabric shapes and pattern stitched to create patterns, images and texture. The stitches used to sew the three layers together are decorative, too. Quilters sometimes sew beads and ornaments on their quilts.
McCraw said she made her way through more basic, traditional quilts as she learned. In 2009, she made her first fine art quilt, Oya II.
"I read about an Afro-Cuban goddess, Oya," she said. "I'd been reading a book about her, and I could almost see her in motion."
Oya is the goddess of storms and wind. She's sometimes depicted as fierce and ominous, but in McCraw's quilt, the goddess looks like she's celebrating. She's moving, facing the viewer, with blocks of color bursting outward, almost in a pixelated wash.
As she made more quilts, and started stitching more fluently, McCraw said the art form took on a meditative quality.
"Everything sort of goes out of my mind, and I can just pay attention to the work. When I was making the family reunion quilt, I thought about my friends who needed prayer. My family members who were gone. I would know that God did what was best for them," McCraw said. "When I was working on my father's block of that quilt, I was able to come to peace. I didn't have the relationship with my father that I wanted. But when I worked on his block of that quilt, by the end, I felt I could accept that he was the father I had."
Each piece in the show has been on exhibit before, and most of them have won awards. McCraw has had work in international quilt shows and festivals. It was her quilt depicting Sasha and Malia Obama in a garden — the White House in the background — that was part of the quilt collection at the Smithsonian Institution. Ernie McCraw said they thought the quilt would be on exhibit longer, but discovered it had been put in storage.
"We petitioned to get it back, and we were able to get it," he said. "We paid the taxes on it to get it back, but it was a special quilt, you know. We didn't want it to stay in a drawer somewhere."
Barbara McCraw said a drawing of the quilt by her granddaughter — which she scanned and printed onto fabric that she stitched onto the back of the quilt — made it a sentimental treasure.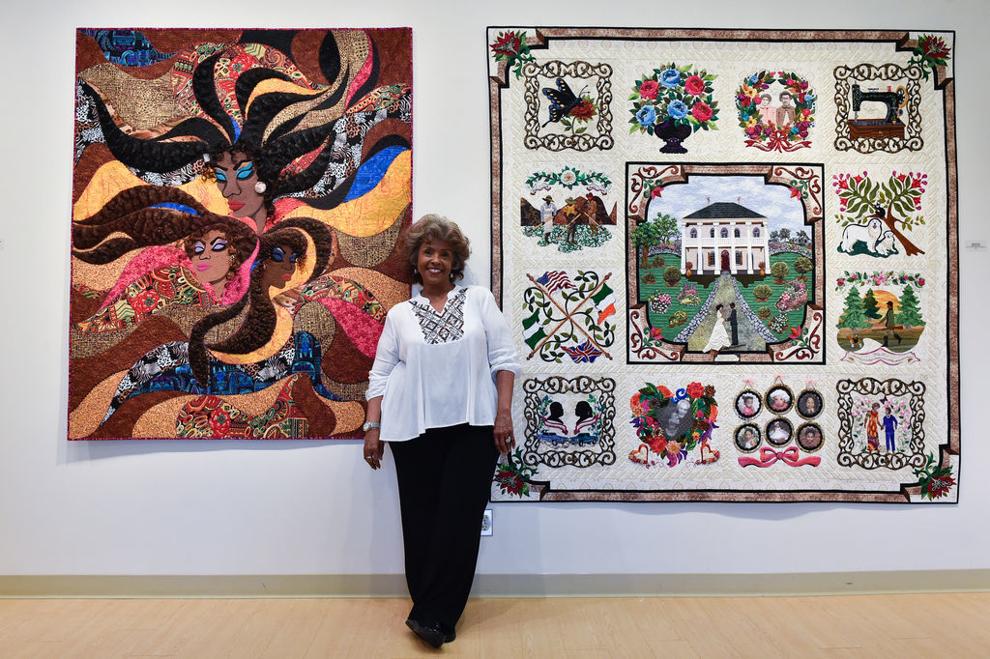 Through quilting, McCraw said she has been able to explore her personal heritage.
"African-American women weren't able to voice their opinions about so many things, but they did express them through their quilts," she said. "Over the years, I've been able to explore African-American history and reflect what I've learned through the quilts."
The exhibit shows the depth and breadth of McCraw's research and reflections. She made Three Wishes, as a benefit quilt for the completion of the Denton County African American Museum. Three female figures — which represent various black complexions — stand side by side, wearing colorful dresses and large headdresses.
She created The Entertainers with Carla Hamm for the local black film festival. Inspired by the art deco designs of French artist Erte, McCraw depicts black performers in silhouette on a stage.
"Harry [Eaddy, co-founder and director of Denton Black Film Festival] asked me to make a quilt about black film," she said. "Black performers had so few opportunities in film, but you couldn't help being drawn to them when they perform."
The silhouettes show figures in different poses. McCraw was careful to include traditional black hair styles in the silhouettes, too. She's intentional about the materials she uses — suede for skin, and hair extensions as hair carefully arranged in tulle in Lessie Rose, which depicts three black women framed by swirling hair. In Out of Africa, McCraw makes use of hand-batiked fabric she got in Tanzania.
Ernie McCraw admires his wife's handiwork and sometimes helps her break through quilter's block with a simple idea.
"She calls me her muse," he said. "I'm really not, but we do talk about all of her quilts."
Ernie McCraw said he likes to travel to exhibits with his wife to celebrate her work being selected into another show. But he points to The Loving Quilt, his wife's homage to the 1967 Supreme Court case that declared Virginia's Racial Integrity Act of 1924 unconstitutional, as a social witness to the need for racial desegregation. That Supreme Court decision was based on the famous lawsuit by Richard Loving, a white man from Virginia, and his wife, Mildred Jeter Loving, a black woman from Virginia.
The quilt depicts a white arm and a black arm coming together to form a heart with each hand. The story of the case is told through what looks like pages of book or court documents. A wedding bower of flowers frames the arms, with faces of interracial couples blooming from some of the blossoms.
Ernie McCraw, who is white, said he and his wife are a testament to the Supreme Court decision, and his wife's art is a chapter in their own story. The McCraws have been married for more than 30 years and have two sons. They still feel the occasional sting of racism, Ernie said.
"The Loving case and miscegenation laws — there's still a lot to learn about it," he said.
"Things are better, but there are still people who have problems with couples like me and Ernie," Barbara McCraw said. "If I can tell these stories through these [quilts], that can teach people."