Every weekday, Denton High School students Cyrus Carrillo and Jessi Crouse leave their high school campus for a few hours before reporting to the Campus Theatre. Once they get to the theater, they shrug off their 21st century vocabulary in exchange for the famous lines of Shakespeare.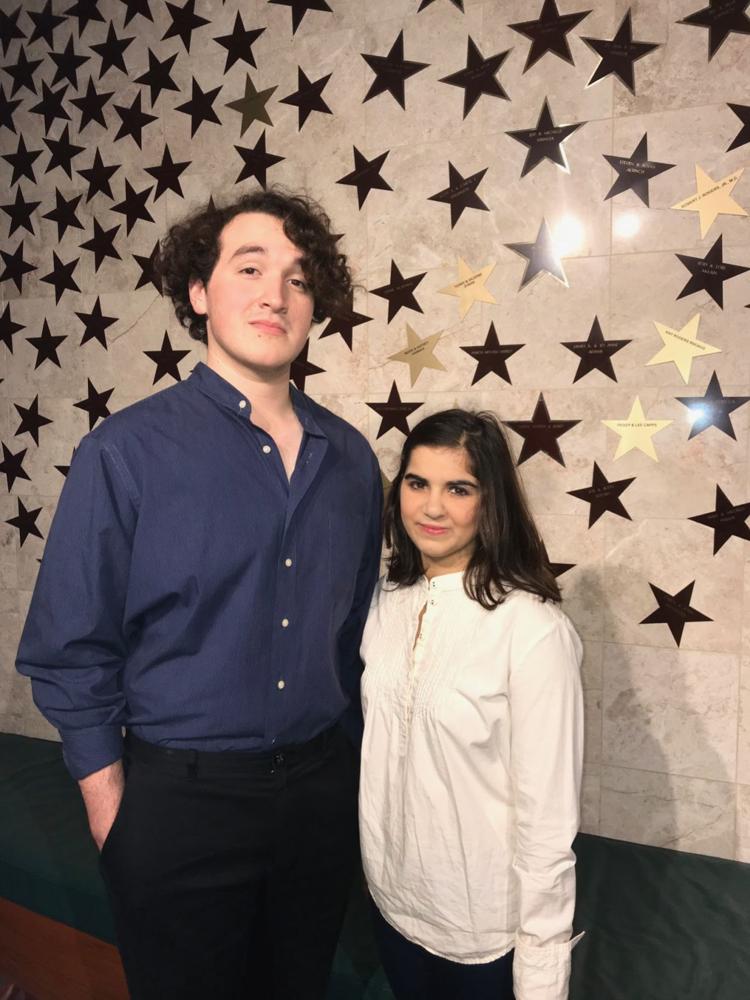 Carrillo and Crouse star in the title roles in Denton Community Theatre's Romeo and Juliet, which opened Friday and closes next weekend.
"I hated Shakespeare when I was younger because I didn't understand it," said Carrillo, a senior at Denton High who splits his time between theater and choir. "I've seen this show multiple times now, and of course I've read some of his plays. He's hilarious — so ahead of his time."
Crouse, a junior who studies theater, has spent most of her stage time in musical theater. The 17-year-old said her experiences with co-director Betty Kay Seibt made her want to try out for the Shakespearean tragedy. But she was also drawn to Juliet.
"I just fell in love with the character," Crouse said. "Juliet has moments where she acts different around different people. With the nurse, she's silly. With her dad, she's [snaps to attention], and with her mom, she feels pretty comfortable. But with Romeo, she can be herself."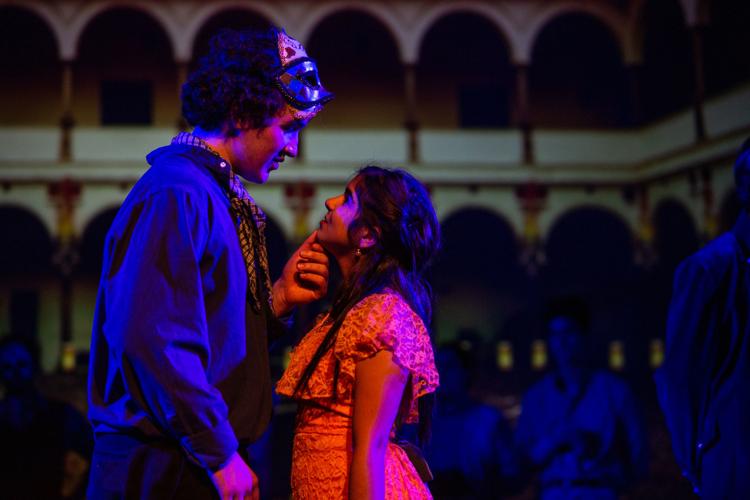 The road to the theater
Carrillo was into athletics as a child. He played soccer and dabbled in cricket, but baseball was his passion.
"Baseball was a big deal. That's what I thought I would do with my life," he said. "My older bother, Dorian [who plays the role of Mercutio in Romeo and Juliet], when he was a sophomore here at DHS, got a lead role in The 39 Steps.
"I saw how happy it made him," Carrillo said. "I realized I didn't have anything in my life that made me feel like that — that I was passionate about."
Carrillo tried out for the classic Greek drama, Antigone, at McMath Middle School and was cast as Creon, the King of Thebes.
"It made me astoundingly happy," he said.
The theater bug bit, and Carrillo tried out for school plays and, eventually, a Denton Community Theater play.
For Crouse, a trip to see a local production of Beauty and the Beast proved to be enchanting.
"It was the energy, the happiness I saw, and the set and everything. I just loved all of it," Crouse said. She lives near Krum, where she sings in church choir, writes music and plays the keyboard. She's also studied tap and jazz with a dance teacher — which came in handy for the community theater's staging of Andrew Lloyd Webber's Cats last summer. As Jennyanydots, Crouse did the triple-threat thing — acting, singing and dancing. Carrillo appeared in Cats, too, as the glam-rock feline Rum Tug Tugger.
After being in the audience for Beauty and the Beast, Crouse tried out for a role in DCTedu's Wylie and the Hairy Man. DCTedu is Denton Community Theatre's program for children and teens. She got a role and hasn't looked back. She's performed on the Denton High stage, and has played roles in musicals for Denton Community Theatre and Music Theatre of Denton.
Carrillo's theatrical journey was affected by a car accident several years ago, in which he sustained a traumatic brain injury.
"It truly changed everything about me," he said. "I had to learn how to do everything again. I can't really tell you how I did this before because I really don't remember."
He credits the director of Denton High's theater arts program, Kerri Peters, for patiently coaching him.
"Ms. Peters is the best acting coach you will ever find," Carrillo said. "She's had the experience of theater even though she's young. She's just able to take everything that she's learned and her experience and get all that across to other people. I truly, truly, truly don't think I'd be where I am without her. She integrated me into the theater at DCT, too."
Making sense of Shakespeare
Both Carrillo and Crouse copped to feeling flummoxed by the language of Shakespeare when they first read his plays. It's a stilted way of talking to 21st century ears, but both actors were up for the challenge. Carrillo's third play was A Midsummer Night's Dream, one of Shakespeare's most accessible plays.
Carillo said he's studied Romeo and found him to be more complicated than the whiny, indulged teenager he's often portrayed to be. His Romeo is more reflective than passionate, but earnestly charming in the snares of romance.
"I've always seen him as charming and suave. I've always seen him as someone who's always wanted a relationship but has never been able to achieve it. But there are a lot of sides to him. Romeo's a poet. Some of the things he says are truly beautiful," Carrillo said.
The actor also said an important part of Romeo's personality is easy to miss in a play known for flashing blades and bloodshed.
"Romeo is a pacifist. He doesn't carry a knife around," Carrillo said. "When the fight with Mercutio and Tybalt breaks out, he gets a knife from someone else. And in the end, he doesn't want to fight Paris. He tries to get him to leave."
Crouse said she sees Juliet as a typical young woman. Crouse's Juliet is sweet and dutiful with her parents and shy with Romeo.
"Juliet is like any other teenager who just wants someone to love her," she said. "Her family is really strict on her. For Juliet, the nurse and Romeo are her family. She doesn't really have anyone she can really be herself with."
Crouse said the play has stretched her skills and her acting.
"Not relying on songs and dance, and getting used to not having songs and dances, has been a big challenge," she said. "Learning about the character through the story was different, too. In the other shows, I've learned so much about the characters through the songs. I wanted to try something new and have a challenge. I'm not going to be happy without a challenge."
The play has shown the young actors a thing or two about acting.
"There is something strangely beautiful about portraying a life itself," Carrillo said. "If you're acting correctly, you're embodying this other person. This person who isn't like you. It's up to your acting style and methods. That's the thing about acting. You are embodying another person, and it's somehow easily attainable but impossible to master."
Crouse said the play has riveted her to the actor's bible — the script.
"I have to understand what I'm saying, why I'm saying it and how I'm saying it," she said. "It sounds easy, but it's not. But I'm OK with a challenge."