The Trial of the Chicago 7
Releases on Netflix globally and in select theaters on October 16.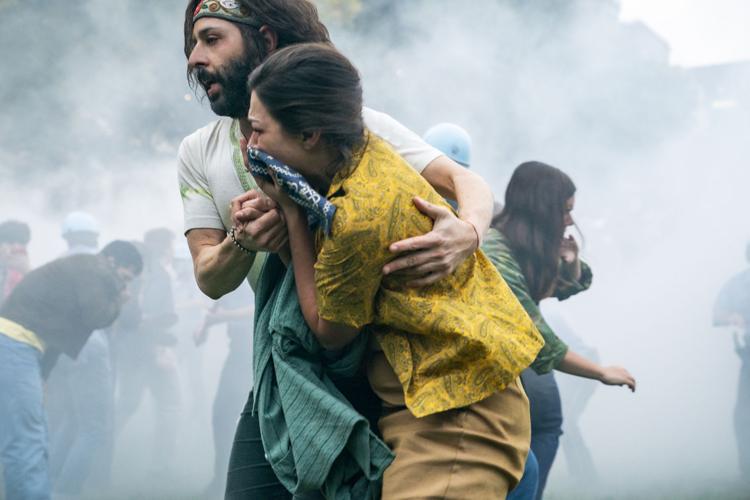 During one intense courtroom scene of Aaron Sorkin's The Trial of the Chicago 7, a baffled lawyer interrupts an unyielding judge to address a court reporter: "Are you any good? Keep up with us."
This is Sorkin's filmography in a nutshell. His words move quickly and sometimes flow seamlessly across characters, bringing even the stillest moments completely alive. Sorkin doesn't need to fill the frame with explosions or send action stars on far-flung, globetrotting quests. His power lies in his words and the actors delivering them. And for a two-hour film that primarily takes place in one setting, Sorkin and his starry cast achieve astonishing heights in this knockout courtroom drama.
The star-studded cast includes recent Emmy winners Yahya Abdul-Mateen II (HBO's Watchmen) and Jeremy Strong (HBO's Succession) opposite Eddie Redmayne, Joseph Gordon-Levitt, Frank Langella, Michael Keaton and a never-better Sacha Baron Cohen as exuberant social activist Abbie Hoffman. (Forrest Gump fans may recognize Hoffman as the figure wearing an American flag shirt at the anti-war rally in Washington, D.C.)
The Trial of the Chicago 7 follows the peaceful protests outside the 1968 Democratic Convention in Chicago as they unravel into a violent clash with police officers and the National Guard. Seven protest organizers, including Hoffman and Redmayne's Tom Hayden, are charged with conspiracy to incite a riot. The ensuing trial ended up recognized as one of the most notorious in American history.
Sorkin rules the courtroom. A Few Good Men and the pre-trial hearings in The Social Network are proof enough, but now, Sorkin wields his big-time drama on an even larger platform. His presentation of the facts and personalities cranks up the tension to match.
From its set-up, the film promises to deliver a tense, shocking and twisty historical drama. Sorkin introduces us to the key players in the opening scene as if they are passing words in a relay race. Another filmmaker would likely start at the beginning and share the events as they happened in real-time. Chicago 7 instead weaves its narrative by jumping back and forth between moments that drink from the same thematic well. If you've seen Steve Jobs, a biopic written by Sorkin and directed by Danny Boyle, a scene that alternates between two different confrontations may spring to mind.
Sorkin very apparently recognizes how a narrative benefits from embracing a rhythmic quality. His screenplay and direction resemble a composer conducting an orchestra, rather than overstuffing scenes with so many character stories. Perhaps Sorkin took a note from the filmmakers he has worked with, or maybe he picked it up working in the editing room, or possibly this trait comes from his youthful days in theatre. No matter the origin, the reveals keep you on your toes.
There's plenty of credit to go around. If it weren't for the superb casting, Sorkin's style might not have connected as well. The chemistry among the crowd is by turns brittle, warm and intimate. Individually, the cast puts in arresting performances — chiefly Cohen, Mark Rylance as radical lawyer William Kunstler, and Abdul-Mateen II as activist and Black Panther Party co-founder Bobby Seale. (One scene involving Seale being gagged and bound in the courtroom will stay with you long after the movie is over.) Each of the performances shifts effortlessly between a volatile mixture of hope, anger and fear, digging up nuances that other actors would likely have struggled to unearth.
Sorkin started his film career with A Few Good Men, and since then, he has become one of our most essential historical and social interpreters. Whether based on fiction or nonfiction, his material is rooted in truth and deepens our understanding of the world. Titles like The American President, Charlie Wilson's War, Moneyball and The Newsroom certainly bolster this viewpoint. His ability to distill world events into relatable and gripping human stories is a remarkable feat.
The Trial of the Chicago 7 continues that tradition with a murderers' row of good acting.