Singer-songwriter Aaron Barker misses Texas. He's happily settled in Nashville, Tennessee, but there's a lot about Texas that occasionally calls out to him.
"I miss Whataburger," said Barker, who was born and raised in San Antonio. "The closest Whataburger to me now is a two-hour drive away. And I never eat Mexican food once I'm east of Houston."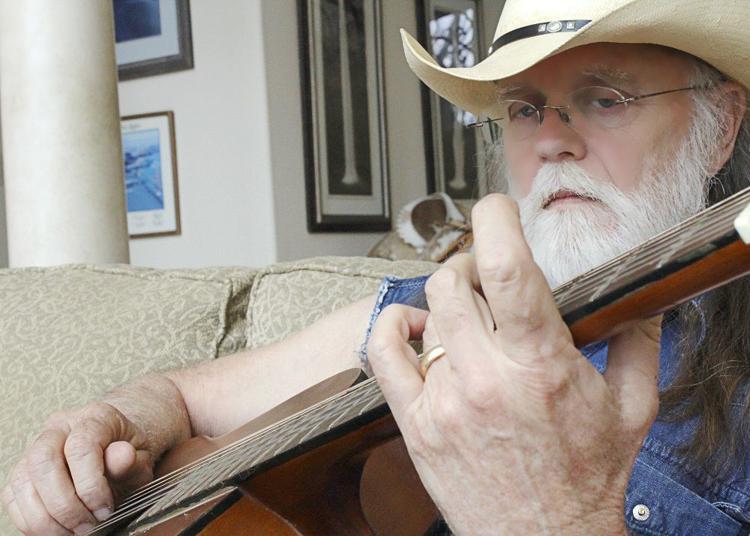 Barker will be back in Texas for a Father's Day set at 8 p.m. Sunday at Lone Star Attitude Burger Co. He'll play some of his own songs as well as the chart toppers he's written for George Strait, Trace Adkins and the Oak Ridge Boys.
Barker got his start in the music business rocking out. His mother bought him a guitar from Sears when he was about 6, and by 14 Barker was playing in a band.
"Some preachers lived behind us, and they taught me how to play some chords," Barker said. "In high school, when I got a job at a truck stop and this band came through, they needed a bass player, so I bought a bass."
That band, the American Peddlers, played a show at Lackland Air Force Base in San Antonio. Barker said the band was a big hit, and the U.S. military sent them all over the country. Barker said it was a good gig, covering Led Zeppelin, Aerosmith and the hard rock icons of the 1980s. Barker said he enjoyed the life but got into the habit of making his own music, too.
"I would get on the bus and started writing my own stuff," he said. "I loved the James Taylors and Carole Kings. The stuff I wrote myself was a little different than what we were playing."
Barker said a friend sent one of his tapes to Strait's office.
"They listened to it and George Strait liked 'Baby Blue,'" Barker said. "They called me and said George wanted to record it. That was something."
Strait took to Barker's music, recording a lot of Barker's work: "Love Without End, Amen" (1990), "Easy Come, Easy Go" (1993), "I'd Like to Have That One Back" (1994), "I Know She Still Loves Me" (1996) and "I Can Still Make Cheyenne" (1996).
Then, Strait got Barker a deal with Atlantic Records, for whom Barker wrote and recorded a 1992 album, The Taste of Freedom. The title track made it onto the charts and re-established Barker as an entertainer. He issued solo albums in 1998, 2002 and 2006, but Barker's biggest "hits" as a singer remain the widely heard radio and TV jingles he wrote and recorded for Blue Bell Ice Cream.
"I feel like I kind of fell into this life as a songwriter," he said. "I liked performing, but with songwriting, the money was just so much better. Now it's an entirely different world with digital music. But there was a heyday and I got to ride a great big horse right through the middle of it. For a guy who was making 200 bucks a week, it was really good money."
Barker ended up writing for a host of Nashville and Texas country stars: Tyler Farr, Aaron Tippin, Tracy Lawrence, Neal McCoy, Granger Smith, Willie Nelson, Chris LeDoux, Dean Dillon and Trent Tomlinson.
Barker said the music business is a tough and voracious one.
"Now I only write maybe 12 songs a year, as opposed to the 50 or 100 the labels want you to produce," he said. "Things have changed a lot in the business, and I'm OK with that."
Country music is changing, and fast, and while Barker said he sticks to writing singer-songwriter stuff, he's not upset at the way pop, hip-hop and indie music have challenged and changed country. He cops to liking hip-hop, and admires performers like Tim McGraw and Shania Twain who spun pop-infused country into the charts and onto their fans' playlists.
"You see way more ballcaps than cowboy hats, and that's OK," he said. "I was at a barbecue place with some songwriters one night, and we were all talking about how things are changing in the business and with the music. This other songwriter walked up and said — I thought this really nailed it — he said 'Guys, they're listening with their feet.' That's what it is, exactly.
"A lot of this is related to economics," Barker said. "When people are worried, they want to dance. They want to have a good time. When people feel better about their lives and what's happening economically, they'll listen to the poetic stuff."
Barker said he's an unrepentant introvert who slips into his studio to keep up the discipline of art-making.
"You can't always force inspiration, you know," he said. "So I like to make myself available so that inspiration can find me. So coming into my office every day — that helps me stay available for inspiration."
Doors open at 5 p.m. LSA Burger starts serving a three-course prime rib dinner at 6 p.m. and Barker performs at 8 p.m. Tickets to the rooftop concert and dinner cost $80 per person.