Available Friday on Digital HD and On Demand.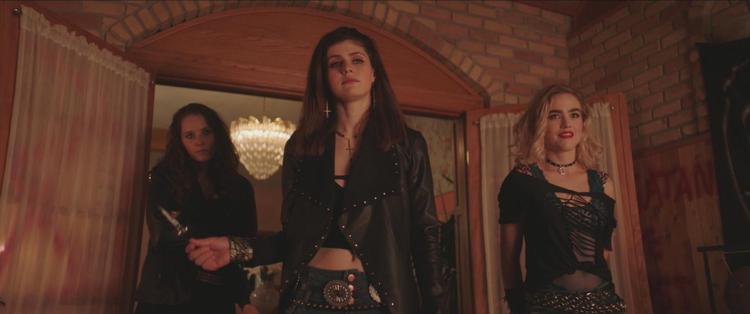 Johnny Knoxville as a fire-and-brimstone preacher, a murderous satanic cult at the center of a new horror-thriller, and the director of the skin-crawlingly good My Friend Dahmer –– When all those elements combine for a midnight feature called We Summon the Darkness, what could go wrong? 
I wish I could say this movie will cause you to throw up some devil horns and jam an Ozzy Osbourne record in reverse, but no such reaction occurs. Wasting a solid ensemble cast and fascinating themes about religious extremism, We Summon the Darkness' potential to matter and amaze get lost in the woods. 
Director Marc Meyers and screenwriter Alan Trezza (Burying the Ex) open their movie with three girlfriends – Alex (Alexandra Daddario), Val (Maddie Hasson) and Bev (Amy Forsyth) – on their way to a heavy metal concert. Set in 1988 Indiana, the trio hears a news report of a local murder believed to be connected to a series of vicious killings. At the show, the girls meet three fellow metal heads – Mark (Colin Farrell look-alike Keean Johnson), Kovacs (Logan Miller) and Ivan (Austin Swift) – and invite the fellas over to Alex's father's (Knoxville) estate. What commences as a friendly get-together of never-have-I-ever fun suddenly slips into sinister territory. 
There's disingenuous confidence in the movie that rings hollow at its start. The three young women are chatting about their pupils being dilated to look sexier and making love with their eyes open as if they are reading an off-brand Quentin Tarantino script. The amateur polish doesn't let up as the ladies make their way to the concert and after party. Tonally similar works as Jennifer's Body, Thoroughbreds and Green Room may come to mind. Unlike those films, however, We Summon the Darkness doesn't capitalize on its most intriguing qualities.
To dance around spoilers: Meyers' film dips into religious fanaticism to grab the audience's attention. After the first half-hour, We Summon the Darkness admittedly flips the switch in such a way that tractor-beamed me in for its madness. It's once it sidelines its thought-provoking themes in favor of an escapist thriller and wolf-puffing that its power chord loses its grip. 
You can nearly call all the shots before they happen, which is frustrating considering Meyers' previous film kept me leaning in despite my familiarity with its true-story material. Sadly, this is a step back.