"Every time a bell rings, an angel gets his wings."
Ah, every time we hear that line, a listener gets their smile, right? 
What a joy It's a Wonderful Life is. Frank Capra's holiday classic truly is one of the most remarkable stories ever told — and it's hard to believe it has made 75 trips around the sun as of this week. 
There's something about seeing alternate decisions play out or how our absence would change life trajectories. But, of course, we'd never want to capitalize on it. So, we'll leave that to George Bailey. Instead, we'll continue to live vicariously by watching the film to reset ourselves each time around the holidays. That way, we can be grateful for that loose banister knob or shout with glee over Zuzu's petals in our pockets (or the equivalent of those things in our own lives).
In case you're unfamiliar, It's a Wonderful Life tells the story of George Bailey (Jimmy Stewart), a man who feels unable to carry on with his life and considers jumping off a bridge to end it until he receives a visit from an angel. The angel, Clarence (Henry Travers), shows George what the people he knows would have gone through if he had never existed. While it's not the cheeriest and bounciest of holiday films, Capra's work contains themes that many overlook this time of the year. It offers simple reminders about family, faith and love that are too grand and rewarding to ignore.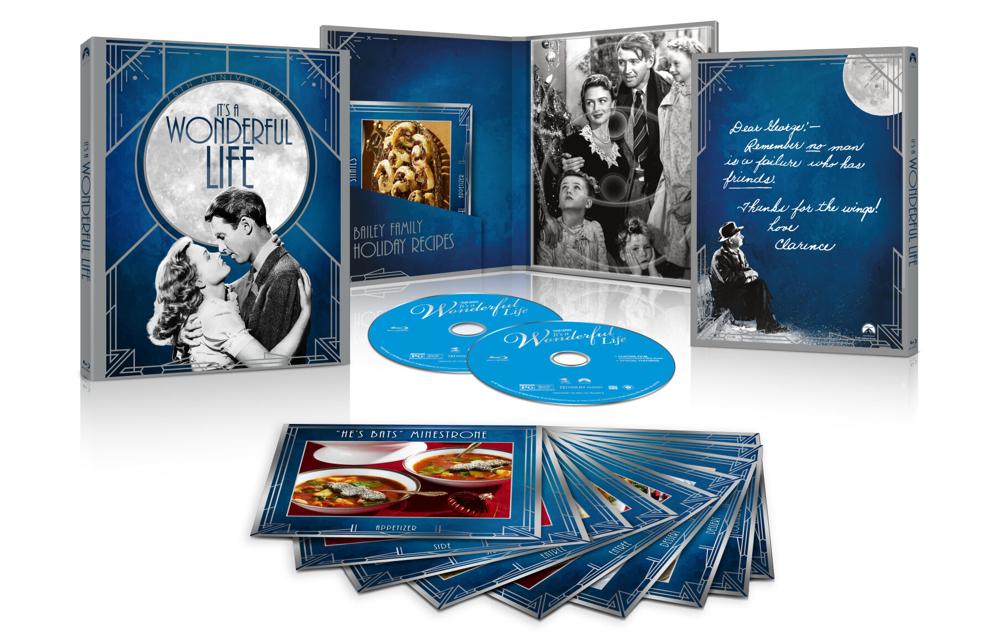 Paramount Home Entertainment has produced a special Blu-ray edition that includes the restored original movie alongside the colorized version to celebrate the film's milestone birthday. The release also comes with an inch thick, blue-and-silver packaging stacked with a collectible card series of in-depth recipes for the Bailey Family Holiday Recipes. (Pastry snails or old-fashioned drinks, anyone?)
The cherry on top are the special features, which includes three featurettes:
Restoring a Beloved Classic - a 13-minute video that takes you through the restoration process. It's neat to see how they saved the negative, used digital restoration tools and grain management to give the film its sharp look.
Secrets from the Vault: 'It's a Wonderful Life' - a 22-minute discussion among filmmakers and historians about the film's construction. The breakdown of the film's cinematography, practical tricks and story of how it went from a box office flop to a celebrated classic is a beautiful trip.
'It's a Wonderful Life' Wrap Party - a stunning eight-minute vintage footage reel (as teased in our below interview with the talent).
So, if you have a passion for cooking or are looking to amplify your experience, this new edition makes for a great last-minute gift or a quick pick-up to watch in time for the holidays. 
Video Q&A:
The Denton Record-Chronicle recently had the opportunity to sit down with Jimmy Hawkins and Karolyn Grimes virtually. Mr. Hawkins, 80, starred as little Tommy Bailey in It's a Wonderful Life when he was just four years old and later appeared in many films and television shows and produced works of his own. Ms. Grimes, 81, portrayed Zuzu Bailey, who, of course, delivers the film's most memorable line (at the top of this article). 
In the interview below, we chat about memories making the film, what Mr. Hawkins and Ms. Grimes wish they could revisit, and the evolution of their dreams. So, enjoy the conversation, and pick up Paramount's special edition anywhere you purchase movies!