Sanger guitarist Victor Gann still remembers the day he met Eddie Van Halen.
Gann, who now owns and runs the Evia Music school in Sanger, had graduated from music school and was on his way to building a career. At a party one night, Gann's teacher pointed him through a door and told him, "The king is holding court in there."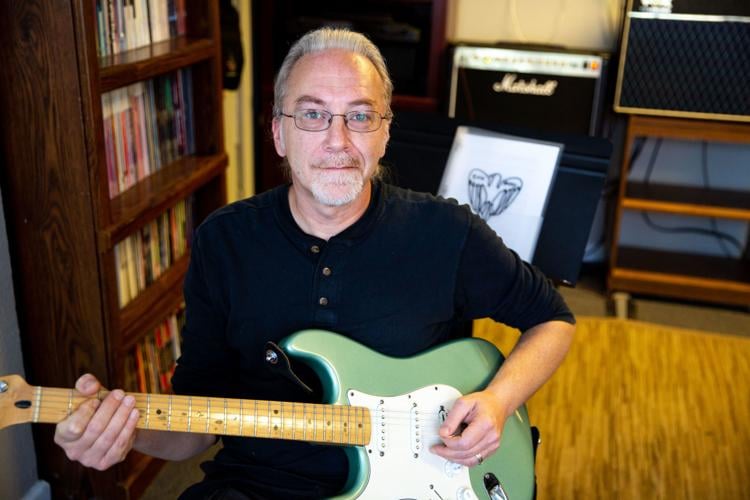 Gann recalls walking through the door to see Eddie Van Halen in a room full of musicians and music business types.
"Of course I knew who he meant," Gann said. "He was just right there. I was next to his left arm, and he was holding court, talking about music and his passions. He treated me just like everyone else there, and there I was, a nobody. He pointed at the chair next to him and I sat down and listened to him talk about music and his passions."
Van Halen, co-founder and guitarist of the eponymous rock group, died at age 65 on Oct. 6. He had throat cancer.
Fast forward to about four years ago, and Gann had another interaction with Van Halen.
"I was working on a signature guitar, and it was one of those situations where I was just, you know, if I could just get it to sound the way I wanted," Gann said. "You have to understand, a guitar player is always chasing tone. I was using all these different pickups that I'd used my whole career. I was not getting the sound I wanted."
A pickup is the part of an electric guitar that converts the strings' vibrations into electrical signals. Pickups send the signals to the amplifier, which gives the guitar the volume it needs to fill up an arena or a dive bar.
"This friend of mine in LA that I've known for 30 years listened to my complaining about this pickup and how I wasn't getting the tone. He told me, 'Boss might have something for you,'" Gann said. "Boss, that's Eddie."
Gann said Van Halen was a noteworthy inventor who revolutionized the electric guitar both in the virtuosic double-handle tapping but also in technology. The late guitarist has dozens of patents related to the instrument, Gann said.
Van Halen sent Gann a pickup.
Van Halen leaves legacy of stretching boundaries for young artists
"My friend told me, 'Boss said you can use this, but you have to do one thing. You have to be part of the family,'" Gann recalled. "For him to do something for this nobody? Just, wow. Eddie and I weren't buddy-buddy. It really hit me, by this time in my life, I've been around a lot of people. There are some people who matter, and they aren't arrogant about it. That was Eddie."
Brian F. Wright, a professor at the University of North Texas College of Music, uses video footage of Van Halen in some of his music history courses. Wright's specialty is American popular music, and he is researching and writing a book about the history of the electric bass in American popular music.
Wright said he has noticed one major difference in what fans have been sharing on social media since Van Halen's death.
"It's the live music guitar mastery — on Facebook, Twitter and YouTube — what's getting shared is Eddie Van Halen clips playing music live," he said. "I'm seeing clips of him playing these extended solos live. It was that live performance. That's what people are remembering. There's something about him playing guitar.
"My wife and I got to see Van Halen back in 2015, which would be their last tour — which we didn't know," Wright said. "I think when we talk about popular music, the studio is very important, but the concert experience was really important."
Both Gann and Wright said Van Halen made an indelible mark on rock 'n' roll music.
"If you're the average person, you think of Van Halen, and you immediately go, 'Oh, crazy fast stuff,'" Gann said. "That was from his work on [the song] 'Eruption.' It completely changed things. The two-handed tapping, he did really use it, and through that technique he was able to reach notes the rest of us couldn't. Peter Green had done it, and way back in the 1700s, Paganini had done it. With Eddie, it was like, along comes this guy who isn't just doing it for flash. It's part of how he speaks."
Wright said Eddie Van Halen was building his career about the same time guitarist Steve Vai and Swedish guitarist Yngwie Malmsteen were pushing technical and artistic boundaries. In his live solos, Van Halen sometimes evoked the sound of the violin or cello, fluttering between notes and marching up scales. But he could pivot in a nanosecond and affect the sensual caterwaul that rock fans craved each time they blared a Top 40 rock 'n' roll anthem.
And just when you thought he might unleash a face-melting phrase, he fuzzed out the kind of arpeggio that lives in flamenco music. Your ears might have missed the Spanish in it, but your hips probably felt it. These days, the guitar solo has been replaced by a rap bridge. But a trip down memory lane reminds you that, with Van Halen, rock 'n' roll merged the dexterity of classical string music and that sexed-up strut of John Lee Hooker, Buddy Guy and Cream.
For Wright, Van Halen picked up Jimi Hendrix's burning guitar and played through the flames.
"Just by sheer influence, Van Halen was able to change things. The 1980s was filled with kids wanting to learn to play guitar. The double-hand tapping, you're not going to learn that from a book," Wright said. "I don't know that that's changed collegiate-level teaching when it comes to the guitar, but the influence has been pretty undeniable."
Once Van Halen became a worldwide hit, aspiring guitarists looked to Van Halen as both an artist and an icon.
"The rock world, and the metal world, if they haven't incorporated [Van Halen's techniques], they have tried it," Gann said. "It has been part of my work. Eddie didn't just do one thing. He was taking it past the tapping. His rhythm guitar work was really overlooked. But who's going to play rhythm guitar with Eddie Van Halen on the other side of it?"
When Wright plays Van Halen for undergraduates in his History of Rock class, he's used as an example of how the guitarist changed rock and heavy metal technique and sound.
"I start by playing them a live version of 'Eruption' — I start by playing the intensity. One guy on stage playing guitar for six minutes, and then he starts doing these long, long passages," Wright said. "If you don't have a background in music, you might not understand how hard it is, what he's doing. But when you see it, it's like watching Usain Bolt run. You get a feeling for how fast he is, but it seems so effortless on his part."
Wright said he also shows how the band embraced entertaining people, playing their covers of "You Really Got Me" by the Kinks and Martha and the Vandellas' "Dancing in the Street."
Gann said Van Halen is always a part of his studio, where he teaches children and teens guitar.
"It's not like there's this formal technique that you teach. It's more like you're working with a student and you say, 'This is how Eddie does it.' And you get into it that way," Gann said. "But there's not a kid on the planet who picks up the guitar and dreams of being a rock star who doesn't know about Eddie Van Halen."