So what would you do if you opened your fridge to find the day-old components of a kid's birthday feast and nothing else?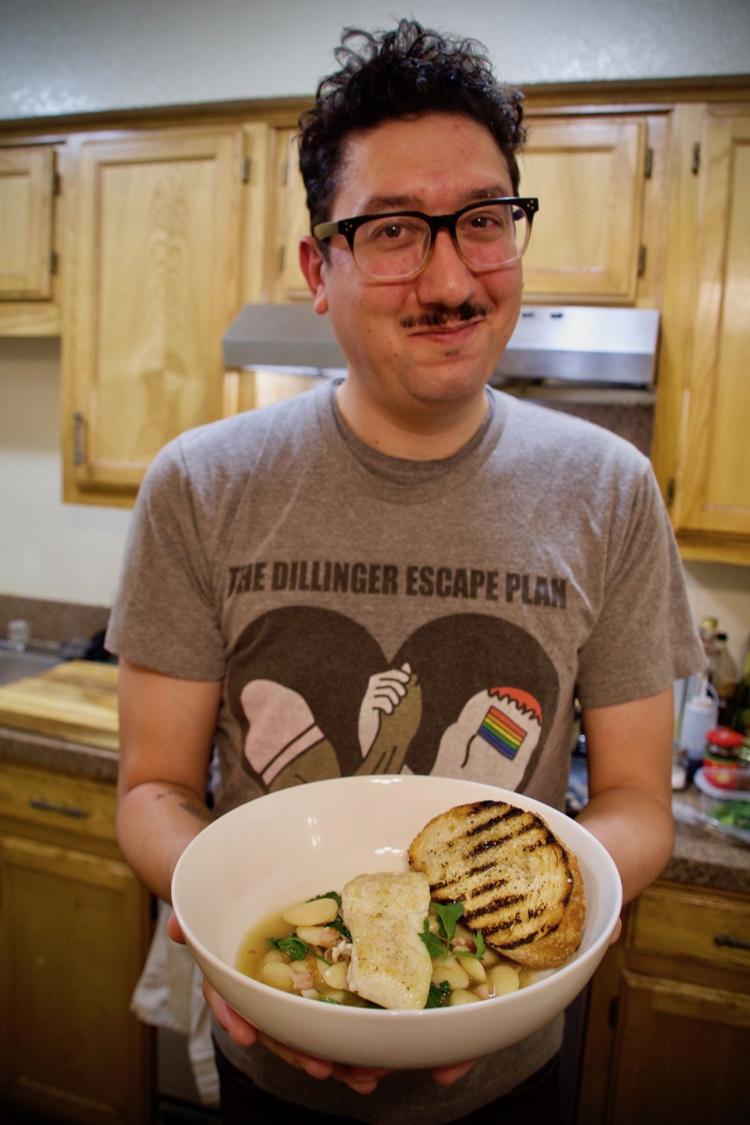 Denton home cook Anthony Langston took those components and turned them into a Tex-Mex brunch. But wait, there's more!
He did it in front of a battalion of cameras in a studio kitchen for a chance to win $10,000.
If you have a Netflix account, you can see how the 35-year-old cheesemonger and bartender made out on the reality cooking competition show Best Leftovers Ever! Langston, who's on the staff at Denton's Ten:One Artisanal Cheese, competes in Episode 7. He went up against two other home cooks — a preacher named Shawn who can make a heavenly dinner and Stephanie, an event designer who can whip up a Laotian twist on whatever's idling in the icebox.
"I have a ton of windows open on my phone, just waiting to see what's coming up that I can audition for," said Langston, who was bitten by the cooking show bug a few years ago when he made it into the top 80 competitors for Fox's MasterChef. "I'm always looking to see what I can get onto with the cooking shows."
Langston isn't your typical home chef. He didn't grow up following a foodie parent or grandparent around the kitchen. He didn't watch a relative make magic on the grill.
"I didn't get into food until I got into my early 20s," Langston said. "I was living at home with my folks in Frisco. I'd get home after school at Quad C [Collin College] in Frisco. I had a lot of time on my hands after my morning classes were all done. I started watching the Food Network. My parents' food is not all that great. Salt and pepper was a foreign spice from a foreign land at home."
After following some marquee shows on Food Network, Langston said he decided to start putting some of that viewing to the test.
"I remember the first time I tried to make something, I was at home, and my dad got home and said, 'What is that?' I was like, 'It's meatloaf!' And he was like, 'That smells great. What's in it?' I was like, 'Spices and seasonings.' That's what got me started," he said.
Langston tuned into shows featuring Tyler Florence, and he found no shame in watching the oft-criticized Rachael Ray put together her famous 30-minute meals. Then he asked his mom for a subscription to Bon Appetit magazine for Christmas.
"She was kind of surprised," he said. "She was like, 'Really? You don't want some video games?' And I told her, 'No, really.' I still get it. Bon Appetit and Food & Wine are still my favorite magazines."
After that, Langston said he experimented and sampled. Grilled and garlicked. Broiled and braised. He wanted to see if he could surprise himself with the pleasure of a memorable meal.
Soon enough, he was cooking for friends.
"A lot of times, I'd shoo them out of the kitchen and kind of take over. Then I'd serve everything, and we'd all go sit down and watch cooking shows," Langston said. "We'd eat and watch stuff like Chopped or Hell's Kitchen while eating, and they were like, 'You should try this.' I was like, 'No.'"
After his experience on MasterChef, Langston knew he had potential to turn his hobby into something more. After all, tens of thousands of home cooks (as well as working chefs with culinary school credentials) subject themselves to the arduous, multistage auditions for a chance to perspire over a studio stove, wielding kitchen torches and exorcising past demons as they apply laser-like focus to their on-screen foie gras torchon.
Langston was inspired by his MasterChef stint, so when he stepped out of the shower to find a voicemail from a Food Network casting rep, he returned the call. Would he consider trying out for Best Leftovers Ever!?
The prep work included clothing consultation for wardrobe and a long, long interview in a tent to get "about eight seconds" for an on-screen, first-person biography. Langston said the contestants get some information ahead of time, including the leftovers to be expected. The contestants send a proposed dish to producers before setting off to Los Angeles. The contestants, often a mix of home cooks and professional chefs, prepare food for judges. Langston and his competitors cooked for restaurateur David So, chef Rosemary Shrager and host Jackie Tohn.
"You have 35 to 45 minutes to go in the kitchen," Langston said. "Every contestant has their own cameraman. Then, they have cameras all over, running after you. It's very hot, very sweaty and very stressful. But you don't go in totally blind."
Langton's episode, "Fiesta Feast," presented the cooks with the remnants of a child's birthday party: birthday cake, fruit kabobs, mac and cheese cones and a very long party-style submarine sandwich. They were ordered to turn the food into a brand-new brunch, cocktail included, with an assist from a dry pantry.
Langston broke the cake into a waffle batter, seared Spam from the pantry and turkey from the sub sandwich "to get another protein element," topped it with a poached egg. He completely forgot to make a Hollandaise sauce but did make a quick mole using enchilada sauce, spices and chocolate chips. In the end, the judges didn't prefer his brunch, but they did love his Mexican mule cocktail, made with the muddled kabob fruit, tequila, ginger ale and fresh lime juice.
In Round 2, the contestants had to make a whole new meal (elevated, please, judges said) from two cartons of Tex-Mex dinners each. This time, the cooks didn't know which leftover they were getting — an enchilada, steak tacos, or cheese and green chili tamales. Langston scored the tacos and transformed them into an Asian dumpling dish with parsnip puree and beet slaw. Stress hit when his dumpling dough burst after plating.
The episode was filmed about a year ago.
"I didn't win, but I still think I did well," Langston said. "It's brought what, hopefully, I can turn into a career. I think I've found something I am really good at. Hopefully, one day I'll have my own restaurant, a place where I can have people come in and have a good time.
"I could bartend the rest of my life and be perfectly happy doing that. But I would much rather be in a kitchen."
Best Leftovers Ever! is streaming now on Netflix.