It is by no means a walk in the park for anyone facing infertility or the adoption process. For London-based couple Nikki (Esther Smith) and Jason (Rafe Spall) in Apple TV+'s Trying, they aim to slow the waterworks by looking for the humor in whatever life throws their way.
The series' second season premieres today, and it continues to follow Nikki and Jason's journey through the adoption process. New challenges arise for them as they receive support from friends and family (including Ophelia Lovibond, Oliver Chris, and Robyn Cara)--and one firecracker social worker named Penny (Harry Potter and the Order of the Phoenix's Imelda Staunton).
Ahead of the new season's arrival, the Denton Record-Chronicle spoke with Smith and Spall to discuss the show's medicinal qualities and valuable life lessons. Read the transcribed conversation below, and watch the first two episodes of Trying's eight-episode second season (it hit Apple TV+ this weekend). New episodes premiere on Fridays.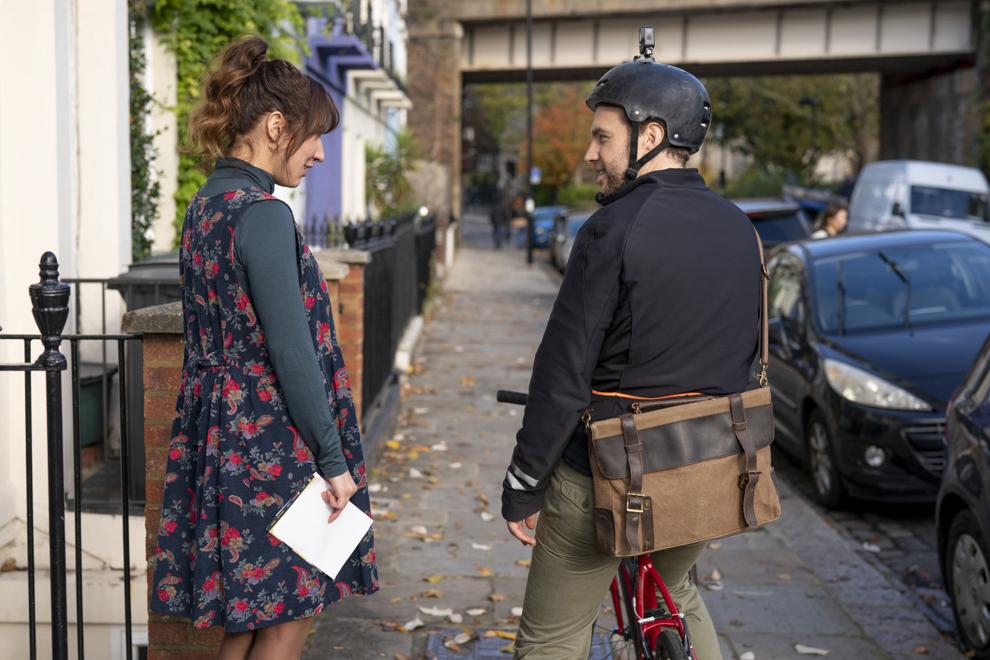 Preston Barta: I just adore this show, and I connected with it so deeply. It's just really nice when you can find a show, or a movie, or a book, or a piece of art that finds you at the right time in your life and provides some healing. Plus, it's fun to hang out with you guys in the series.
Esther Smith: "Preston, that's such a lovely thing to hear. It's always such a heartwarming thing to hear. Thank you so much for saying that."
Rafe Spall: "Yeah. That's why we make the show. It's so that people feel represented. People feel seen, heard, and not so alone. And that, as you say, is the point of art, is to make people feel like they're seen. And that's extremely important. So very gratifying for us to hear that. Thank you for sharing."
Preston: Absolutely. As an audience member, when I watch this, I take away so many different things. I think about life in your thirties, the parenting aspects, and how we're constantly under construction. I guess that's why the title of the series is so fitting. It can have so many different meanings, and it can just continue and evolve. How much do these ideas seep into your own consciousness and better equip you to handle real-life situations?
Smith: "I think you touched on so many things. The whole being in your thirties thing has been a really interesting ride. Not one that I was expecting because essentially, it feels like it's a moment in time where you feel like you should be at a specific point or a specific place, and you feel like you should have a plan. And this plan is this weird blueprint that everyone else seems to have. And life doesn't necessarily always work out in the way that you want it to work out, or think it should work out. And that's one of the things I really resonated with from series one. I really resonated with the character of Nikki. I recognized things about myself within her."
"I really wanted to do the job, I think, because of that reason. But also because we are talking about a show and highlighting aspects of a subject that's not necessarily talked about or represented as much as it should be. So, for me, exploring all those things through this character, Nikki, who's also experiencing those things. I find it, as you said earlier, it's comforting. It's a real comfort to know that you're not on your own with certain things. The whole trying to figure it out and feeling like you should have things figured out. And it's actually made me go, 'Do you know what? We're all in the same crazy, mad boat. And none of us really knows what's going on. So, let's just be OK with that. And your path will unfold in the way it's going to unfold. It might be different to other people's, and that's fine, too.'"
Spall: "I think Esther put that really beautifully. The reason that we got involved in the show is because we identified with it. We know what it's like to get to a certain point in your life and feel like something's missing. For some audience members, that may well be children, but it may be a career, or a relationship, or a house or a geographical location for others. Whatever it is we are, as you put it quite eloquently, constantly under construction and trying, as the title suggests, and that title works for myriad reasons."
"I think we watch these characters and see ourselves in them because we see that these characters are good people, trying to be kind, trying to make a difference to the world, trying to be happy. And they fall short of their own expectations and mess up and don't do things right sometimes because they're human. And I think that's how most people feel. We feel like good people, and we feel like we want to do the right thing. And these two characters, I think, are representative of that."
Preston: I want to bring up a few quotes that I loved in the show, and they're quotes that I can see myself stitching on a pillow. One of them is from the first season, and it's from Nikki. She says, " You can't be too attached to what you think your life is going to be." And the other is from this season about the world turning people into monsters, but you guys add, "the world needs one raised by us." How do you approach those lines that may have a little more weight to them?
Spall: "I think what [creator and writer Andy Wolton has] done from season one to season two is written more for us. So, we were just two actors who auditioned for the parts. And as an actor, when you read a script, you have an immediate instinct that you can or can't play a character. You sort of go, 'Yeah. That's in my wheelhouse.' And for me, Jason definitely was. But as the series has gone on, [Wolton] has written for us. He writes in our voices. So, it's always very easy to say. Good acting is easy when the writing's excellent. It's as simple as that. It's always excellent, and it feels collaborative. We feel like we have a level of authorship over this show because of our involvement from the beginning. We feel part of the whole creative process in a way that I haven't felt on other shows. These characters feel like part of us."
Smith: "Yes. They really do."
Spall: "It's an acting exercise in bringing a lot of your own essence to the screen. That's part of the gig, I think, is bringing a lot of yourself to it. And that can be challenging, but very, very gratifying."
Preston: I want to end on a silly question. I hope you don't mind. I love that the episodes end with this sweet montage, with a pleasant song that plays over it. If we were to get a glimpse of your routine turn-in each evening, what would we see, and what song would play over it?
Spall: "[Laughs] I feel like my routine turn-in is incredibly boring."
Preston: Maybe you have beautiful moments of reflection like they do on the show?
Spall: "Well, in that case, mine is very glamorous, like 'I'm Coming Out' by Diana Ross."
Smith: "Are you wearing a robe?"
Spall: "And I would be dancing around the house in a feather boa."
Smith: "In a silk robe, right?"
Spall: "Yeah, yeah. That's my vibe."
Smith: "I like to think maybe mine would be a nice little Chet Baker number."
Smith: "Yeah. A nice smooth jazz as I sip my lavender tea before I go to bed. Just listening to some mellow sounds, like a lovely coral seascape. Actually, that would be mine: a coral seascape from the Calm app."
Spall: "Rock and roll, dude."
Smith: "So rock and roll."