After being canceled last year, Denton Parks and Recreation's annual Halloween Harvest attracted hundreds of locals Saturday for an evening of games, costume wearing and storytelling.
The event is typically held each year in mid-October, a few weeks before Halloween proper. But the pandemic reduced it to a virtual costume contest a year ago, in addition to a trunk-or-treat event on the holiday itself. It didn't take long for the Denia Recreation Center to fill up Saturday evening, though the event was outdoors this time, which is the latest pandemic adaptation.
"We thought pulling people out here would be safer," recreation coordinator Aaryn Reese said. "We enjoy these community events. We just wanted to do it in a safer way."
The transition from inside to outside didn't change much in the way of activities. Concessions, games, bounce houses and a hayride were among the attractions for hundreds of locals. Sanger resident Jessica Harrington said her family — especially her two children — missed the event last year. She said they've only recently started getting out more, with two elderly family members at home.
"We were really careful," Harrington said. "I tried to get [the kids] doing little things. Typically, we come toward Denton. They love it."
Elizabeth Beamon of the Tejas Storytelling Association was one of two storytellers set up Saturday. She said opportunities have only just recently begun to pick up for in-person events, with most storytelling going virtual in the past year — including the association's annual Texas Storytelling Festival.
"There was a lag during the pandemic," Beamon said. "But October is usually a very good month for storytelling."
The most prestigious activity of the night was the annual costume contest. Contestants could enter for best baby, toddler, youth, family and most creative — and attendees gave the judges plenty of options to deliberate over.
The Wallace family of Denton ended up taking home the victory in Family with their tribute to Disney's Beauty and the Beast, complete with 3-year-old Anderson as the beast himself. Mom Michelle said Halloween is the family's favorite holiday and that they're excited for the festivities to be back in full.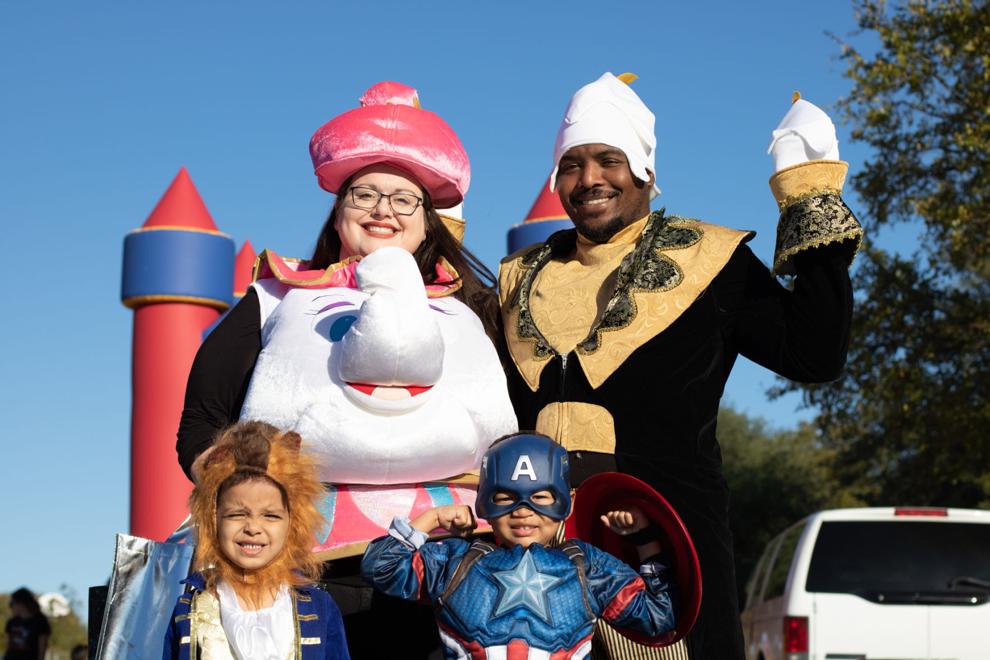 "We're just thankful and ready to have fun again," Wallace said. "We understand why things were canceled, but we're ready for things to get back to normal, or at least close to normal."
Other winners included Parker Krause as a flamingo (Baby), Agustina Diane as a giraffe (Toddler), Donald Springer as a ghost buster (Youth) and Matt McKethan as an alien abduction (Most creative).