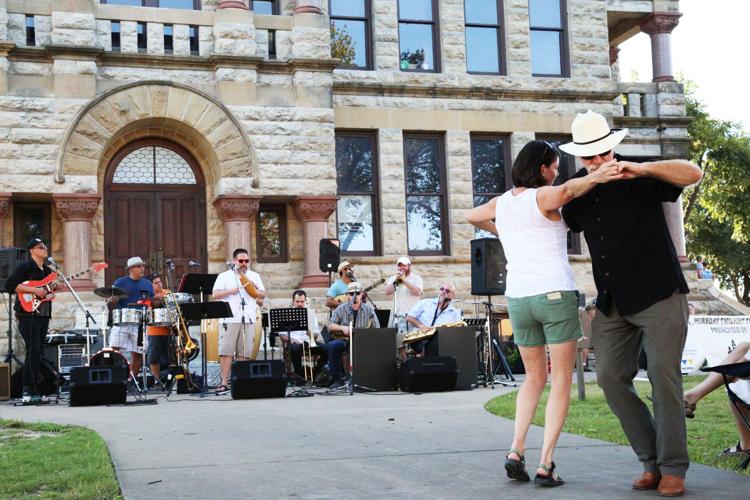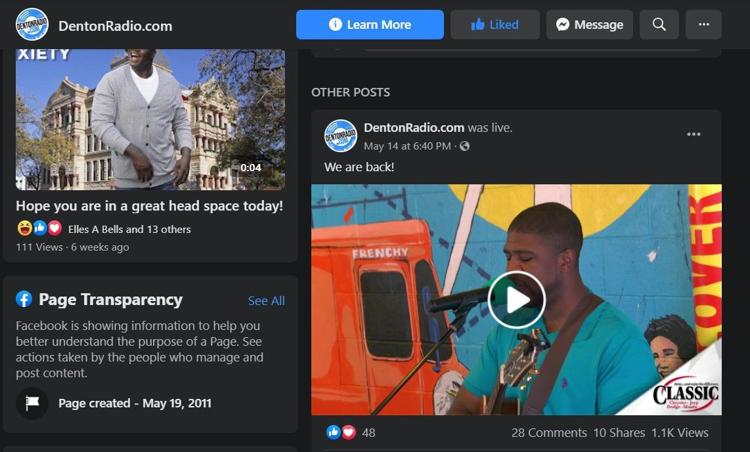 Twilight Tunes has moved off the downtown Square only when rain or construction forced the free concert series indoors.
Now in its 27th season, Twilight Tunes won't bring hundreds of people to the Square for free music and eats from downtown merchants. With county officials still banning mass gatherings because of the coronavirus pandemic, Denton Main Street has taken the concert series online.
"We had the discussion in March when all this happened. We realized it wasn't going to happen in April at least," said Christine Gossett, the executive director of Denton Main Street. "As things kept happening, we realized Twilight Tunes wasn't going to happen this summer."
During its April meeting, the Main Street board decided to move the series — which usually happens 6:30-8 p.m. each Thursday in May and June — online.
"We bumped the first few acts scheduled for this month to the fall," Gossett said. "We discussed it and decided let's take it online, to a livestreaming event, for those [musicians and bands] who are willing to do it."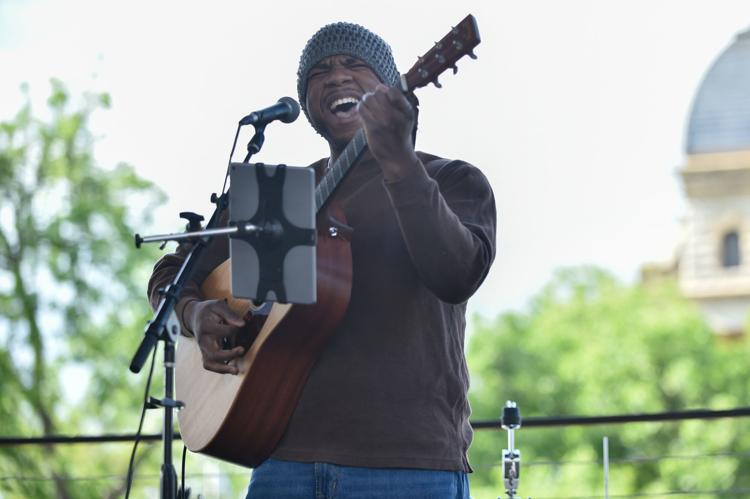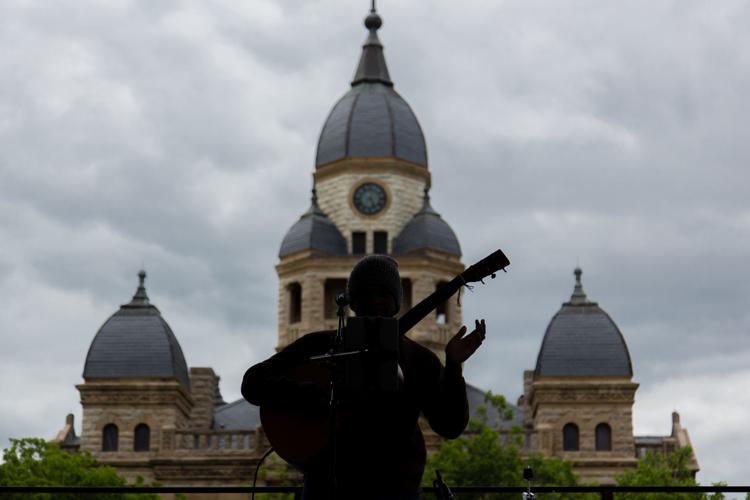 The first Twilight Tunes of the season was last week. Denton musician Dunashay Thomas took his gear to the Discover Denton Welcome Center, where DentonRadio.com records and streams live music performances — in front of the mural that features the downtown Denton County Courthouse on the Square.
Thomas said he has been performing at Twilight Tunes for about the past five or six years, both with his band, the Lowdown, and with his newer project, the Dunashay Experience. Thomas considers his music inspirational, with roots in gospel, blues and R&B. He released his first album, Unconditional Love, in 2016.
"It was a very appreciated performance," Thomas said of his turn in front of the camera last Thursday. "I was grateful that I was able to do it. Being able to do a whole set for the camera was definitely different. This was an hour of me right in front of the camera. There was a disconnect that I normally wouldn't appreciate when I'm out in front of people. At a performance, between songs, I might banter with the band and let the audience do what they do. But performing live, there's nothing like being able to look out at see people sing along, clap, dance. The thing I enjoy is being able to be an outlet for people."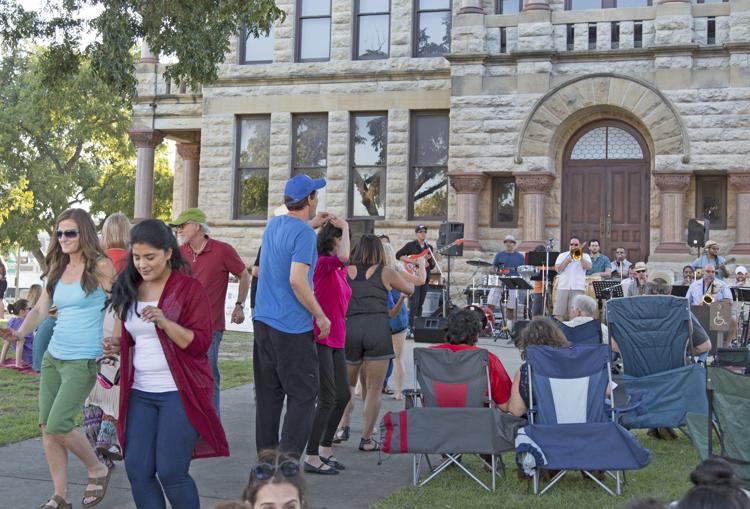 Gossett said Main Street made some changes for the streaming series. Because it's hard to fit and equip a full band in the welcome center, Gossett said Main Street contacted the musicians and bands slated to perform to find out if bands could send just a few musicians to the welcome center, or if front men and women would consider a solo set at the center.
"Now that we're pivoting to the livestream, most are acoustic solo artists or duos," Gossett said. "Most artists were really willing and ready to move to a livestream."
Jake Laughlin, manager of the welcome center and DentonRadio.com, is coordinating and operating the livestream performances, something he regularly does for the local internet radio station.
Gossett said musicians will play for an hour, and the tourism organization will remind locals to stop by a downtown restaurant for takeout or meal prep kits before they head home to watch on their laptop, tablet or smartphone. The concerts will stream on Facebook Live on the DentonRadio.com page.
Typically, Twilight Tunes attracts roughly 500 people each week to the Square. While the livestream has a potentially unlimited audience, Gossett said the series won't have the same ability to get people walking, shopping, dining and drinking around town on Thursday nights. With people staying home and restaurants having to limit their occupancy because of the pandemic, activity will be down, Gossett said.
"There are featured sponsors for every concert," she said. "With everything being so hard right now, we're scaling down. The community can support us through the donation button at the bottom of Denton Main Street website page for Twilight Tunes. It's one of those situations where you just make the best of a bad situation. We felt this was the best way to keep moving forward."
Thomas said virtual concerts are probably the best way to keep the music playing.
"You see some people who can perform really well on just a little YouTube video," Thomas said. "A lot of times, I'll stop and delete because I got out of the moment. When you play live, you're having this finality of this moment. You're right there; you can't go back.
"I suppose you could have edited this [Twilight Tunes] video. I'm glad we didn't. It was different to not look out and see all the crowd. Every now and then, I will play a gig, and I will have someone who will not seem like they are into it. I brag that I have something for everyone. I will reach into my grab bag and be like, maybe they'll like this, and I'll try it out for that person who hasn't looked up all night.
"It's not the same as looking out and seeing people," Thomas continued. "At the same time, I felt like this needed to happen. We need something that's going to bring us together more than ever."
Main Street officials have their fingers crossed that Twilight Tunes will return to the Square, and hundreds will tote their blankets and chairs for the show.
"In the fall, we hope to come back outside," Gossett said. "We're taking it one week at a time. We have a great board, and we're just taking things one week at a time."