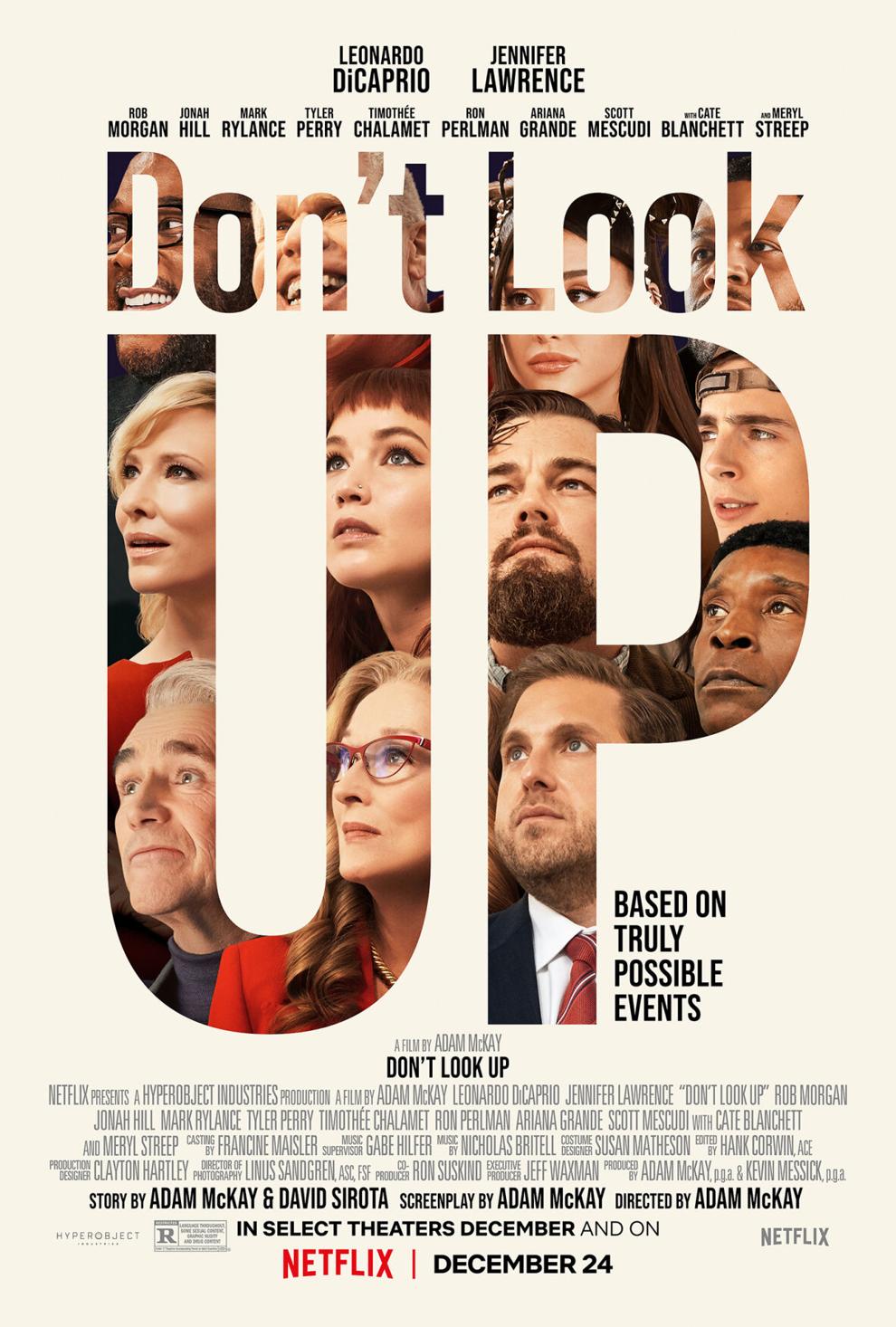 Don't Look Up (★★★★½) - Adam McKay's brilliant, Idiocracy-like satire, Don't Look Up, holds a megaphone up for those who often bottle up their frustrations. It casts a wide net, tackling nearly every social and political concern, and doing so with aplomb. You won't see a funnier or scarier movie this year. You'll cry laughing and then, in a matter of seconds, feel a shift toward the darkness that makes you say, "Yeah. This is exactly how it would go down."
McKay has a way of navigating tone. As he does with many of his films (The Big Short, Vice and Talladega Nights), he opens with a quote that makes you scratch your head and chuckle, then shows us a truth that is so bizarre that you choose to keep laughing just to keep from crying. Even though we don't have a giant piece of rock hurtling toward Earth right now (knock on wood), how it's discovered in the film and shared with the world is so terrifyingly authentic.  
Leonardo DiCaprio and Jennifer Lawrence play the duo of low-key astronomers who spot the planet-killing comet, and they set off on a path to wake the world up to its impending doom. However, no one seems to be taking them seriously. News anchors choose to focus only on the positive and ridicule anyone who tries to "get real" for a second. The same goes for the President of the United States herself (Meryl Streep, who spectacularly hams it up alongside the scene-stealing Jonah Hill as the chief of staff). Hopefully, someone will give them a chance. Best of luck!
Don't Look Up very clearly has a lot on its mind. Ideas shoot out of it like a firehose, but there's a poetic, melancholic nature to all its insanity. Hank Corwin's award-worthy editing embraces a visual essay quality that uses nature shots, people lovingly living their lives, and symbolic imagery (a snake eating its own skin) to ramp up the audience's emotions and sense of urgency. Some will look at all this and say it hits too many things on the nose, but McKay and his storytellers really aim to make an all-encompassing piece that organically moves from one area to the next. It's more than an extended Simpsons episode. There's a lot to admire. It's powerfully rendered and one of the year's very best works.
Everything Jonah Hill and Timothée Chalamet say.
An ongoing gag about snacks involving Jennifer Lawrence and Paul Guilfoyle's General Themes.
An unforgettable venting scene with Leonardo DiCaprio.
Rated R, 138 minutes. Now playing in theaters. Available Dec. 24 to stream on Netflix.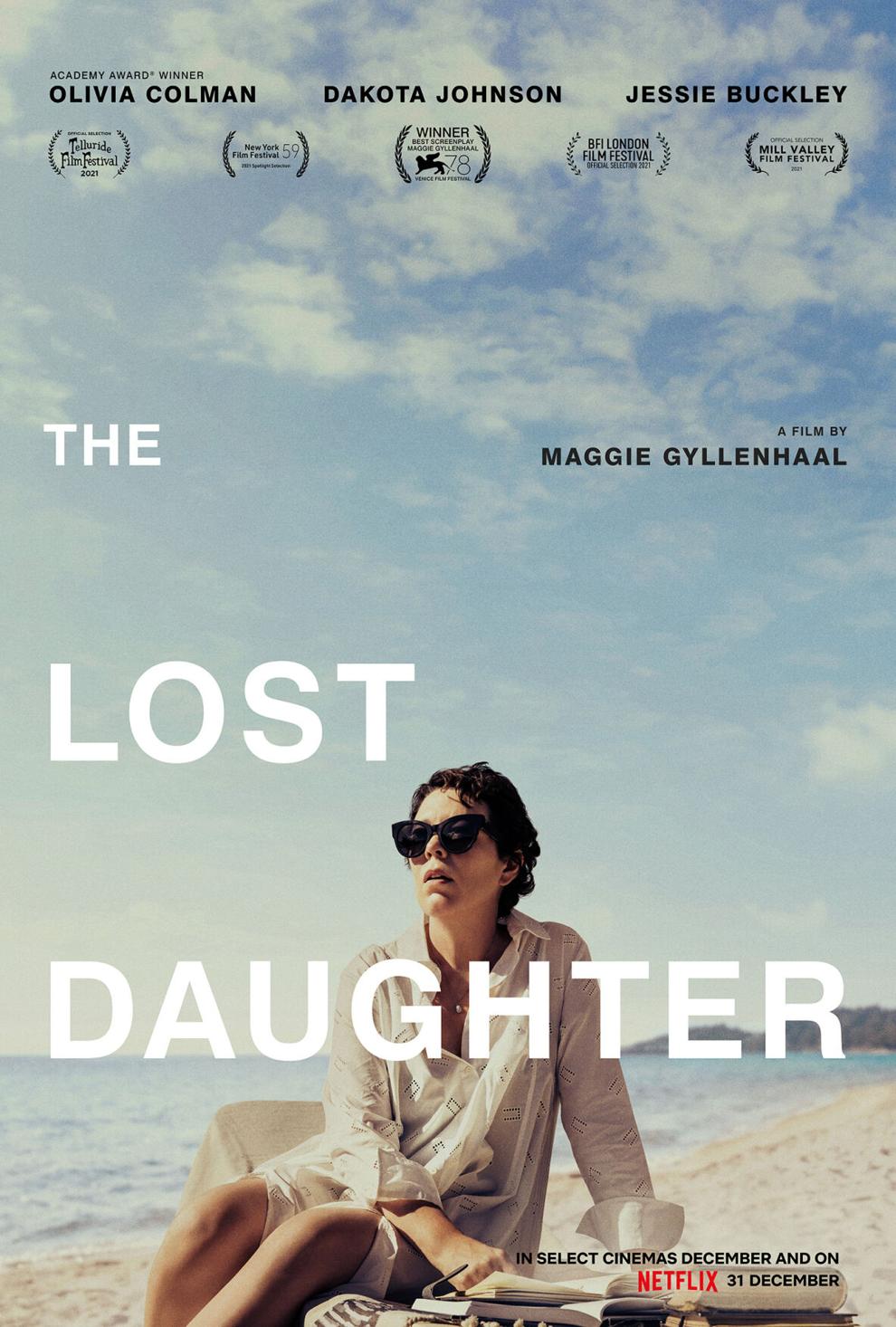 The Lost Daughter (★★★★) - Maggie Gyllenhaal's incredibly human and reflective filmmaking debut, The Lost Daughter, sneaks up on you in very unexpected ways. It's a film set amid the open-air yet feels intimate and claustrophobic due to the emotional current running through every frame. So, prepare for it to work its subtle magic, wow you with its tender performances, and hurt and heal you with its moving, discomforting truths about mothers and daughters and the women struggling to be both.
At the center of the story is Leda (a knock-out Olivia Colman), a middle-aged, divorced mother of two and professor of English literature. She's vacationing alone at a sun-drenched Italian coastal town where happiness seems to be as bright as the Mediterranean light. However, slowly are the layers of escapist fantasy peeled back to expose disturbing shadows and secrets. 
Gyllenhaal skillfully navigates the emotional minefields and the cycle of psychological damage among multiple generations of women in the film's story. How she quietly observes her characters, whether it's Leda's curious behavior or those who express concern for Leda (and also have pains of their own), surface many thoughts about our human complexity. Living is hard, and we often make regrettable decisions that can hold us down from growing and excelling as people. But as The Lost Daughter articulates through its experience, self-compassion can profoundly open our hearts.
Jessie Buckley as a young Leda. She should be recognized for acting awards just as much as Colman.
Dakota Johnson's sharp touch as Nina, a fellow mother that reminds Leda of herself.
How a scene of adultery is softened by characters falling in love with each other's minds as opposed to mere sexual attraction. 
Rated R, 124 minutes. Opens tonight at the Inwood Theatre in Dallas and becomes available on Netflix on Dec. 31.