For a year that has paused many of the blockbuster releases, there's still quite a bit of content being cranked out. Indie films seem like they have been in the spotlight more than ever, and Netflix continues to dominate 2020.
This week alone, there has been a baker's dozen's worth of titles that have hit Netflix, including Hubie Halloween (Adam Sandler stupid fun) and the surprise early release of Schitt's Creek's sixth and final season (which you should totally watch). But what's cool is that Netflix is also giving viewers the chance to catch some of these works earlier than its streaming debut by screening them at local multiplexes.
Whether you're looking for a movie night out (masked up, of course) or embracing the couch potato lifestyle, Netflix has some offerings.
The Haunting of Bly Manor
Rated TV-MA, about 494 minutes across nine episodes.
Now available to stream on Netflix.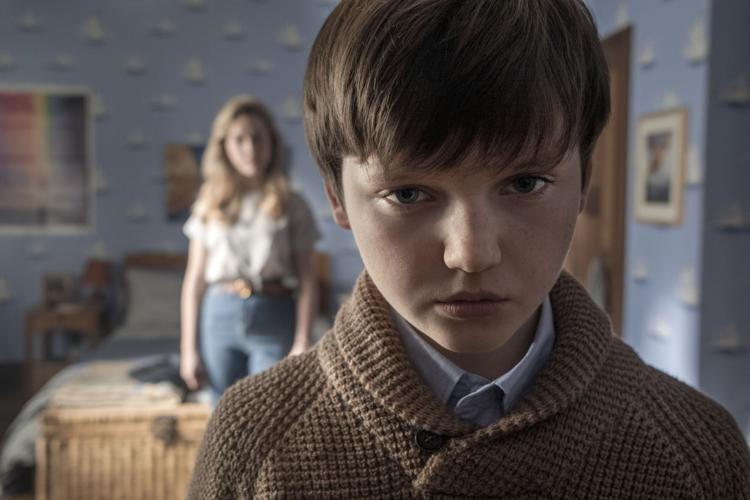 Like a follow-up to anything great, expectations are sky-high. Mike Flanagan's The Haunting of Hill House made a big splash on Netflix in 2018 for its family dynamics, scares, and incredibly rich production design. It found the right balance of terror and heart to keep you locked in for its 10-episode journey.
The next chapter, The Haunting of Bly Manor, doesn't quite reach those same levels, but it still manages to make you sweat, fall in love with its characters, and eager to work out its puzzle.
Featuring many of the talents from Hill House, Bly Manor centers on Dani Clayton (a remarkable Victoria Pedretti), a young American woman who becomes the au pair, of Lord Henry Wingrave's (Henry Thomas) recently orphaned niece (a perfectly splendid Amelie Bea Smith) and nephew Miles (a spectacularly creepy Benjamin Evan Ainsworth). Also living at the manor is a friendly housekeeper (a showstopping T'Nia Miller), chef (Rahul Kohli), and gardener (Amelia Eve). Out of place things happen after Dani's arrival, and slowly the truth begins to reveal itself.
This story is based largely on Henry James's novella The Turn of the Screw, but it also takes elements from other works in James's library. It's set in 1987 London and jumps in and out of characters' perspectives like backstories shared in a novel. Flanagan incorporates an approach that has a very literary feel to its narrative flow. This could prove challenging to viewers. It would be wise to prepare your cerebral running shoes because even though it seems like moments are still, they move fast with information and essential details.
Netflix' latest includes good horror, disappointing animation
Another aspect to prime yourself for is this isn't a ghost story that ratchets up the creeps as much as you may want, especially coming off Hill House. There are certainly images that will frighten you, most notably during the conclusion of one of its later episodes. However, as you'll gather, this is more of a gothic romance. If you were one of those people who were disappointed by Guillermo del Toro's Crimson Peak (a movie that I love), anticipate something not far off — maybe not story wise, but in terms of its tone and feel.
Overall, the major takeaways are the visual look, the performances, and daring to do something different.
The money is on the screen. Everything looks haunting with its blue and green colors at night and yellowish glow during the day.
Across the board, performances are immaculate. There's even a surprising cameo during the bookend episodes of the series. Real lovers of film (hint: especially notoriously bad ones) will recognize this person. (Tip: Maybe turn the subtitles on. Some of the accents are heavy and difficult to decipher. It can be slightly distracting at first to watch familiar actors from Hill House use these voices. But if you keep with it, you'll get used to it and tune back into the drama.)
Lastly, the risks that it takes is what makes it simultaneously exciting and perhaps underwhelming. It's apparent Flanagan - who only directed the first episode and serves as the showrunner - and his team wanted to shake it up and not make the same tired story again. There are long sequences where characters are just talking. You're hanging out with them, but it doesn't ever become uninteresting. You only may frustratingly wonder from time-to-time where it's all going. So much is dangled out there that not many loops are closed before moving onto the next thing. Those loose ends are tied up and rewards come to those who are patient.
You slowly learn that Bly Manor is trying to do something very new and bring in some big ideas. Some components may prove to be too much, but it will definitely leave you thinking. Who knows? It may sneak up on you down the road. Just sit with it and allow its themes to wash over you like the dark baptism it is.
Now playing at Studio Movie Grill Plano, Flix Brewhouse Frisco, and iPic Fairview. Available to stream on Netflix, October 23.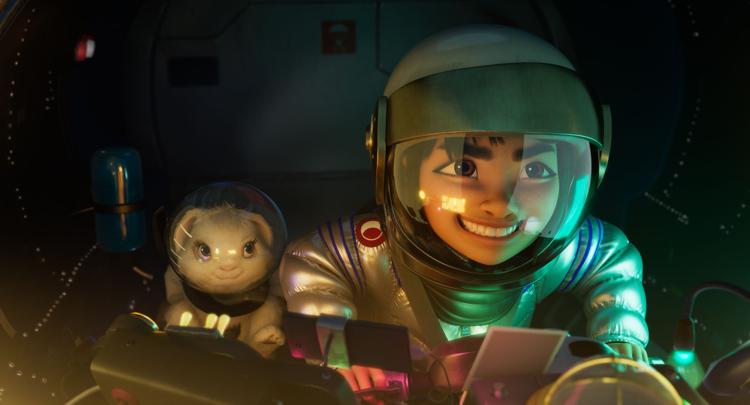 Three months ago, when the first trailer landed for the animated family film, Over the Moon, I was hooked. I thought, "Wow! Netflix is really going for it!" The story of a young, broken, and determined girl, trying to get to the moon to meet the mythical moon goddess that her mother always talked about, is fit for Pixar. Not only did the animation and cast (including Ken Jeong, Sandra Oh and John Cho) impress, but the three-minute teaser gets you quite emotional.
From there, I closed myself off from any further updates to aim for an unsullied experience. Little did I know that Over the Moon would be a musical, too. Two song numbers at the top caught me by surprise, but they were pleasant. Not Frozen arena, but sweet. They had a narrative to them and invited you into the characters' culture and routine with delight.
The magic wears off as the music takes a 15-minute break to inform more about the central family, their mooncake business, and the hardships they face through the tragic loss of one of their own. As we push forward, familiar story beats and shapes reveal themselves. You could take a glance at something (or someone) and know exactly what's going to become of it.
Unfortunately, so much of the film is borrowed from other works that the bittersweet story it aims to tell comes across as disingenuous. The power of its incredible animation can occasionally make you ignore the shortcomings, but it's short lived before another annoyance surfaces.
Frozen, Moana, every Pixar movie, even Angry Birds come to mind. It was as if storytellers wanted to capture all the epic moments throughout musical and animation history and stir them into one pot. You have an Olaf replacement, sweeping camera movements during a big song moment, and forced comedy. If the film had spent more time on the anticipation of the journey and wonder of what's on the other side, this could have been something worthy of note.
Considering we're desperate for more films to entertain the kiddos, Over the Moon will entertain and give a lot of visual pop to absorb. But for parents or those seeking more originality, sadly, there isn't much juice in these boosters.