When it comes to writing music, Tyler Ramsey doesn't have a process.
The former guitarist and co-writer from Band of Horses said he just settles into a room with his instruments and lets the muse sort of rise up to meet him.
"I think really writing comes in waves for me," Ramsey said, reflecting on his latest solo release, For the Morning, which was released in April. "It feels like when that wave starts to build, I'll start to write an album. I don't even really have a process when I write — I can start with anything, humming the melody on the piano or with a lyric. It comes together naturally that way."
Ramsey is touring with My Morning Jacket guitarist and pedal steel player Carl Broemel. The duo stops in Denton for a show at Andy's Bar on July 24. Ramsey said the tour — the pair is calling it the "West Coast Duo Quest" — takes them to smaller venues, where Broemel interprets Ramsey's work and vice versa.
"Band of Horses did some opening shows with My Morning Jacket on an earlier tour," Ramsey said. "Those guys were really lovely people to hang out with. Carl came through Black Mountain last year and I went out to see him and we met briefly after the show. We had a quick conversation and we decided to book these shows together."
To shake things up a little, Broemel and Ramsey agreed they would play one another's music.
"Instead of one person plays their set and then other plays theirs, we decided to try singing each other's songs. I sing harmonies for him and then he backs me up. It's a pretty stripped down show, with the Wurlitzer electric [piano] and some other instruments," Ramsey said. "We did it in February and it was a lot of fun. We're just going to see what happens."
Ramsey said the chemistry produced good music.
"When you have someone who you just sit down with, and you're like, 'Hey, that was pretty cool, we gotta do that again,' you find a way to do that," Ramsey said. "Our voices sound really good together, and our hearts are in a similar place. It just seemed like a good thing to do to tour together. Getting to know each other, I feel like we've been able to pour a lot into it. We're playing the songs we've written, but there's room for improvisation and there's room for experimentation. I didn't want Carl to come with the exact same guitar or piano parts that are on the record."
Broemel will cover some of Ramsey's tracks from For the Morning. The record is a quiet, reflective album that considers struggle, resignation and transforming suffering into life's raw material. Ramsey's surely been compared to Neil Young. The comparison is fair, but his tenor is steadier and smoother. Some of the tracks suggest some brooding or darkness on Ramsey's part: "Breaking a Heart," "Bottom of the Sea," "White Coat" and "Darkest Clouds."
"It wasn't deliberate," Ramsey said. "But it's like what I was just saying earlier. There is a light-dark thing in these songs. There is trouble and then there are these hopes. That's one of the things I've gotten after a while with this record. There's a lot about making it through trouble and coming through the other side."
Ramsey dreams up his music in a house just outside of Asheville, North Carolina. He has a healthy respect for cities and urban spots where creative types come together, but he said he needs some solitude to write a new record. Dirt, sunlight and some green things get his thoughts and ideas cycling.
"For me, walking in the woods can be a way to get away from distractions," he said. "And basically it's a way to get away from people, really. The mountains, for me, are a way to get away from the distractions, really. I think when you're writing something or working on a project, you have to remove yourself not just from the distractions, but from the potential to get distracted."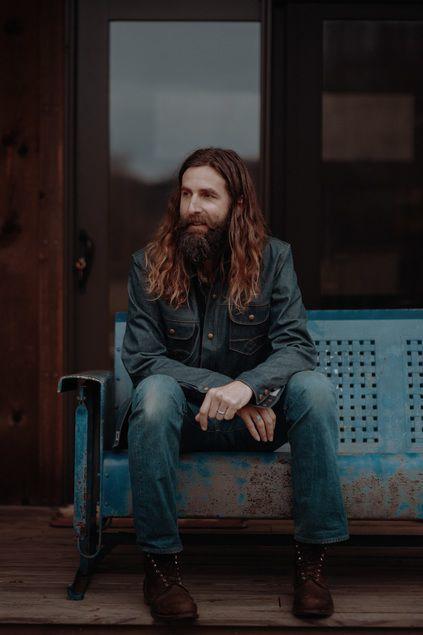 Ramsey tells the record's stories on guitar, pedal steel and piano, mostly. "Firewood" is probably the record's darkest moment. Ramsey's narrator wonders about the near future of two people — which one will fall apart or if both will sink together. The drums and electric guitar bring up the sun, though, and a renewed promise to see it through.
"Evening Country" is a midtempo number showing off nostalgic harmonies. In this track lives a broken relationship that seems headed for its end. A gentle chorus of oohs camouflages the narrator's frustration and regret. "Breaking a Heart" keeps up the midtempo beat and the gnawing desperation to finally put an end to misery, but there's also a dogged readiness to save a bruised, broken relationship.
"Getting a little distance and having the songs completed, it can make you see things you didn't before. That happens when you sing a song or when you get up and read a poem you know so well," Ramsey said. "You get up and share something, and you automatically hear yourself in a different way. The audience is going to hear it and you end up processing it differently. As I perform these songs, I come back to the theme of light and dark. And I'm getting more of a fix on my emotional state when I wrote them.
"You get to look inside your own ideas. You get to repeat those words a lot. Put that emotion into it and you try to do that every night. For me, there's a lot of analyzing what's driving the songs."
The pair's show at Andy's came up when Ramsey was looking for a venue. Band of Horses has played with the Denton band Midlake. Midlake guitarist and lead vocalist Eric Pulido is part-owner of Andy's Bar.
"I'd been wanting to play Eric's room, and I've heard good things about it. I think this is the right show and the right time to play that room," Ramsey said.
KKXT-FM (91.7) presents the July 24 show. Doors open at 7 p.m., and tickets cost $10. For advance tickets, visit http://bit.ly/2Lfgqog.