Q: I'm a male solo artist. Sometimes when I play bars, I see some questionable behavior from men toward women in the audience. I mentioned something to my musician friends, and they said they see things sometimes, too. When I go to the jazz fest, Brave Combo will tell the audience to watch out for each other and be safe. I feel like I can tell the audience to please not be skeezy with women, but my friends aren't so sure. Should I let it go, or should I be like Brave Combo and tell people to be nice? What do you think? Should bar staff take care of it? Or if we see something should we say something?
A: Let me start by saying to the artist who wrote this question: I love you! I want to thank you for caring for your audience. Talent is only part of the equation when trying to succeed as an artist; fans care about you when they know you care about them. You are well on your way.
It is no question that is a problem in the entertainment world. Unfortunately, it is a problem in most worlds. But things can especially become a problem when drinks are flowing and the crowd is packed. It is essential that women (and all identities) feel safe when going to a show. So, from a social standpoint, I think we should all feel empowered to speak, both on and off the stage.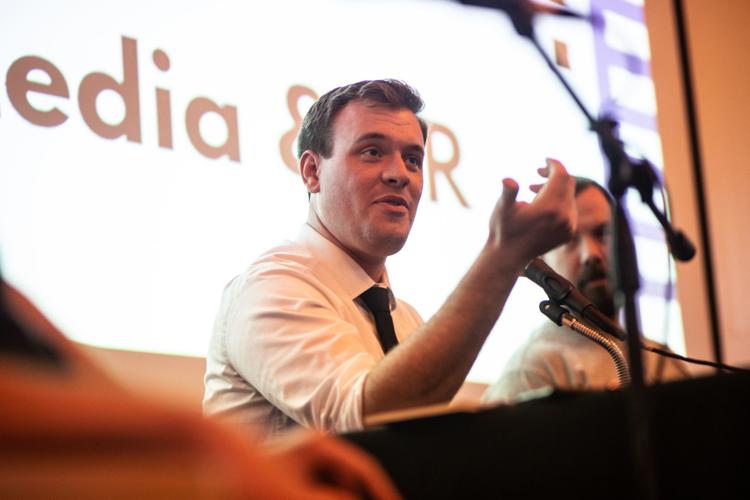 As a man, I only have so much insight into this specific problem. In fact, I would love to invite female artists and art lovers to offer further insight in the comments. In preparation, I spoke with several musicians and received a wide variety of answers, from "absolutely you should" to "I'm not sure that's my place." For the purposes of this column, I want to answer from the perspective of a show promoter, how I would hope an artist would deal with this situation if I were the one who booked them.
The No. 1 thing to avoid is escalation. There is not enough money in most venue budgets to afford a bouncer or security. In fact, if the capacity of a venue is 200 or more, I think security should be an essential expense. However, since this is not realistic for a lot of venues, it is important as entertainers that we do not escalate problems. Like most things, it is not what you say, but how you say it.
I am a firm believer that artists should talk more from the stage. I understand that it might feel like you are cheapening the songs by talking too much, but the audience came to see you. The full you — songs, words and all. No matter how much we would like it to just be about the music, the full experience matters. I coach artists to spend nearly as much time practicing what they are going to say to the audience as they do practicing their songs. So, since this problem is so prevalent, I think artists should add words of safety into their routine.
In reference to your example, Brave Combo always gives a great show. But they are always vigilant to make sure their audience is safe. When we are all dancing in the mud at the Denton Arts & Jazz Festival, it would be easy for someone to be injured, but Brave Combo takes time to encourage safety. You should never need to hesitate when encouraging safety and respect, and I think there are some best practices that can be helpful.
It is perfectly acceptable and encouraged by venues for you to direct the audience to respectful behavior. They will actually greatly appreciate it. Early in every show I would say something general. Start by being casual, funny or lighthearted.
"Hey, everyone, I am excited to be here tonight, thank you for coming. When I play a show I like to enter into an agreement with the audience. The agreement is 'Let's all be cool.' Let's all respect each other, and, if you are able, take care of the staff here tonight, because they are working hard."
You will be surprised at how such a small thing can make such a big difference. After this, if the problem persists, now it is time to call for help from the bartender or staff. Before every show, get to know the staff. Learn who the bartenders are and who the manager is, and you should ask the question: "From the stage, I can usually see the whole crowd. If I see a problem, whose attention should I get?"
You and the venue staff are a team, and any venue worth its salt wants its place to be safe and will take measures to assure that it is. They might get busy and not notice the problem, but you have the vantage point they need. The venue wants to work together with you. You offer the eyes and they take action.
I often see bands break into a jam while the frontperson walks off the stage to interact with the crowd. I would practice this with your band, have a signal to let the band know you are going to step off of the stage for a moment and that they should start playing without you for a few minutes. If you are a solo artist, you can still announce to the audience that you are taking a quick break and will be right back. Once you leave the stage, find the person the venue said is the person to handle problems in the crowd and make them aware of the situation.
Taking the time to get to know the staff and have this procedure in place will be your greatest tool in keeping your audience safe. I want to be clear that I am not suggesting that artists cannot say something when they see something. My suggestion is having a process in place that can protect the person you are looking out for, while also making sure the situation does not escalate beyond your control. I have seen audience members rush stages or become violent toward everyone around them. If we can avoid this we should, but please use your best judgment. If the situation calls for immediate action, you should take immediate action, procedure or no procedure.
Your audience trusts you — that is a true responsibility. Take the time to form relationships with the staff, and talk to your audience, set expectations for safety and respect. If you see something, should you say something? Absolutely! Always say something, and avoid escalation by having a procedure in place. But always say something.
We have soft launched a new version of DentonRadio.com. Check out this video to see some of the new features. We would love to hear your feedback as we prepare for the final launch. All of us on the Discover Denton team hope you enjoy it!
Featured artist
In this column, I want to highlight Hannah Wadsworth. Hannah is a very talented young artist, making country and pop songs. She has not only written a huge library of music, she is a very strong vocalist. Oh, and I forgot to mention, she's 16 years old!
We had Hannah play a set on Denton Radio back in February, and she gave a very impressive performance. Her ability to write and sing as well as she does should make Taylor Swift very nervous.
Here is a clip from Hannah's in-studio performance back in February:
JAKE LAUGHLIN is the media and productions manager for Discover Denton, the founder of DentonRadio.com, a talent buyer and the author of "Get the Gig: A Musician's Guide to Booking More Live Shows."