With move-out imminent for J&J's Pizza, the restaurant's downstairs music venue bid Denton a grand adieu Sunday with an hours-long show featuring several local artists — but while it may be the end of an era for this version of the Ol' Dirty Basement, it won't be gone for good.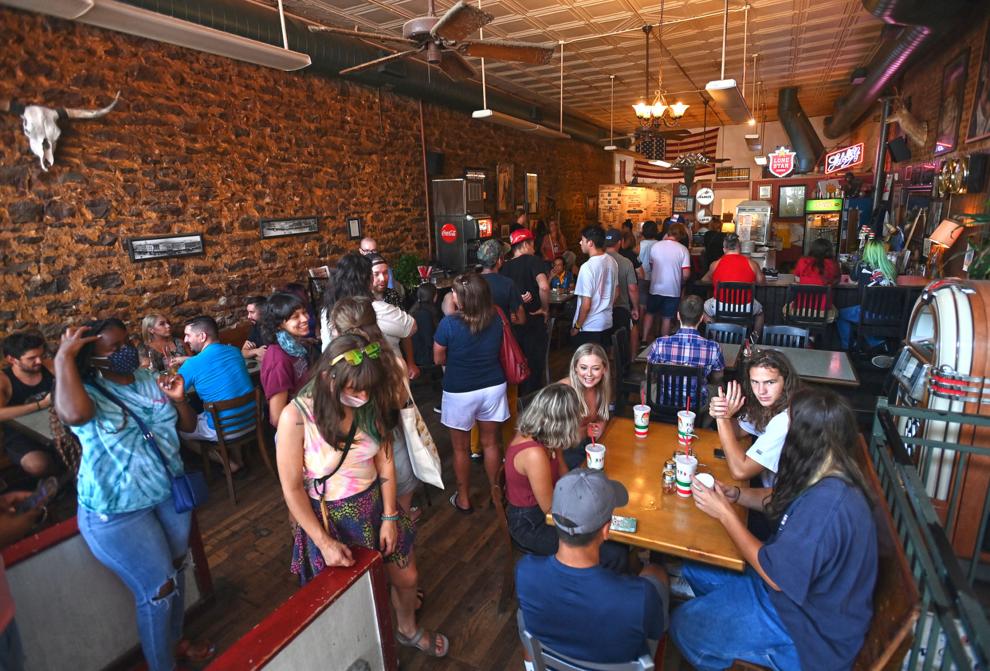 J&J's will vacate its downtown Square home of over two decades come Tuesday, Aug. 10, with ownership citing a rent increase that couldn't be afforded. The owners will be opening a new pizza restaurant in Gainesville, leaving behind the Denton building's renowned basement in the process. As the restaurant drew long lines Sunday, the basement put on its own 11-hour show from 1 p.m. to midnight, featuring about 10 acts as a send-off to the beloved spot.
"It feels like the end of an era," said Gerardo Reyes, a yearslong employee who has handled bookings for the basement since it reopened in late 2017. "It's sad."
Like the restaurant above, the basement has its own storied history, well-known to locals as a DIY venue that welcomes all members of the music scene — especially up-and-coming ones. In 2016, it joined two other downtown music venues in closing, with its landlord originally deciding to turn it into a separate business.
But the basement reopened in December 2017 to the delight of the music community. Now, J&J's move will spur on another chapter for the space, as the owners of incoming punk pasta bar MiXfiTs say they will maintain it as a music venue with minimal changes, including upgrades to the sound system.
"I'm not there to take anything away," said MiXfiTs co-owner Anthony Morel, a DFW musician who's played at the basement himself. "All I want to do is add, and I feel like doing anything to the basement would be taking away from it. When we open it, you're going to go down there and see that nothing's changed."
But for those who have frequented the basement for years, the shift isn't likely to be seamless. Bret Crow, while in-between two of several songs he performed as one of Sunday's opening artists, recalled to the crowd his first Ol' Dirty Basement show in 2008. Back then, he said, the shows were so cramped you could barely move.
"It's a place where new and upcoming musicians could come and try out something new — it's a safe place," Crow said after his performance. "Hopefully they'll keep the tradition. There's some things in Denton that keep Denton, Denton. That's what makes this city great."
Crow added that he'll keep playing at the basement under its new ownership, and thinks many artists will do the same. Sydney Rollins, a Denton local who's been to basement shows off-and-on since she was young, said she hopes it maintains the same appeal and importance for the music community.
"It's kind of scary," Rollins said. "J&J's is so synonymous with the music scene in Denton."
Morel said Sunday that the reopening timeline, both for the restaurant and the basement, remains flexible. His team will get the keys Aug. 16 and will likely spend the rest of the month evaluating the upstairs remodel, though he added it's a possibility the basement could reopen first while remodeling is ongoing above.
"We're sad to see J&J's leave — I wish we were in a spot next to them," Morel said. "But we're excited to come in there, and we're excited to keep ODB as is."
For now, fans and artists of the legendary venue can only wait for its next era to begin.