Twilight Tunes is coming back — with some major changes.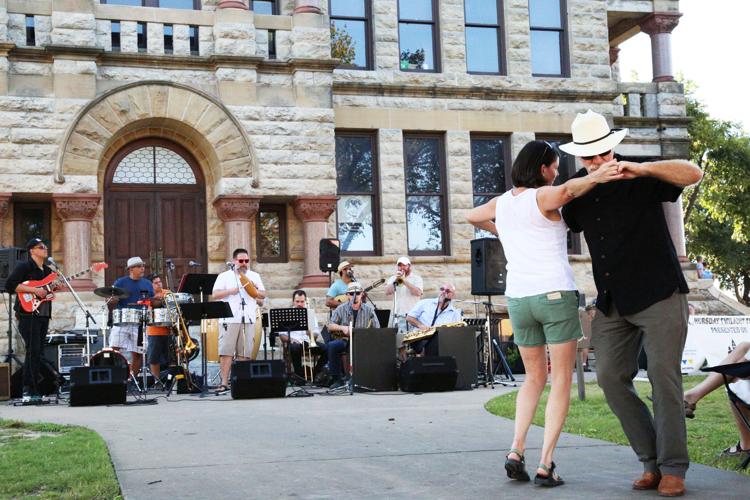 On Thursday, the series returns downtown as a drive-in concert series from 6 to 7 p.m. But instead on happening on the Courthouse lawn, the audience will take in the music from their car, or a lawn chair right next to it.
Space is limited, said Denton Main Street Executive Director Christine Gossett, so that attendees can enjoy the music while complying with social distancing guidelines.
"We had done the livestreams in the spring," Gossett said. "We noticed that once things reopened, people were wanting to get outside. We looked around at what some other cities and other places were doing, and the idea of the drive-in was popping up all over. We said let's look at our budget and see if this is something we can do."
The Twilight Tunes Fall Drive-In Series starts this week, with spaces reserved in the Scott Brown Properties paid parking lot across Austin Street from Well Fargo.
"We've been able to use the Wells Fargo paid lot for the [Arts & Autos] cruises. They've been supportive, so we can make these events happen in a little more socially-distanced way," Gossett said.
For a $5 donation per vehicle, you can reserve a parking space. Gossett said attendees can stop by a downtown restaurant for takeout dinner, and to keep any open containers non-alcoholic.
"We'll have speakers for everyone," Gossett said. "The lot is small enough — it's about the same amount space of sitting on the [courthouse] lawn. You can sit right at the edge of your car and wear a mask if you're outside. We're going to be asking everyone to stay tight so that everyone is socially distanced."
Texas Sky plays this Thursday. The North Texas band plays gospel, bluegrass and occasionally takes rock favorites from bands like the Beatles for a walk on the folksy side.
Volunteers will admit cars into the Mulberry Street entrance of the parking lot starting at 5 p.m. on concert nights. The free public lot will still be available for motorists, but the best "seats" in the house for Twilight Tunes will be in the dedicated lot.
Melissa Ratley, a Denton country music artist, will play Oct. 15. She said she's been using the pandemic shutdown to write music and help older neighbors tackle DIY projects and mow lawns.
She's ready to get back out on stage with her band, Ratley said, even if most of the crowd will be watching from behind a windshield.
"This would be my fourth Twilight Tunes," she said. "I was actually supposed to play in April, but the pandemic shut everything down. Christine rescheduled me for Arts & Autos, but then that turned into a car parade. So she rescheduled me again for the fall. I have to say I so appreciate the support of small organizations like Main Street and Christine."
Ratley said the pandemic has been a financial blow for musicians. With bars closed for months, countless live music venues have gone dark. And with mass gatherings restricted, Twilight Tunes on the lawn and music festivals have been canceled.
"Like any other artist, from not being able to play live and not being able to travel — I make more traveling than I do at playing locally — it's been a huge blow for us," Ratley said. "But we're not the only ones trying to figure our way through this. So many people are just waiting for everything to go back to normal. It's been a struggle trying to see anything in a positive light. It's decimated the music industry in so many ways — nationally, not just locally. Back when this all started, I told someone there's no way it will be back to normal until next spring. I just hope venues are able to make it."
Ratley did some livestream performances shortly after the pandemic sent workers home and still others to apply for unemployment benefits.
"Back in March and April, I did some streaming shows and donated proceeds (Denton Music and Arts Collaborative)," Ratley said. "I love them. I love those guys. I stopped around May because it seemed like it got really saturated with the streaming stuff."
Ratley said she plans to do what she needs to do for her performance to connect with an audience that isn't relaxing on the courthouse lawn, but getting as comfortable as you can in a car or truck.
"I think I sound better with my band than anything else," Ratley said. "It's another unique way to be able to play music in these very interesting times. I don't think anyone thought about doing the drive-in thing again until all this happened. It's going to be a great way to have the arts again. You can still be able to go out and enjoy some aspects of live music, with barriers to keep people separated."
DentonRadio.com will record the concerts and post them online afterward, Gossett said.
"I think we're going to be doing the livestreaming part of this for a little while longer," Gossett said. "We still want to make the music available to people who can't get out or who aren't ready for that, yet."
In the event of rain, bands will perform for a livestream at the Denton Welcome Center.