I recall watching a 1987 recording of Siskel & Ebert where late film critic Gene Siskel praised John Patrick Shanley's screenplay for Moonstruck, mentioning how he hopes the filmmaker wins an Oscar. Flash forward to the following year's Academy Awards, Shanley's work was recognized, and he took home the gold.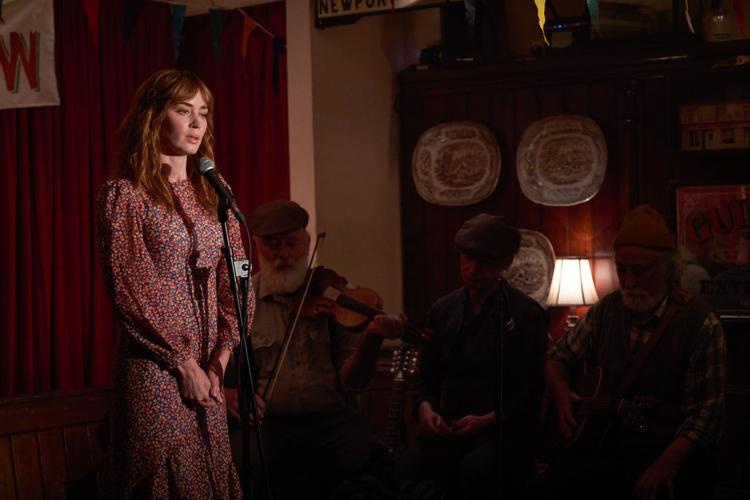 "Oh, when he says those things," Emily Blunt's character, Rosemary, mutters during one comical scene in Shanley's latest tale of love, Wild Mountain Thyme. It's a line with its own comedic thunder at that moment in the film, which Rosemary says to herself after listening to her star-crossed lover, Anthony (Jamie Dornan), spill poetry. But it's also funny because the words were thought up by Shanley, who very much has you thinking the same thing about him with his new screenplay.
Wild Mountain Thyme, a movie based on Shanley's play Outside Mullingar, is now playing in theaters and available On-Demand. It's a charming swoon-fest involving Irish farmer Rosemary, whose heart has been set on her neighbor, Anthony, for her entire life. The problem, however, is Anthony is utterly oblivious to his headstrong admirer.
Meanwhile, Anthony's father (Christopher Walken) has been plotting to sell the family farm to his American nephew (Jon Hamm). Maybe this situation will light a fire under Anthony to get him to confront what he truly wants.
Here to help us dig into this anniversary card-worthy material is Shanley himself. We had the opportunity to ring up the Oscar-winning writer to discuss Wild Mountain Thyme, which he both adapted and directed. Expect more words from the wise as Shanley talks about poetic inspirations and how the story was the most fun he's ever had writing.
Preston Barta: It's very seldom that I get the opportunity to speak with someone responsible for producing some of my greatest cinematic babysitters. I cannot tell you how many times I watched We're Back! A Dinosaur's Story and Congo, only to later love and appreciate Moonstruck and Doubt, and so now I'm excited to talk to you about this.
John Patrick Shanley: "Wow! Yeah, that's a long history."
Definitely! As you could probably gather, movies are pretty much my everything. They voice a lot of my feelings, help define what I may be going through, and understand concepts such as love. Were there any movies in your youth that helped shape your understanding of love and perhaps fascinated you to explore it yourself on film? Or was it something else entirely?
"Well, certainly Wuthering Heights. The first time I saw Wuthering Heights, I was in a revival, a film revival house, and I was crying so loudly that some people could not hear the movie. So, that was certainly one, and that's a tragic one about two tormented people trying to find a way to be together."
Would you say how you write about love has changed from penning something like Moonstruck to Wild Mountain Thyme? How much were your writing experiences impacted by the time that you made these individual films?
"I think that everything is. I think it's a little mysterious how we go from our actual experiences to turn it into stories. But when I wrote Moonstruck, I was living in a tenement in Washington Heights in a time when that was a very funky place. I had broken windows and holes in the wall, and I loved it all. I felt like I was in Balboa and had a sense of freedom and destitution as a positive force that I very much used in writing Moonstruck."
"And then what I did, we're back bringing out the child in me and getting to visit with that part of myself. And when I did Wild Mountain Time. I wrote the play. It was a result of having taken my father back many times. My father was born and raised in Ireland on a farm and came to this country when he was 24. So, I was surrounded by Irish blokes and tales of the farm. Later in life, he needed me to drive him to visit his brother on the farm, and I did so several times. After he passed away, I continued to come back."
"The way that they spoke and the way that they saw the world and the kind of crystal look in their eyes, canny look that a farmer has, mesmerized me. It also made me feel like I had found a missing part of myself. And so when I wrote the play, I had more fun than anything I've ever written in my life. I kept refining it a little here and there because I didn't want to finish it. I needed to finish it, and that one I just savored."
"Then when we did it as a film. I was like, 'OK. Now I can actually make Ireland the main character of this thing,' because that would only add to it and bring the animals and the weather, the shed, and the real kitchen. So, that was a real additional positive development."
Speaking of some of that language that you're talking about, there's a certain way that you phrase things that are quite humorous or interesting. Such as the moment when Rosemary asks Anthony, "Have you ever wondered what I wore when I wore less?" There's a poetic rhythm to it. How conscious are you of those beats when writing a scene like that? What's your process for getting into that zone?
"Well, reading William Butler Yeats doesn't hurt, but also just spending time with my family and listening to them talk was the big tutorial. The locations they employ to express the simplest thing, having certain elegant, unexpected elegance, would repeatedly throw me back an inch. That was pretty good, but the old woman in the first kitchen scene says, 'You're famous across Ireland for what goes by you.' That kind of oblique humor, that just slays me."
That's great. The visuals have a poetic nature to them as well. There's that scene when Rosemary is watching Swan Lake, and we see her young self dance alongside the performer on stage. Is it more challenging to find poetry in the visual moments as a director or when writing them as a screenwriter?
"Well, when you're taking it from a play to a film, you must set yourself to pair a different finding. Those visual and nonverbal moments expand the way the audience experiences the film. Certainly, the use of dance and music are two. Both of the principal actors sing, but they sing as their characters, and they sing to a purpose. When Rosemary sings 'Wild Mountain Thyme,' she's singing it to remind Christopher Walken's character of his love and first wife. So, it becomes a scene as opposed to simply somebody singing a song."
"And it's important to find the scene in each of these things. If the horse runs off, it's creating that moment on the hill when she's trying to get the bridle on the horse and thinks she's charming the horse. And then, at the last moment, the horse bolts, and all of the endearments that she'd been muttering, 'give way to burn in hell you...horse"— Defining that kind of fun in her, dancing in her boots on gravel, the least likely place to do ballet."
"Because in our heads, we perform all sorts of things in incongruent locations because we're dreamers. We're all dreamers, and to have the physical reality come up against the dream, that's film."
Before we wrap up, I want to conclude by bringing up some wise words you tossed out into the world that I think are very valuable as we continue to navigate this world that we're living in. And it comes from your 2009 commencement speech at College of Mount Saint Vincent. You said, "...you may go through a period of unemployment. My suggestion is this: Enjoy the unemployment. Have a second cup of coffee. Go to the park. Read Walt Whitman."
Not to get too personal, but I faced that through this pandemic. I came across these words, and they just hit me and helped me to embrace my circumstance. I just wanted to bring that up to let you know how much those words meant to me over the past couple of months.
"I'm glad to know it, and I think that we've all been forced to stop what we were doing and live with ourselves and say, 'OK. This is a year of me assessing what I've so far done with my life and what in the future I will do with my life.' To solve the problem in real-time, how do I make this day valuable to me? How do I make this day a day than I didn't waste in this precious short lifetime I've been given?"
Wild Mountain Thyme is now playing in select theaters and available On-Demand.