Blumhouse Television continues to make exceptional bedfellows out of the horror genre and anthology film concept. Similar to the production company's anthology film series Into the Dark on Hulu, Blumhouse TV is launching a new project on Amazon Prime Video.
Welcome to the Blumhouse (a title that would likely tickle filmmaker Todd Solondz) brings together a diverse ensemble cast and filmmakers for an eight-movie event. Timed perfectly with Halloween, the first four entries are launching this month. Starting today, a double-feature of Emmanuel Osei-Kuffour Jr.'s Black Box and Veena Sud's The Lie is available on the streaming service, followed by Evil Eye and Nocturne on Oct. 13. Blumhouse TV will put out the next four titles sometime in 2021.
For now, brace yourself for this week's Black Box and The Lie, both of which unwrap a solid foundation for Blumhouse to build upon.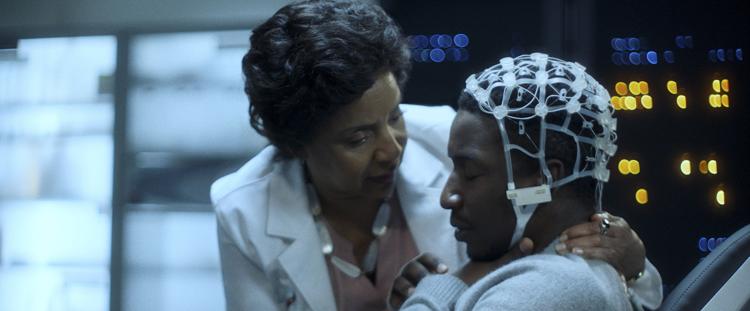 Black Box (★★★½) - First on the docket is an emotional mind-trip from Texas filmmaker Emmanuel Osei-Kuffour.
Steered by a commanding performance from Mamoudou Athie (Patti Cake$ and the upcoming Jurassic World: Dominion), Black Box explores parental fear to a grand degree. Imagine waking up one morning to learn that you've been in an accident, your spouse has died, your memory is covered in a thick blanket of fog, and you have a young daughter who depends on you. As much as I worry about doing the right thing for my child, this is a nightmare on another level.
Co-starring a very good Phylicia Rashad, Amanda Christine, and impressive contortionist Troy James (whose talents will cause you to do double-takes around your house), the film sees Athie's single father character, Nolan, undergo an agonizing experimental treatment in hopes of recovering his memories. What seems promising ultimately forces him to question who he really is.
Rather than be consumed by style and don the shape of a padded-out short story (like many of the Into the Dark features do), Black Box puts its characters on the front and center. Not only do they feel real, with human doubts and frustrations, but the audience can genuinely care and fear for them. If it weren't for the protagonist's fragile psyche, driving the fear beyond its faceless dream creepers, this wouldn't be the impressive feature film debut that it is from Osei-Kuffour.
In many ways, Black Box feels like the twisted offspring of Get Out and the cerebral puzzles of Christopher Nolan. Osei-Kuffour takes recognizable ingredients from these works, including fractured realities and the quest for truth, and molds them into a terror-filled creation with a pulse. Surprisingly, Black Box is just as emotional as it is unsettling. Watching our central character cycle through confusion, hurt, anger, and acceptance is one of the film's singular pleasures. Any parent's heart could swell over some of the images and questions Black Box presents.
Like Get Out, its strength doesn't come from logic, but instead from the truths it uncovers about ourselves and those around us. How Osei-Kuffour illustrates his ideas is quite the dazzler, especially the space where the film derives its title. There are sounds and visuals conjured up in Nolan's mind that frighten and cause you to lean forward. The direction it takes by the film's conclusion is a satisfying twist of events.
Whether you're an avid fan of psychological thrillers or on the hunt for a mind-bending flick leading into Halloween, Black Box is a nerve-cooking terror with a heartfelt bow on it.
Not rated (more PG-13 than anything), 100 minutes.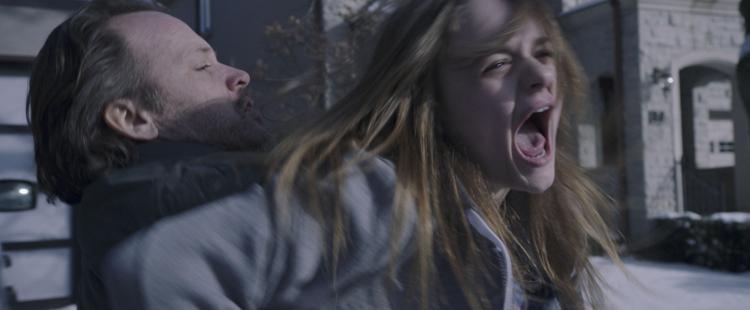 The Lie (★★★★) - It's going to be hard for anything else in Welcome to the Blumhouse to top The Lie's sheer captivation, extraordinary performances, and touching themes of strength and sacrifice. This isn't in-your-face horror. It's the kind of thrill ride that quickens the heart rate and plays with the audience's expectations. It sneaks up on you and asks how far you would be willing to go to protect your children.
Skillfully written and directed by Veena Sud (The Stranger Quibi series), the film stars Peter Sarsgaard, The Killing's Mireille Enos, and Joey King as a family stuck in an unfathomable situation. When their teenage daughter (King) confesses to impulsively pushing her best friend off a bridge to her death, two parents (Sarsgaard and Enos) do everything in their power to cover up the horrific crime.
The premise is super simple, yet extremely effective. It feels as though each shot was carefully considered, whether the camera shows the characters distant in the frame or focused up close. Sud seamlessly balances paranoia, dread, and suspense with scenes that set up the emotional stakes and the characters' shaken world. As the situation gets progressively worse and more intense, we watch as the dilemma pushes the parents to go to lengths they never thought possible or imagined for themselves. It's downright terrifying.
'Welcome to Blumhouse' delivers creeps, chills in first two films
How the film rolls out all the details and invites viewers into its characters' delirious minds feels gut-wrenchingly authentic. Most of the credit belongs to the actors, who find the subtlest ways to paint their characters' complex thoughts. The challenges and love in the family dynamic play out in a fashion where you cannot help but attach a place in your heart for the characters and yearn for their safety. This is truly some of the best work, if not the best that these actors have turned in.
The Lie serves as a metaphor for family and the painful decisions and sacrifices parents must make to protect their children. It doesn't just focus on one side of the coin, either. It considers all aspects and gives more to think about when it comes to your own family's safety and unification. The show-stopping conclusion will be one that you won't soon forget. One of the best films out of Blumhouse.
Watch Black Box and The Lie on Amazon Prime Video today. Through a partnership with Fantastic Fest and Fangoria, a four-night watch party event will be held on Oct. 10-11 and 17-18. Each evening at 7:30 p.m., Prime members can attend these exclusive parties (including filmmaker Q&As) via Amazon Video Watch Party.