Musical biopics have become one-note. Many films don't bother to break the rote formula. This doesn't necessarily mean they're bad; the Queen biopic Bohemian Rhapsody showed the power of the tried-and-true. That Oscar-winning film followed the traditional A-to-B plot structure but found a rhythm in its energy, portrayal of family beyond blood, and expression of love.
But the Elton John biopic Rocketman, starring a rip-roaring Taron Egerton, isn't like Bohemian Rhapsody.
It may have common narrative threads — a dirtbag band manager, unsupportive parents, sex, drugs and rock 'n' roll — but the lens through which filmmaker Dexter Fletcher presents the story is unlike anything you've seen before. Fletcher, who directed Egerton in the 2015 biopic Eddie the Eagle (and who also had a hand in the completion of Bohemian Rhapsody), aims to shake things up by crossing over into the fantasy genre.
Rocketman is a movie about music that also happens to be a full-on musical, and that may surprise you. It uses renditions of Elton John's songs throughout to illustrate the dark and happy times in his rise to fame. While that's a refreshing change of pace for biopics, the film burns its potential to be a blast with its scattershot focus.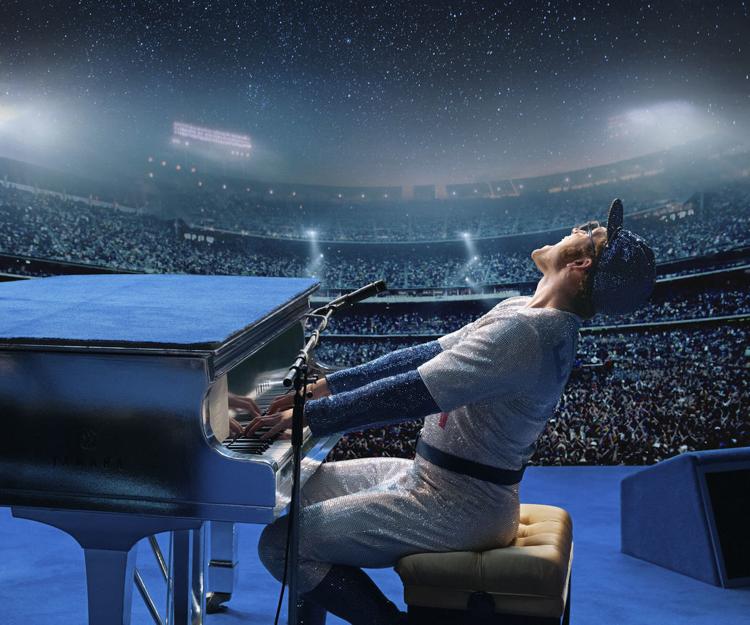 The film uses the popular storytelling device of its subject narrating a reflection of his past to new listeners, allowing Fletcher to break up the timeline and bend the story to his will. Rocketman takes it further than usual by giving audiences an all-access pass to Elton John's thoughts. We get inside his fantastical headspace. That's apparent from liftoff, as Egerton bursts through some double doors and walks down an oversaturated hallway (almost heaven-like) dressed in bedazzled stage wear made to look like the devil. The mystical opening evokes the feeling that the film will be a marriage between the good and evil in Elton John's life.
From there, he walks into a rehabilitation center to chronicle his history from childhood through his breakthrough years in the late 1980s and early '90s. Elton confesses to the other members in recovery — the audience — that he's done every drug known to man, drinks like a fish and is addicted to sex. It's as if he's speaking directly to us to inform that what's about to unfold on screen is not going to be safely packaged. This comes to full fruition when Elton remembers his past and his younger self (played as a child by Matthew Illesley and later a teenager by Kit Connor) walks into the rehab center to invite him back to his childhood.
We zap back to his schoolboy days before he took on the name Elton John and was named Reginald "Reggie" Dwight. In an early musical number, Fletcher paints Elton John's convoluted upbringing and the complex relationships he had with his mother (Bryce Dallas Howard) and father (Steven Mackintosh). The song used to depict the scene is Elton John's 2001 track "I Want Love."
In that song's official music video, the camera follows actor Robert Downey Jr. around a house in one continuous take. Fletcher replicates the visual style in his film by having the camera bounce from character to character in the Dwight household. It's a tad cheesy and perhaps not the best song to ease you into this film's heightened reality, but it's the first of many moments that hint at Rocketman being a love letter from Elton John to himself.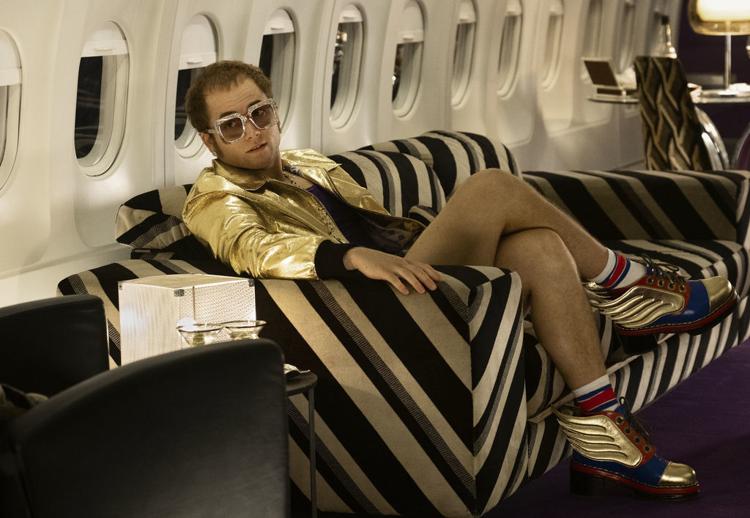 Once Egerton is introduced as the older Reggie, Rocketman begins to take flight. Egerton brings a contagious exuberance. The way he moves about the screen, dons Elton John's iconic getups, speaks and even sings (yes, impressively, Egerton does all his own singing) is about as close as one can get to jumping back in the past to witness the real thing. If lip-syncing Rami Malek earned an Oscar for playing Queen frontman Freddie Mercury in Bohemian Rhapsody, I wouldn't put it past Egerton to reach the same level of success for his performance. He certainly deserves praise and is the single best ingredient in this film's offerings.
Throughout Rocketman there are many compelling facts about Elton John's life that are sketched out, such as his toxic affair with manager John Reid (an icy Richard Madden). Sadly, many of those story elements are lightly touched upon and aren't deeply explored — the prime one being the relationship between Elton and his long-term lyricist Bernie Taupin (Jamie Bell).
The two artists share the film's most endearing scene, in which Elton puts music to Bernie's lyrics for the 1970 hit song "Your Song." It's one of the quieter and more inspired sections of the film that speaks volumes about their companionship, especially in the build-up to that scene when the two run around town and share verses with each other.
Unfortunately, Bernie is sidelined to make room for all the other complexities in Elton's life. It's a shame because their genuine affection for one another and respect for each other's role in making some of the most beloved songs of all time would have made a great story angle. Every circumstance could have been filtered through their connection. Instead, we get a sampling of all the notable beats in Elton John's life without them snowballing into one exhilarating story. It's a film that is simply trying to accomplish too much, and it hinders the experience.
Rocketman is about the most ambitious and lavish musical biopic you'll find. It's clear Fletcher and Egerton worked hard to try to eliminate any comparisons to Bohemian Rhapsody and other biopics about legendary artists, and good on them for going the distance. While their reach far exceeds their grasp, for a Saturday night kind of movie, it's all right.