When we last left our beloved characters, the Toy Story series was beautifully bookended with Buzz Lightyear, Woody and the rest of Andy's toys being given away to Bonnie, a preschooler who promised to play with them with care and respect.
The torch was passed on, and everyone who grew up with the films (myself included) graduated with Andy. It was a conclusion that genuinely lived up to Buzz's signature catchphrase ("To infinity and beyond!"), where continued adventures could exist within us.
Then, news of a fourth installment broke out and took that away.
Not to sound overly dramatic about the subject, but it did feel like a bit of a betrayal. I thought: How is Pixar going to add a new entry and not make it feel like a cash grab? Will it feel earned? Where could they take the story and characters?
With everything working against it, including production troubles and lackluster trailers, Toy Story 4 surprises. While it may still feel like a stretch, it's a sweet continuation with plenty of fun new characters, lots of laughs (it's easily the funniest Toy Story, too) and plenty of heart. So, if a fourth movie in the franchise had to be made, Toy Story 4 is about as good as it could be.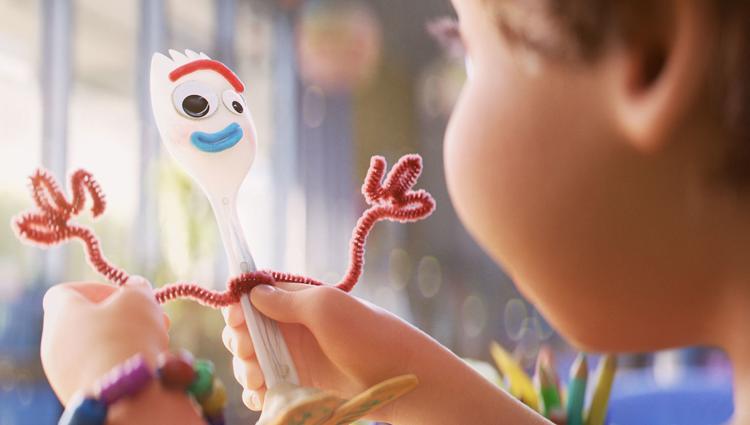 In this fourth (and hopefully final) chapter, we meet a new toy called Forky (voiced by Tony Hale). Forky is a spork who's turned into a toy by Bonnie (Madeleine McGraw) using some googly eyes, a pipe cleaner and Popsicle sticks. The collection of what was once garbage has now become Bonnie's most important plaything. When Woody (Tom Hanks), Buzz (Tim Allen) and the rest of the gang hit the road for a family trip, the journey becomes a mission to keep the family together while they encounter many challenging obstacles (both physical and internal).
Toy Story 4 isn't exactly new territory. A lot of its makeup is the same, only more developed in certain areas. For instance, Bo Peep (Annie Potts), whom Woody meets again at a local fairground, no longer is there just to look pretty and be a mere love interest for Woody. She's gone full Mad Max: Fury Road and has a skunk remote-control car that she uses to stealthily get around a park the family stops at. She even has a broken arm that stays attached with some tape. (No doubt a nod to Charlize Theron's Furiosa.) She's survived being by herself and has carved a life for herself where she can be totally free.
The film is simply sweet. It further explores the arc of Woody and what his place is in the world now that Andy has moved on to college. There are a lot of lessons for families to take to heart, especially when it comes to the internal conflicts of the characters. These toys are built with a lot of humanity intact, and that's what makes the Toy Story franchise such a treasure. This fourth outing may not feel entirely fresh, but it'll put a big smile on your face.
Extras: The Blu-ray-DVD combo release comes with two handfuls of special features. Some will interest adults (such as a featurette featuring the filmmakers and cast talking about the most meaningful toys from their childhood). There's also a tour of the voice recording process with Ally Maki, who voices mini-cop Giggle McDimples.
Of all the extras (which also include a meet-and-greet with all the new characters and the talents who voice them), the two most engaging bonus materials are scene anatomies with the concept artists and designers, and the deleted scenes.
The scene breakdowns feature the filmmakers discussing the jump from paper to computers. Some even share what contributions they made to the final product, one of which is the very funny bit of the arctic Combat Carl not getting a high-five from various characters.
The deleted scenes are not fully animated, but the audio effects and voices are there. Director Josh Cooley provides introductions for each scene to inform why he felt it was important to share with fans of the franchise and why it had to be cut from the final film.
Midsommar (★★★½)
Filmmaker Ari Aster made his feature-length directorial debut last year with the sensational A24 hit Hereditary. If you haven't had the guts to see it, that's understandable, as it's a pummeling experience that descends into an emotional and psychological hellscape. However, at the same time, it's a shame because underneath its shell of terror resides one of the most gripping cinematic portraits of inherited family trauma.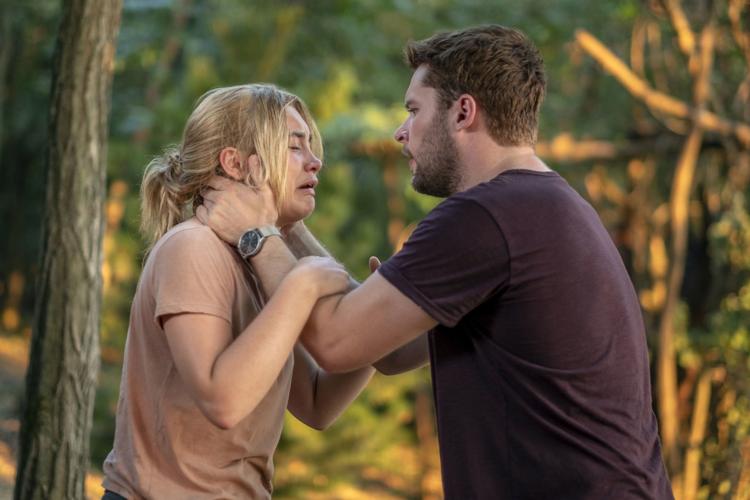 Midsommar is an extension of many of those same themes. It doesn't focus on a family per se, but it does involve a boyfriend and girlfriend and their friends going on a trip to a Swedish commune. So, it's quite different, but its look at the process of dealing with grief isn't that far off from Hereditary.
Similar to the work of Lars von Trier, Midsommar feels as though a true misanthrope made it. It may not be as intense as Hereditary, but it's a devilish feast that's best consumed in multiple servings. (I highly recommend watching the director's cut that's available exclusively through iTunes. Sadly, it is not included with the Blu-ray disc or with the digital code.)
There's so much to unpack in Midsommar. I haven't entirely wrapped my head around it and made sense of it all. A24 movies are meant to provoke you. (Have you seen High Life yet? And just you wait for The Lighthouse.) But that's what separates A24 from the pack and it's why I keep drinking from its deranged well. Where else am I going to see the weirdest stuff imaginable and walk back into my life and think, "Oh, well, life isn't so bad?"
Rated R, 147 minutes.
Extras: The Blu-ray-DVD combo pack is incredibly light on the special features. It only includes a standard behind-the-scenes featurette and a promo involving the bear from the film. There isn't an audio commentary with Aster or any fun discussions. With a movie so fascinating to talk about, there should be more here to discuss. I don't expect to have any more answers, but it's a pleasure to speculate about its meanings. Hopefully, they will release the director's cut with packed features down the line.
Annabelle Comes Home (★★★)
The film's director described this third entry in the Annabelle series as a horror version of Night at the Museum. That immediately got me on board, along with the second film (Annabelle: Creation) being so good.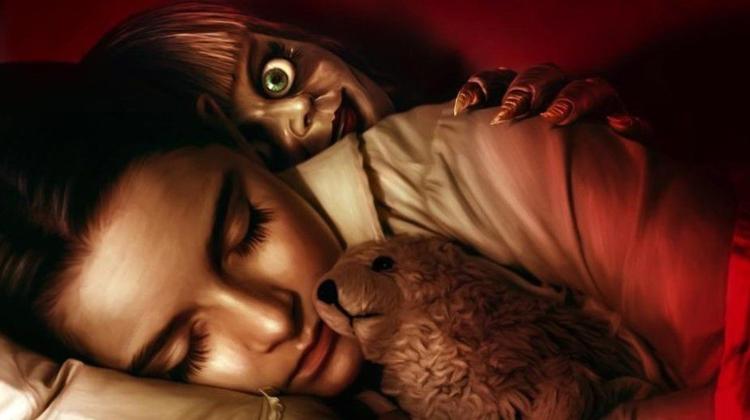 Annabelle Comes Home builds its dread remarkably well. Just when you think it's about to take a stupid turn and mark its characters as idiots, the film saves itself. It's probably not easy to keep one location interesting, but director Gary Dauberman (writer of It) plays around with the camera and characters to keep the audience on their toes. It may feel a bit recycled to have the same kind of jumps from the Conjuring universe, but it makes for a nice horror movie to pop in before Halloween.
Rated R, 106 minutes.
Extras: The Blu-ray-DVD combo release includes deleted scenes and a series of behind-the-scenes featurettes. The featurettes offer insight into the creation of the new spooky entities and the artifacts that bring about the entities.
Itsy Bitsy (★½)
Spiders are a huge fear of mine. So a horror movie involving the eight-legged freaks was destined to make me sweat and bite my nails. However, Scream Factory's release of Itsy Bitsy overcomplicates what would have made an enjoyable creature feature.
I believe in keeping monster movies dead simple. At the opening of Itsy Bitsy, we learn that the titular creature has ancient origins. Knowing where it comes from robs the film of its ability to scare. Because the film has to explain so much about where the spider comes from and what's going on, I couldn't care less about the family that it's terrorizing. The filmmakers do their best by trying to make the characters more complex (health issues and trauma), but Itsy Bitsy doesn't earn the inclusion because it's too tangled in its own narrative web.
Not rated, 95 minutes.
Extras: The best things about this Blu-ray release from Scream Factory (available through shoutfactory.com/shop) are the slipcover and cover art designs. They make the film look like a scary movie from the '80s, certainly much better than the film actually is. So, mad props to cover illustrator Matthew Peak and package designer Mindy Kang. Special features include two different audio commentaries, featurettes and theatrical trailers — none of which made me feel more positive about Itsy Bitsy.
Also available this week on Blu-ray and DVD
Deadwood: The Movie, From Beyond the Grave (1974, a Warner Archive release), Light of My Life, Red Joan and Toys Are Not for Children (1972, an Arrow Video release).