If ever John Krasinski had someone turn the feeling of last year's sanity-saving YouTube series Some Good News into a movie, the Paul Greengrass-directed Western News of the World would be pretty close to being it. And now you can get those warm feelings at home, from the comfort of your recliner or your bed, watching the film on disc (available on 4K Ultra HD, Blu-ray, DVD and Digital).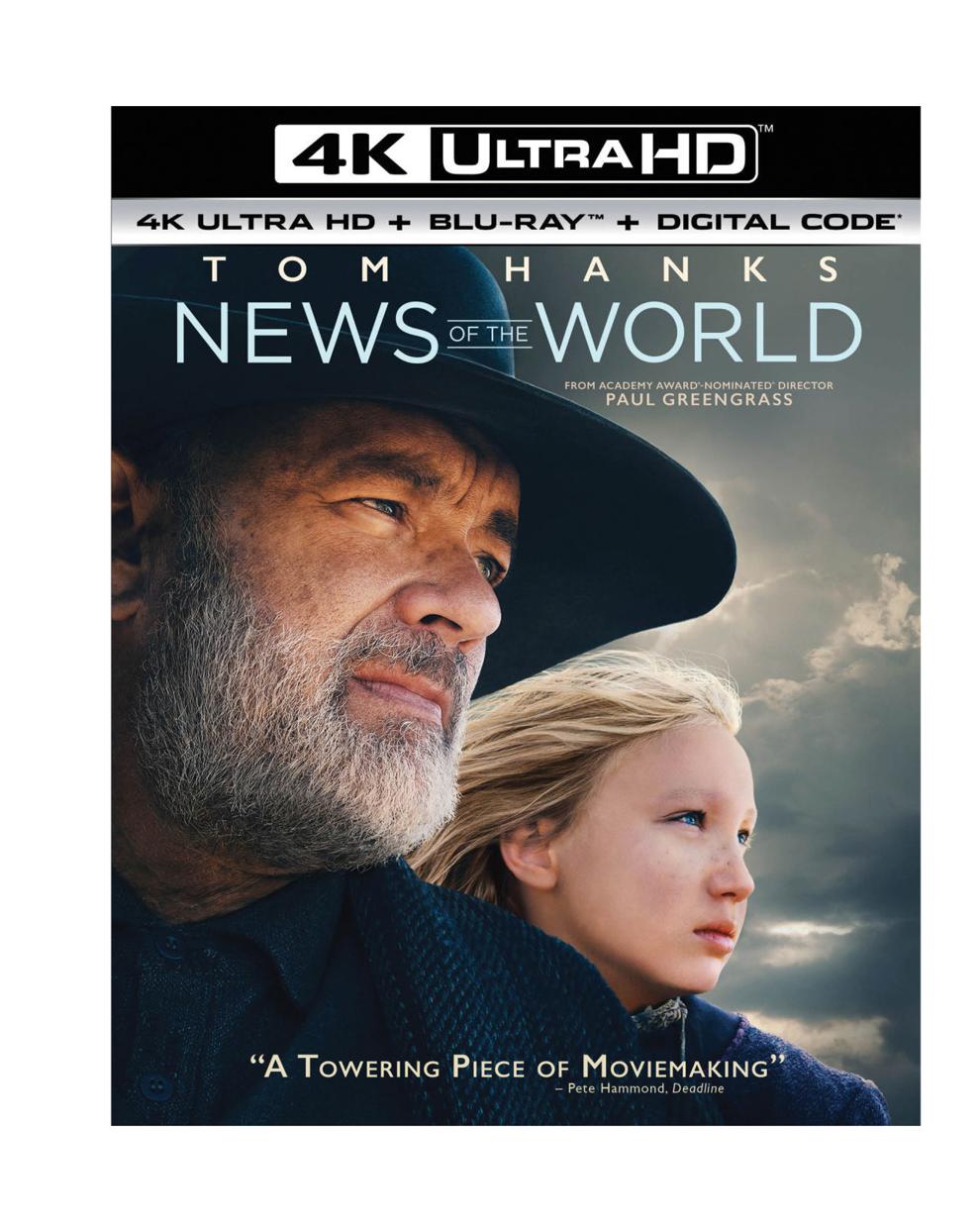 Through classic genre shootouts, wagon chases, horses, scenic routes, and storms of dirt, these fine two hours of cinema capture the influential and healing powers that positive news and storytelling can have on people. It showcases another terrific Tom Hanks performance at its center, an endearing father-daughter type of relationship, and a feel-good narrative about broken people coming together that's fit for the current moment.
Based on the 2016 novel of the same name by Paulette Jiles, News of the World is set in Texas in 1870, five years after the Civil War. It was a time when many Texans were bitter about defeat and reluctant to rejoin the Union, which would ask them to agree to the 13th, 14th, and 15th Amendments. Everyone is in pain, including the Native Americans who are trying to defend themselves and their culture.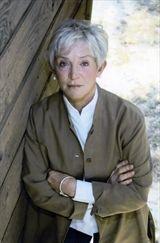 In the film, Hanks portrays a former Confederate captain, Jefferson Kyle Kidd, who fought in the Texas infantry during the war and surrendered in 1865. Kidd is a lonely man weighed down with unspoken regrets, carving out a living by traveling from one small town to the next. He's a storyteller who shares good news during dark times. Kidd reads aloud from various newspapers around the country as a source of information and entertainment to small communities who gather around like churches, paying 10 cents to hear national and local updates.
Along the way, Hanks's character meets Johanna (a wonderful Helena Zengel), a 10-year-old German immigrant girl who had been kidnapped six years earlier and raised by Kiowa Indians after they killed her parents. However, now, her Kiowa family has been killed by white people, making her twice orphaned. Kidd travels across Texas with Johanna to read stories to locals while on their way to deliver Johanna to her only living relatives.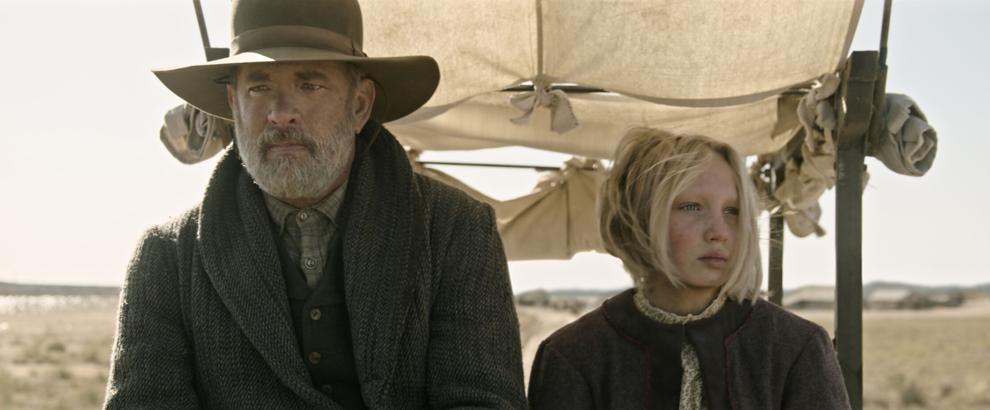 The film's story, adapted to the screen by Greengrass and Luke Davies (2016's Lion), stemmed from a tale that poet and novelist Paulette Jiles heard from one of her good friends.
"I ride [horses] with a group of women, and one of their husbands mentioned to me that his great-great-grandfather collected newspapers from larger centers in the East, and went from town to town, reading the news," Jiles said by phone to promote Universal Pictures Home Entertainment's disc release. "It struck me as an incredibly fascinating character."
While Jiles wasn't born in Texas (rather in Salem, Missouri), her passion for the Lone Star State and its history couldn't see her putting pen to paper fast enough. She currently resides in the Hill Country town of Utopia. Some of her family lives in Texas, too. Jiles' ancestors twice moved to Texas, and one was in the 1880s.
When asked about her and her friends' thoughts on Greengrass' visual interpretation for the screen, Jiles said, without hesitation, that there was so much to admire and love about it.
"It was great! I loved how they handled the relationship between Capt. Kidd and the captive girl, Johanna. They even used my friend's horse in the film. It's the horse that pulls the wagon. But the film is different in many ways. How the film portrays Capt. Kidd is very different from the book. The decisions [Greengrass] made for the film worked quite well," Jiles said.
Greengrass has a knack for including as many poetic touches as he loves to quench his thirst for cinematic kineticism. The film has an unglamorized depiction of the West. The costumes feel worn and not fresh off the hanger. James Newton Howard's musical score features slightly untuned instruments to don the sonic shape of an old band returning home from the war. It's apparent Greengrass wanted to give Jiles' story an authentic atmosphere that captured the gritty and heartfelt spirit of her words — and Jiles recognized that effort.
"There's a wonderful scene when Johanna runs away in Spanish Fort. It's dark and raining. She stands at the top of the cliffside and calls across the flooding Red River to a group of Kiowa. Greengrass did it so beautifully. He really made a turning point in the movie. I didn't emphasize that moment in the book, but he did it visually in the film," Jiles said.
Our conversation with Jiles concluded with her discussing her research process for the novel, specifically the Kiowa nation. Jiles adopted the Kiowa's fearlessness in her own life. It was something that stood out right away through her conversations and readings.
"They have an emphasis on courage and moving forward as opposed to thinking about the past. They also could withstand hunger and the cold, and we just had a test of that in Texas after that ice storm," Jiles joked. "First, it was all my pipes, but I saw that coming. So, I filled my bathtub and had about $20 in water. I had to keep the fire going in my house for five days, getting up each morning to split wood and start all over again. So, it was a test of being strong in the face of adversity, which is what the film is all about."
News of the World is a classic journey that picks up so much beauty along the way. Other filmmakers would likely have focused on the death and brutality of the times. But like the angle Capt. Kidd takes with his news readings, Greengrass keeps Jiles' material in the light. It's an unabashedly sincere drama that will put a lot of pep in your step. It's lovely, and you'll treasure the wisdom it imparts.
If you plan to watch News of the World, the 4K UHD release is where you should start. It's a 2160p/HDR image sourced from a native 4K digital intermediate. If you remove the technical terms, it means it looks remarkably crisp and lived-in in the format. The period-perfect clothes, dirt-covered plains, natural rocks, and color tones offer a lot of bang for your buck. And the audio quality is equally as impressive, demonstrating full-bodied music and sound effects. Chirping cicadas and blowing wind provides a seamless immersion.
The bonus content comes packed with great information about the process of adapting Jiles' work, including:
A filmmaker's audio commentary with Greengrass
11 minutes of deleted scenes
Four behind-the-scenes featurettes (11 minutes or less each) that detail the making of the film, Greengrass' meticulous approach, and an exploration of the real Native American tribe depicted in the film