Preparing for fatherhood can feel like you are venturing into the unknown. That is certainly how it felt for me two years ago when my firstborn son arrived. So much love, fear and excitement all came flooding in all at once.
It is overwhelming to think about how intense a responsibility it is to care for something so defenseless and innocent — all while hoping you're doing everything in your power to make them conscious, smart and healthy individuals.
I often become anxious, wondering if I will fail. I have had plenty of professional talks, read many books and have watched a slew of videos to prepare myself for what is to come. The truth is that nothing really is the ultimate guide because everybody's child is unique, and what may work for one parent may not necessarily work for you. However, we should analyze our feelings and have conversations with each other.
One of the sources that I have learned the most from (outside of my parents and parents-in-law) is cinema. Go figure — I am a film critic. No matter the reality, there's something about walking in a character's shoes to discover more about yourself. Sometimes the big-screen stories place us in horrible scenarios — nightmares we would never want to envision for our children — but it is important to experience these stories.
To help cope with the mental marathon and provide some helpful routes to navigate fatherhood, here are a few modern movie dads that may give you some nuggets of wisdom to chew on:
Mason Evans Sr. (Ethan Hawke), Boyhood"You don't want the bumpers, life doesn't give you bumpers."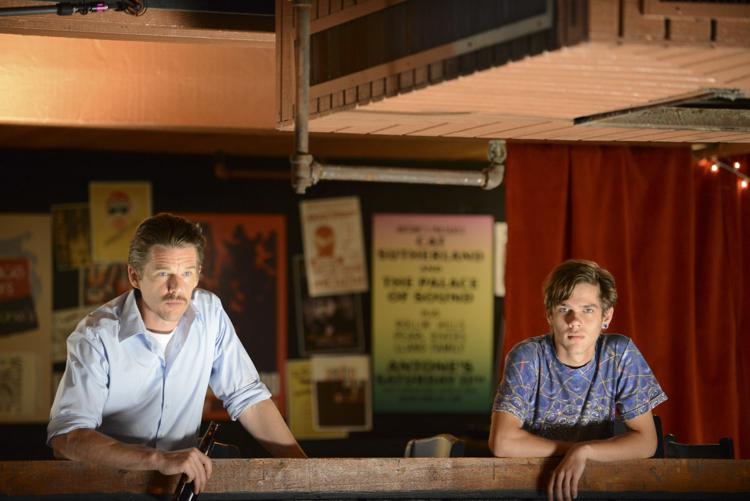 Richard Linklater's sprawling epic, filmed over the course of 12 years, about a boy growing up in Texas is as universal as anything about parenting as I have ever seen. Starring Ellar Coltrane, Patricia Arquette and Ethan Hawke, the 2014 film is a patchwork of captured moments taken from a boy entering grade school to graduating from high school and heading off to college. Obviously, I have a ways to go before I face most of the obstacles explored in this film.
That said, there's one scene that helps to put things in perspective for a new father, and that is when Hawke's character, Mason Sr., takes his son and daughter to a bowling alley. The son (Coltrane) keeps throwing gutter balls and complains about why they can't use the bowling bumpers. Mason Sr. tells his son that it removes the challenge, which he then uses to express how life doesn't provide safety nets.
As many of the moments from Boyhood put its finger on the pulse of truth — such as getting your kids to have actual conversations with you, and how finding a partner on the same wavelength as you is difficult — it's that bowling scene with Hawke's character that hits the hardest.
Larry McPherson (Tracy Letts), Lady Bird"Let's go buy a big bag of Doritos and eat them in the car."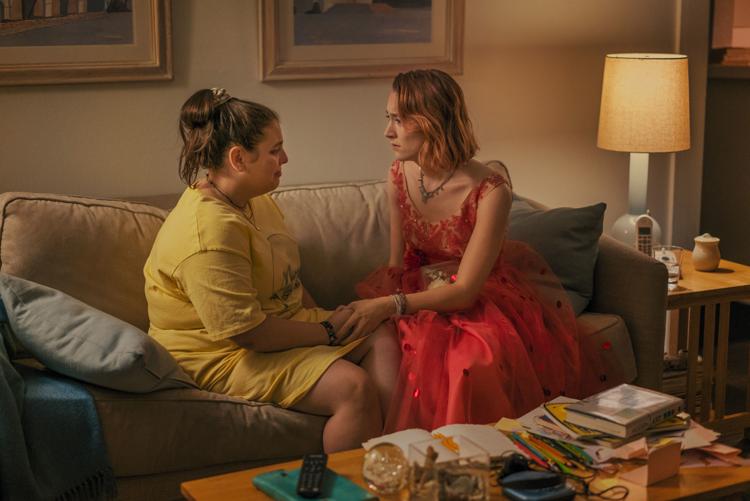 Before Little Women, Greta Gerwig wrote and directed a profoundly personal film about a young woman self-named Lady Bird (Saoirse Ronan) making her way through her senior year of high school. Throughout the 2017 narrative, she actively (and impatiently) expresses her postgraduation intention to flee from the nest. Lady Bird has a complicated relationship with her mother (Laurie Metcalf), who takes maternal passive-aggressiveness to another level. Her mother works double shifts to provide for her family while her father (Tracy Letts) searches for a job.
The relationship between the mother and daughter gives the film its complex arc of intrigue. Still, it's the relationship Lady Bird has with her father, Larry, that serves as the heart of Gerwig's feature directorial debut.
Larry is the kind of father who will take you to get ice cream after school, allow you to snack on some chips in his car, and wake you up on your birthday to greet you with a morning cupcake. He does everything to make sure his kids have everything they need to thrive, even if it means he doesn't have money to eat himself.
He is 100% selfless, and that characteristic is no better illustrated than a scene of him exiting a job interview, only to discover that his son (Jordan Rodrigues) is going for the same position. Rather than be upset, he walks over to his son to adjust his tie and give him words of encouragement — an act to live by.
Mark Day (Josh Hamilton), Eighth Grade
"It's so easy to love you. It's so easy to be proud of you."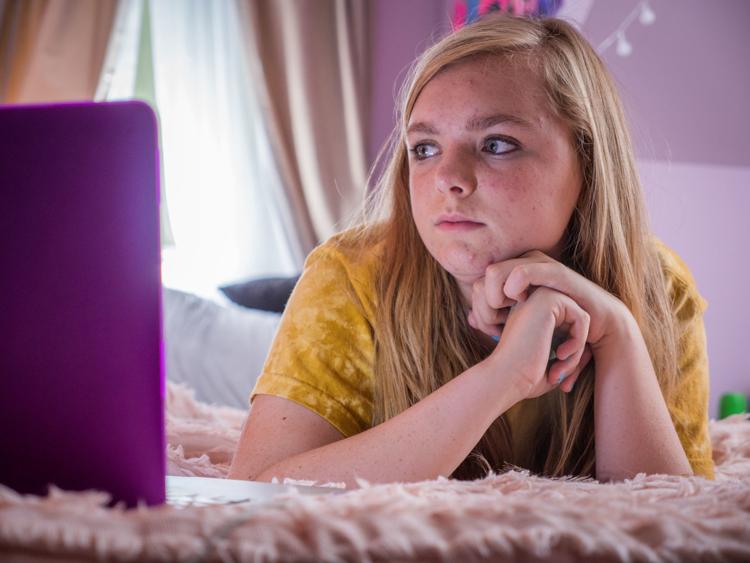 In many ways, comedian-filmmaker Bo Burnham's Eighth Grade is like a horror movie. I recall one parent deeming it as such at the film's 2018 premiere at South by Southwest Film Festival in Austin.
Truthfully, it's a comedic drama about a teenager's experience in her last week of middle school. But the horror aspect comes creeping in because Eighth Grade sheds light on the behaviors and thoughts of today's teenages. They can face some intense and scary situations (one scene in the film, primarily, depicts this). However, as our central character's father (Josh Hamilton) states, we as parents have to sit back and watch.
Things have to happen as if we're documentarians shooting in the wild. Of course, we intervene when things get out of hand, but some lessons need to be learned alone. This is something Hamilton's character, Mark Day, picks up along the way.
Early in the film, Mark spies on his daughter Kayla (Elsie Fisher) at a local mall when she meets up with her friends for the first time without a parent supervising. Scared of the potential outcome, he watches over Kayla until he's spotted. But it's toward the end of the film during its crux moment that the lesson comes full circle.
Over a fireside chat in the backyard, where Kayla burns a box containing "all her hopes and dreams," Kayla asks her dad if she makes him sad. Astounded by the question, Mark communicates that he couldn't be more proud of who she has become. Instead of rattling off an intelligently articulated soliloquy (like Aaron Sorkin wrote it), Burnham has Hamilton stammer to deliver the words. Real life isn't a movie, and Burnham invites reality into his film — one that is messy and human.
Ultimately, the message is still beautifully carried across. Mark shares the moment when he realized he didn't have to feel scared about his daughter anymore. The scene is not about Kayla's dad saving her but instead dusting her off to tell her to keep going. She's been going in the right direction all along.
Ronald (Sterling K. Brown), Waves"How are you doing with everything? You know it's OK if you're not."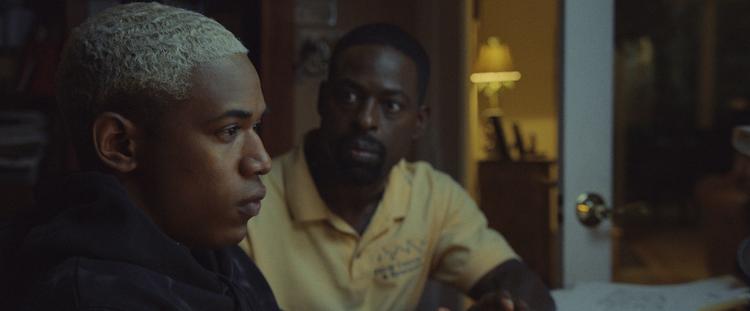 Trey Edward Shults' 2019 drama Waves packs a similar sentiment as Eighth Grade. A lot unfolds in Shults' devastating but powerful film. He tracks the emotional arc of a black suburban family, showcasing the pains, pressures and disappointments of life as they disunite and bring the family together. A tragedy happens midway through the story that alters the family's lives. The remainder of the narrative is about picking up the pieces to find solace again.
The pivotal scene that gives this film its impact is when central father Ronald (Sterling K. Brown) sits down with his daughter (Taylor Russell) on a lakeside park bench to discuss the gravity of their familial dilemma. What's most heartbreaking about the exchange is when Ronald tells his daughter that it's OK not to be OK. Too often, we shield our emotions from family and push our children to achieve perfection. Waves is a subtle reminder that we should provide a comfortable space where we can talk to our kids.
David Sheff (Steve Carrell), Beautiful Boy"There are moments that I look at him, this kid that I raised, who I thought I knew inside and out, and I wonder who he is."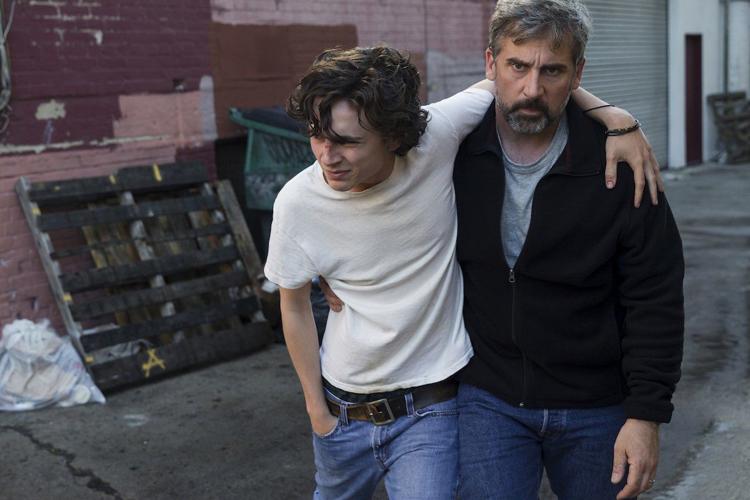 Coming in as perhaps the most heart-wrenching of recent film dads is Steve Carell's David Sheff. 2018's Beautiful Boy chronicles the true story of David Sheff realizing that his 18-year-old son, Nic (Timothée Chalamet), has been living with a secret: He's addicted to meth.
It's hard to imagine a more disquieting situation than that of the Sheff family — an all-too-common occurrence. Beautiful Boy doesn't glamorize but honestly captures addiction in the raw, unpleasant and destructive form that it is. Sheff goes to extreme lengths to understand his son's addiction — visiting clinics, reading books and even trying drugs himself.
In the end, Sheff shows us that there's no determining who will be affected and who won't. No amount of money and privilege in the world can protect people. All we can do is be there for our children and offer guidance in the hope that they make the right decisions.
Bottom line, talk to your kids every chance you get, do silly things to make them smile, and show an active interest in their interests. But most importantly, put them above everything else in your world.