Time travel in film is a curious thing. The stories that have been built on its back have resulted in some of the most celebrated movies — such as Back to the Future, The Terminator, Donnie Darko, Harry Potter and the Prisoner of Azkaban, 12 Monkeys and so many more.
At the same time, it's tricky to pull off successfully. As Jeff Daniels' character states in Rian Johnson's 2012 brain-tickler Looper, "time travel fries your brain like an egg." The concept is prone to inconsistencies, plot holes and illogical character decisions. You'd be hard-pressed to find a time travel movie without at least one head-scratching paradox.
Smart time travel films choose not to make the concept a primary focus but rather a backdrop for a much larger human story. Again, like Looper, sometimes they acknowledge that going too deep runs a risk of losing your audience.
Jim Mickle's upcoming In the Shadow of the Moon is one of the good ones. The Netflix sci-fi feature incorporates time travel, but it doesn't exhaust us by poking holes through folded paper. Nor does it over-complicate the narrative with frequent exposition. It just happens, and you accept it.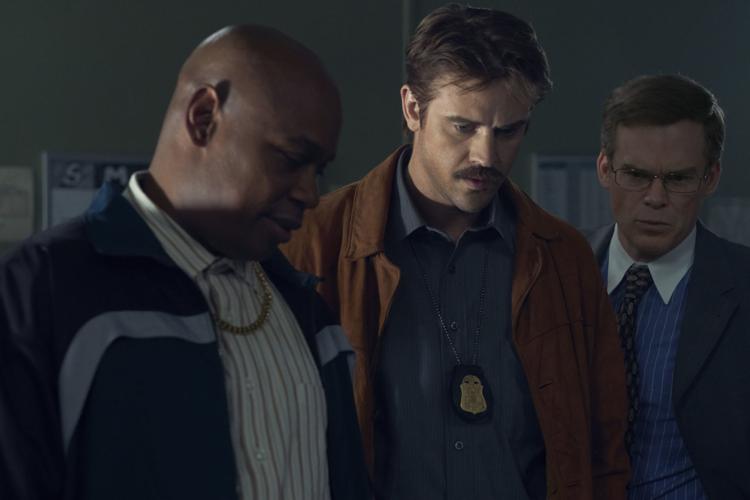 Instead, a character-driven story makes the film tick. There's meaning in its quest for truth and the sacrifices we make along the way. It's an entrancing lunar chase across time.
In the Shadow of the Moon opens on a city set ablaze in the year 2024. The camera slowly spins around a vacant office building and gradually brings the apocalyptic streets into view. The film then transports us back to 1988 Philadelphia, where we are introduced to police officer Thomas "Locke" Lockhart (a never-better Boyd Holbrook).
He's a young man who hustles to prove to his superiors that he has what it takes to be an exceptional detective. When a series of murders takes place across the city, Locke and his partner, Maddox (Bokeem Woodbine, who is finally getting more to do since FX's Fargo series), go on an investigation tour.
What they find are victims who appear to have suffered from a cerebral hemorrhage. Blood oozes from their ears and eyes. Pieces of brain litter the ground around their bodies. The details defy all scientific explanation, but three puncture wounds on the back of their necks may be the first of many breadcrumbs to uncover the identity of the killer.
The story doesn't stop there, and it's not nearly as simple as that. This is an incredibly ambitious and complex sci-fi film, and I haven't even mentioned how time travel fits into all this. I would argue it's best to experience the movie for the ride that it is. Audiences will skip through time like a sprawling piece of literature.
The language may not be the most lyrical, but it does have its moments where the words make an impact. There's a pivotal scene around the midpoint that supports this. In the sequence, Locke sits down for lunch with his brother-in-law, Detective Holt (a terrific Michael C. Hall), at a local diner. Holt delivers a verbal punch to Locke's gut when he asks him if it was worth the most important years of his life to "chase moonbeams" (a hint at the meaning behind the film's title).
If you experience all of what leads up to that moment, it's hard not to shed a tear.
As you may have gathered, the science aspect is not the most exciting facet of the film. It's the characters. Locke's progression as an obsessed individual is heartbreaking to watch unfold, especially as his search threatens his career, family and sanity. Mickle (director of Cold in July) supplies a unique study of human behavior. Some of his ideas may reach further than the film can grasp, but for the most part, you are as obsessed with discovering the story's secrets.
In the Shadow of the Moon has its unlit areas. It's a film that goes for the stars, but comes up a little shy. However, never do the characters and thematic elements fall victim of being clouded over.
Mickle brings an effective atmosphere to the feature that, at times, pulls from the nuance of Blade Runner and the sense of thrill from any Spielberg adventure. It's a pleasant, blockbuster-sized surprise as we head into the awards season. So, watch it big from the comfort of your couch.