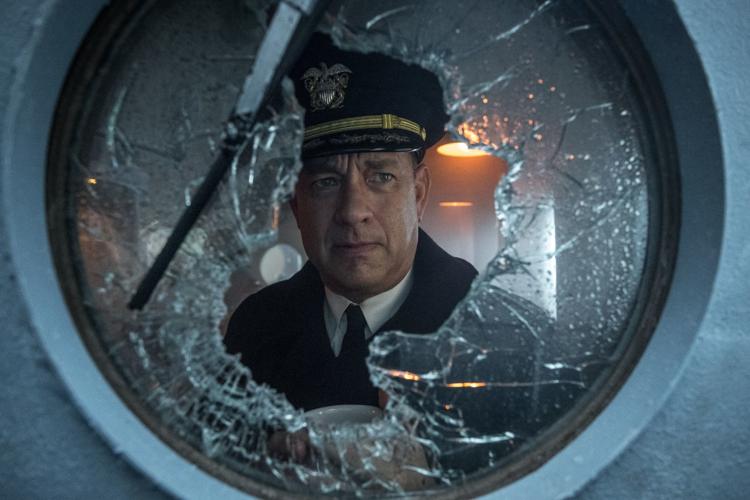 Releases Friday on Apple TV+.
In Greyhound, America's sweetheart (aka Tom Hanks) once again sports a captain's uniform to portray a leader working to keep his head afloat amid the chaos. Considering how many times Hanks has played humble, save-the-day captains, bringing humanity to the roles with the slightest touches, it's no wonder why he's back to steer us toward another thrilling cinematic adventure. 
The mid-budget World War II drama was originally supposed to hit theaters last month, but then Apple came knocking with a reported $70 million to take the controls. That eye-watering, high-dollar deal makes Greyhound the highest-profile film yet to leap over directly-to-digital platforms. Although you may be missing out on the auditory impact of the theatrical experience (better fire up a grand sound system or noise-canceling headphones), the film is visually impressive and plays well from the couch. 
Hanks single-handedly adapts C.S. Forester's 1955 novel The Good Shepherd (not to be confused with Robert De Niro's 2006 drama). The film adaptation sees Navy Capt. Ernest Krause (Hanks) entrusted with his first command of a U.S. destroyer (code name: Greyhound). Its mission is to protect an Allied convoy of 37 ships as it crosses the Atlantic. Things don't go as planned, and the Allies find themselves facing off against Nazi submarines in dangerous waters. Capt. Krause promises to "bring hell down" on these attackers.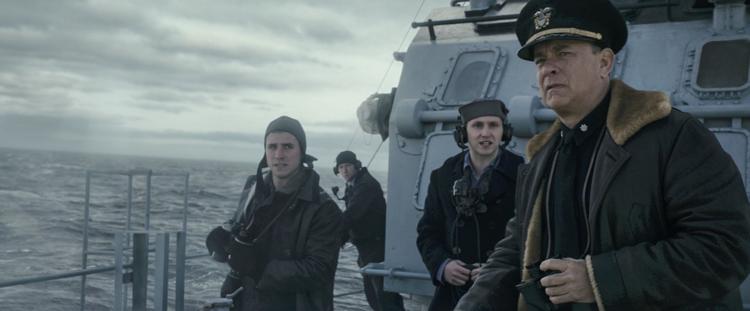 On the one hand, you have to admire a movie for cutting out all the wartime chit-chat to focus almost entirely on combat sequences. Looking beyond a brief interaction between Capt. Krause and the woman he loves (Elisabeth Shue) at the film's start, Greyhound is all barking orders and oceanic dogfights. It weighs more substantial on the visual side of the scale than solid characterization.
Additionally, there isn't much to Hanks' script, which is relatively routine as far as war films go. It's a lot of pushing buttons and moving frantically about the ship. There are even moments when the action pauses and it seems like Hanks is studying how other actors are delivering his words. 
Around that, however, there is tension, especially one climactic scene when Nazi torpedoes are looking to kiss the ship goodnight. As much as the film would have benefitted from character discussions and development, you can't help but admit that Greyhound is a procedural drama that's worth a sit. 
(Lookout for a grownup Stuart Minkus from Boy Meets World appearance and a concluding musical progression that feels lifted right out of Terminator 2.)