New releases take a back seat this week to leave room for packed lineup of restored classics.
Available today on Blu-ray and DVD through the Criterion Collection.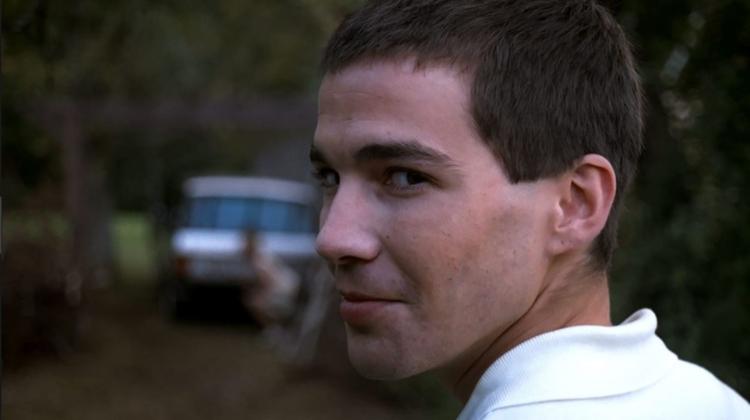 What appears to be a standard home invasion film slowly reveals itself to be so much more. Directed by Michael Haneke (Caché; Amour), the 1997 German-language thriller Funny Games isn't a film strictly about two psychopaths dressed as golfers (Arno Frisch and Frank Giering) who force a vacationing family (Susanne Lothar, Ulrich Mühe and Stefan Clapczynski) to participate in sadistic games. Haneke is a provocateur who challenges his viewers and causes them to look inward. Funny Games is an interactive experience that sees Haneke waving his finger at how we crave violent material. He's essentially punishing you for wanting to see his movie. Sounds bizarre, right?
It's a very divisive film. You may hate it one day and love it the next, which is the relationship I have with it. I first saw Haneke's 2007 shot-for-shot English remake, starring Naomi Watts and Tim Roth. (Haneke wanted to hit a broader audience with his message by taking his story across the Atlantic Ocean.)
I can remember being captivated by its trailer and wanting to discover what happens to the family. However, the rug was pulled from under me when the film broke the fourth wall and saw its characters asking the audience questions. I was so shocked that a movie shattered the conventional narrative structure and caused me to feel guilty for wanting to see the film's violence. It immediately put a bad taste in my mouth, mainly because of how Haneke chose to reveal specific details, yet I couldn't stop chewing on what the film served.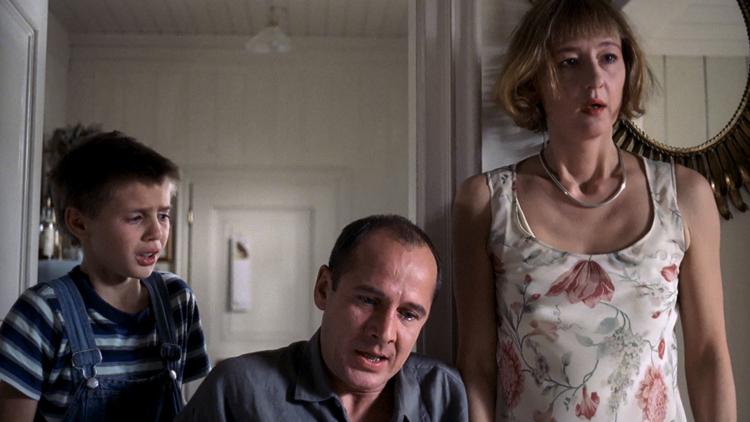 If you find yourself reacting in a similar way, the Criterion Collection release of Funny Games gives you the opportunity to listen to the filmmakers, actors and film appreciators dish about their intentions and analyses. The idea of watching it today without all the supplemental material seems like a recipe for disaster. This is a film that was made for you to think and talk about it.
So, if you want to see something that will broaden your horizons, pick this up and let it play you like a fiddle.
Extras: Available through criterion.com, the Blu-ray release includes a new 2K scan digital restoration (supervised by Haneke, with 5.1 surround DTS-HD Master Audio soundtrack); new interviews with Haneke and actor Arno Frisch; a new interview with film historian Alexander Horwath; the 1997 press conference from the Cannes Film Festival (featuring Haneke and actors Lothar and Mühe); the original trailer; and an essay by critic Bilge Ebiri.
Earthquake (★★★½) Before directors Michael Bay, Roland Emmerich and Brad Peyton were destroying the world on the big screen, there was Mark Robson's 1974 action-drama Earthquake. Like all disaster movies, the film features an ensemble cast (including Charlton Heston, Ava Gardner and George Kennedy), lots of interesting and uninteresting characters and a mega load of destruction. What makes Earthquake engaging is watching how they accomplished so much without modern computers.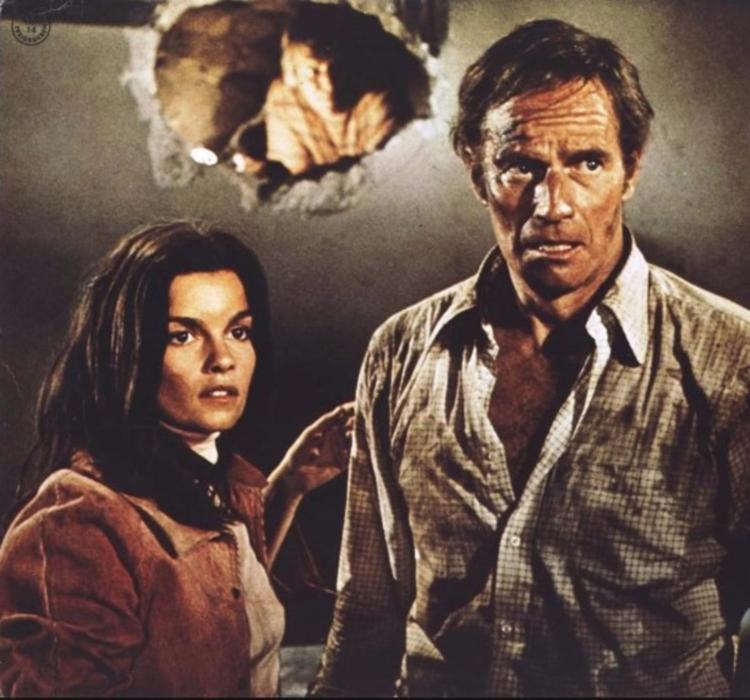 An amazing amount of detail was put into making Los Angeles look like a pile of rocks. Earthquake uses models and matte paintings (explored in an insightful bonus feature included on this Shout Select release), and real people did all the stunts. People jumped off buildings and had debris fall on them. It's a level of artistry that's rare these days. (It seems like more and more filmmakers are beginning to recognize audiences' response to practical vs. special effects.)
Earthquake may suffer from some melodramatic story beats (such as Heston's character's immoral lifestyle and the film passing it off like everything's shipshape) and compassionless characters, but it also has some great scenes of drama and excellent performances (most notably Kennedy's cop role). It's a popcorn flick that, ironically, holds up reasonably well. Rated PG, 122 minutes (theatrical cut) and 160 minutes (television cut, which gives you more time with the characters and extended action scenes — what's not to like?).
Extras: Available for preorder through shoutfactory.com/shop, the Shout Select two-disc collector's edition Blu-ray includes a spiffy slipcover and cover art; a new 2K scan of the interpositive of the theatrical cut and a new 2K scan reconstruction of the TV version (featuring over 20 minutes of made-for-broadcast footage); new interviews and specials on the film's sound design, score and matte art; vintage interviews and more. with cast; original trailer, TV and radio spots; additional TV scenes; and still galleries.
The Seduction (★★★) Social media has made stalkers of us all. Everyone's information is just a click away, and it's downright creepy to think about. We can't help ourselves, nor can we stop ourselves from consuming movies that deal with the themes of obsession forever. (Thanks, Lifetime.)
1982's The Seduction is a stalker drama that very much feels like a juicy, campy Lifetime movie. Starring Morgan Fairchild and Andrew Stevens (10 to Midnight), the film centers on a beloved anchorwoman who is stalked by a troubled fan. It's complete with all those images to give you the heebie-jeebies, send your eyes rolling and have you up on your feet out of excitement. I mean, you see Fairchild wielding a shotgun. It's fantastic and super goofy. Rated R, 104 minutes.
Extras: Available for preorder through shoutfactory.com/shop, the Scream Factory Blu-ray includes new interviews (Fairchild, Stevens and producer Bruce John Curtis); an audio commentary with the filmmakers; three retrospective featurettes and more. featuring interviews with the cast and crew (recalling the days making the film and shooting at certain locations); an original trailer and TV spot; and a still gallery.
Twilight Time — April releases (★★★½) Last month's restored classics from Twilight Time include epic adventures, character studies and endearing romances to treasure. Each of the limited-edition releases (only 3,000 copies available, so act quickly) is unique and explores different emotions and genres.
Melvin and Howard (1980) At the top is late director Jonathan Demme's remarkable comedic drama, based on a (possibly) true story. It focuses on a hapless young man named Melvin E. Dummar (Paul Le Mat) who, one night on his drive home, discovers an older man off the road in the desert who's had a motorcycle accident. After Melvin helps him, the man identifies himself as eccentric multimillionaire and business magnate Howard Hughes (Jason Robards). Thinking it's a joke, years later Melvin is delivered an envelope that names him an heir to Hughes' fortune.
This isn't a rags-to-riches kind of movie, however. Demme (The Silence of the Lambs) has us explore all the misfortune Melvin has had in his life. It's only in the final 15 minutes that he discovers the envelope. We watch him go through relationship struggles and issues of greed and ignorance. His character arc and his evolution as a human being make this film profound, along with Mary Steenburgen's Academy Award-winning turn as Melvin's wife. Rated R, 95 minutes.
Stagecoach (1966) Compared to the original 1939 John Ford film, this colorized remake falls a bit short. Despite its outstanding cast (Bing Crosby, Slim Pickens and Ann-Margret, to name a few) and timeless adventure about a group of strangers embarking on a journey across the plains, Stagecoach lacks the sweeping vistas feel and fully formed characters of Ford's film. But that doesn't mean it's a bad movie. It's perfectly adequate for Western fans. It just doesn't have the power to move mountains. Not rated, 114 minutes.
Three Coins in the Fountain (1954) Beautifully photographed and competently acted, Three Coins in the Fountain is a colorful but ultimately fluffy romance. It's the kind of film you put on when you want to absorb pretty settings and fold laundry. It's more of a travelogue of Italy than an enchanting tale of three women who live together and are looking for love. Not rated, 108 minutes
The Snake Pit (1948) Perhaps the most impressively constructed and acted film of the Twilight Time releases this month, The Snake Pit is about the horrors that a person (Olivia de Havilland) faces in a mental institution. You wouldn't think a movie from the 1940s would be this daring, but here I am, in awe of it. The Snake Pit isn't afraid to explore hardships and inject you with a dose of reality. Not rated, 102 minutes.
Extras: The special features on these Twilight Time releases (available today through twilighttimemovies.com) vary, but most include such extras as audio commentaries by film historians and filmmakers, isolated score tracks, newsreels and original theatrical trailers.
Also available this week on Blu-ray and DVD: Crank (2006) on 4K; How to Train Your Dragon: The Hidden World; Isn't It Romantic; Let the Sunshine In (2017, a Criterion Collection release); and Trading Paint.