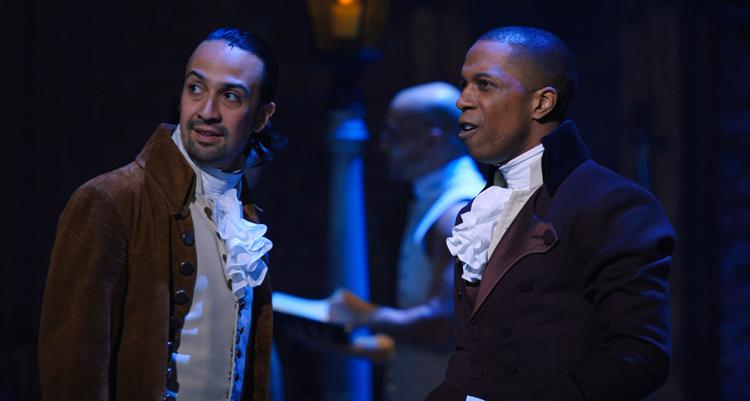 As a newbie, talking about Hamilton may annoy those who've been there since it began as a song delivered at the White House in 2009. But I've certainly taken notice of it growing to become a critically acclaimed, long-running hit, if that gives me any credit. 
The sensational hip-hop bio-musical made its theater debut in 2015 and went on to earn 16 Tony Award nominations and win 11, including Best Musical. Not to mention it picked up trophies at the 2016 Pulitzer Prize Awards and 2018 Olivier Awards and has a score that went platinum six times. So, naturally, a lot of people have heard about it. Perhaps you've attended a children's birthday party in the past and have listened to them belt about the titular "ten-dollar founding father" before knowing what it was. (True story.) Or perhaps your fingers weren't quick enough to secure a $200 ticket to catch it live before it sold out online. (Also true.) 
'Hamilton' comes to Disney Plus
For those relatively unfamiliar (like me), the FOMO is over and your bank account can rest easy, because Hamilton is set to arrive on Disney+ this holiday weekend. Although it doesn't have the cinematic flourishes that usually accompany the word "movie," it's a show-stopping live-performance film that gives you the best seat in the house for the price of a digital streaming subscription ($6.99 per month). 
Watch as an incredible, diverse cast of talents spin history with rhythm and rhyme to make you clap along and send your jaw to the floor. With its multi-plotted narrative, intimate shots, and explosive word grenades, Hamilton is simply perfect. 
Director Thomas Kail, who also won a Tony for helming Hamilton for the stage, captures the show's splendid choreography, gorgeous lighting and characters across three days in June 2016 at the Richard Rodgers Theater in New York, all with the principal original cast before they left for new projects. Celebrated composer, lyricist and performer Lin-Manuel Miranda took a subject that seems to be as exciting as a history lesson from a monotone teacher and injects it with energy, originality and heart. I mean, who would have thought a musical about the rise and fall of revolutionary war hero and political mastermind Alexander Hamilton (portrayed by Miranda) would explore America's fiery past with such skill and thoughtfulness? Miranda and Co. undoubtedly sparked their own revolution in the theater community — and now film. 
After viewing it, it's hard to imagine Hamilton ever working as a film adaptation because its charm and sheer excellence come from how the cast and stagehands pull off a larger-than-life production. The stage literally spins to illustrate the passage of time and create fascinating, emotional anecdotes. These are the areas where the modern, fourth-wall-breaking approach seeps in to keep complexity at bay before getting too tangled — a Cliff Notes intermission if you will. 
Take, for instance, a moment when death is approaching a character and the stage and its inhabitants move about like they're in slow motion to unspool the character's fears and wishes in their final moments. Putting that on film, what do you do? 
Theater performances are presentational — stage actors sometimes turn it up a notch to "reach the back of the theater" — and the big movements and exaggerated facial expressions might worry people who are used to realistic film acting. However, with Hamilton, it translates well because even the show pokes fun at itself. Someone like Jonathan Groff's spittingly hilarious role as King George III is amped up to provide comical breaks, while scene-stealing performers Daveed Diggs (doubling as Marquis de Lafayette and Thomas Jefferson) and Leslie Odom Jr. (Andrew Burr) toss verbal rocks like they're at a poetry jam. 
One scene where Miranda and Diggs participate in a political debate like a rap battle is nothing short of phenomenal. The same goes for Renée Elise Goldsberry's "Satisfied," a Hamilton stunner that appears halfway through act one. As Hamilton's smitten sister-in-law, Angelica Schuyler, Goldsberry (Waves) pulls at the heartstrings and astounds when she takes it to the flow of Nikki Minaj's "Superbass." 
At 160 minutes, with a one-minute intermission, Hamilton lives up to its high praise. It's a work of art that I can see myself watching again and again, finding new notes of creativity. As both a performance and a film, it's to die for.