Available now on Netflix.
Since his 1986 feature debut She's Gotta Have It, Spike Lee has forged his own path as a filmmaker and provocateur with a distinct style and voice for black America. Lee has long been playing by his own rules to tell stories that consistently address the issue of black struggle through cinema — and that continues with his latest entry, Da 5 Bloods, which comes out on Netflix this weekend to speak urgently about our current world.
Da 5 Bloods is a poetic visual essay about the sacrifices of war and how black deaths matter. It paints the screen with many different moods, genres and concepts. At times, it feels like a 1970s war film, trimming down the aspect ratio to a box and dipping its 16 mm film into a vibrant, oversaturated look that harkens back to the days of The Dirty Dozen and Where Eagles Dare. Between archival footage of historical figure speeches and haunting war images, the story's canvas stretches out to widescreen to center on the present-day relationship between four veterans (Clarke Peters, Isaiah Whitlock Jr., Norm Lewis and Delroy Lindo) who return to Vietnam to uncover the body of a fallen brother-in-arms (Chadwick Boseman).
Lee is the kind of storyteller who dances between the future and past to examine the now. The filmmaker had no foresight that his film would be released following the killing of George Floyd and amid the protests inspired by the tragic event and other racial injustices, yet he has known the pressure that the societal knee can have on the neck of black America. The righteous fury that exists in Lee's influential works like Do the Right Thing, Malcolm X and blackKklansman also surfaces here to provide a lesson in history that ripples with monstrous waves.
Da 5 Bloods sets the tone with footage of Muhammad Ali refusing to serve in the Vietnam War, saying the Viet Cong never lynched him or robbed him of his nationality. A subsequent speech from Malcolm X picks up the truth by him expressing how you can't take "20 million black people and make them fight all your wars and pick all your cotton" without giving them "any real recompense." Lee takes it even further with many more news clippings and film footage to showcase Hollywood's wrongs in its portrayal of black people's contributions to the wars fought. One photo of Milton. L. Olive III, the first African American soldier to be awarded the Purple Heart for his service in Vietnam, brings gravity to the discussion of whitewashed myths about bravery and honor.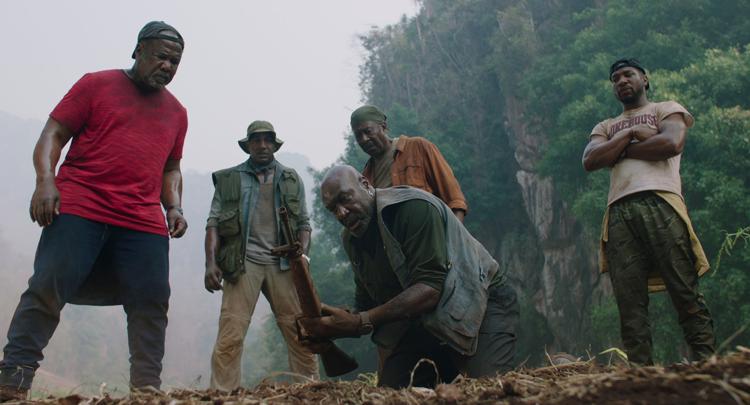 Each of Da 5 Blood's characters is flawed and drawn broadly with love and sincerity. These four men are seen with a fierce language that stings like poetry. They feel much bigger than most people we meet in war movies, most notably Lindo (Malcolm X and Gone in 60 Seconds), who invites audiences into his headspace during scenes where he speaks directly to the camera. It is for these scenes, and his performance throughout as a vet who has post-traumatic stress disorder and an emotionally detached relationship with his son (Jonathan Majors of The Last Black Man in San Francisco), that Lindo deserves awards consideration.
Although there are odd editing choices, story beats and character moments (such as a firecracker sequence with a Vietnamese boy and a sometimes puzzling arc with Majors' character), Da 5 Bloods is a powerful journey. Lee knows how to make audiences weep and understand their surroundings with a deeper perspective. His film embodies ideas — and after the immediate experiences fade to black, the implications remain and grow.