I am not going to even pretend I understand every element in Jordan Peele's latest nightmare, Us. It's pretty clear he has a lot on his mind, and the horror genre is one of the best places to exorcise those thoughts.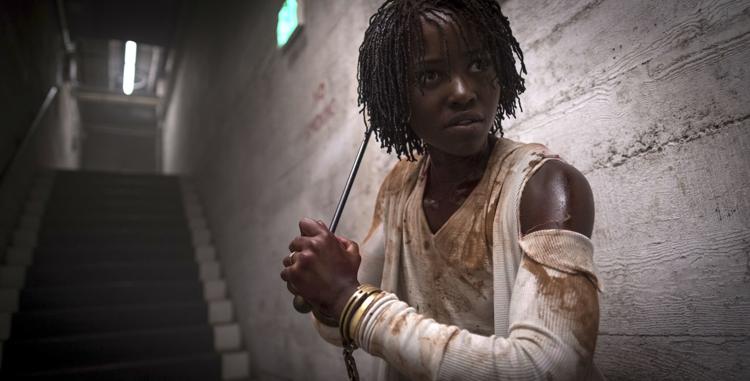 If you haven't seen Us yet, the less you know, the better. I will dance around its significance and meanings and speak in a hushed tone. To put it lightly, the film is about Adelaide Wilson (a knockout Lupita Nyong'o), accompanied by her husband (Winston Duke) and two children (Shahadi Wright Joseph and Evan Alex), returning to the beachfront home where she grew up as a child. Haunted by her traumatic past, Adelaide becomes increasingly concerned as a series of coincidences and scary things happen. Hell comes literally knocking at her door when a doppelganger family puts their survival instincts to the test.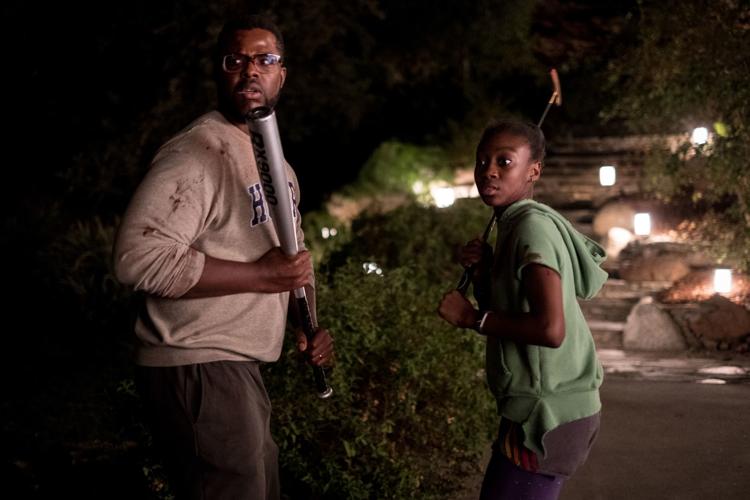 I first saw Us at its world premiere at the South by Southwest Film Festival in Austin. Admittedly, I didn't take to its power like most people did at that screening. It doesn't have that instant accessibility like Peele's 2017 sensation Get Out does. Get Out is layered with complexity, but it also functions as an entertaining and compelling movie. Us is cut from a similar cloth, but it's not the same one. It's much more ambitious. There are not just a few ideas working in tandem but a seemingly endless supply. Every frame of the film is steeped in hidden meanings, and it only gets more fascinating the more you watch it.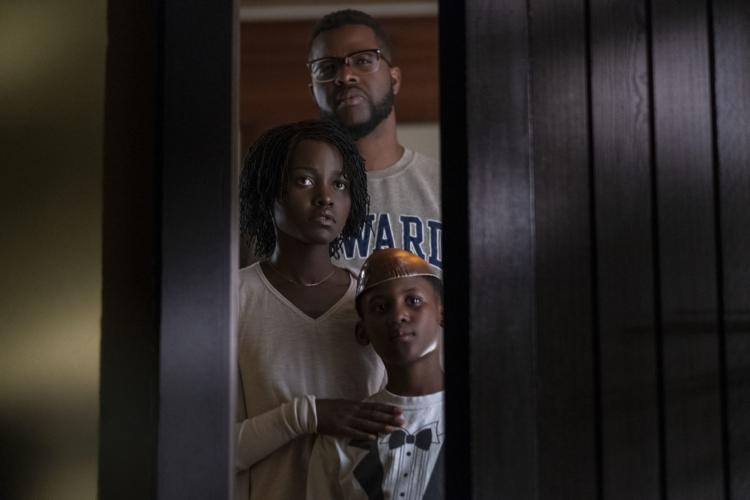 I don't believe that all its ideas connect, or are illustrated to their full potential, but I also don't think I could craft anything better than Mr. Peele. Watch any of the special features on the Blu-ray disc, and you'll find your jaw on your living room floor. It's astonishing how much thought Peele put into every fiber of his work. He's also very articulate and can explain all his intentions quite remarkably. Whenever he speaks about the film's themes of duality and privilege, I find myself walking away a more informed person.
Extras: The Blu-ray combo pack (Blu-ray/DVD/Digital HD) release doesn't include a much-desired audio commentary (Peele's commentary for Get Out is among the best I've heard), but the special features are almost as good. They are more than your average press kit materials and are in-depth discussions with behind-the-scenes footage. The most notable featurettes are "The Duality of Us," "The Monsters Within Us" and "Redefining a Genre: Jordan Peele's Brand of Horror." Peele dishes on the film's secrets and explains his intentions behind certain ideas, such as the rabbits and the red jumpsuits.
■
The Entity (★★★★) 1982's The Entity is one of the most terrifying movies out there. Starring Barbara Hershey (Black Swan, Beaches), the horror film involves a woman being tormented and sexually molested by an invisible demon. It's like the entity from It Follows, but instead of the unknown killing you at the touch, it slowly breaks your spirit and violently assaults you. It's difficult to stomach the sight of Hershey getting put through what she does in the film, but it makes it all the more scary and impactful.
Hershey turns in one of her best performances and director Sidney J. Furie (Iron Eagle) constructs a film with genre sting. The canted camera angles and the focus on certain images add up to something that should be higher on the list of horror greats. To make matters more frightening, The Entity is also based on a true story. As you will learn in the extras, located on the Scream Factory Collector's Edition, they take creative liberties with the story's conclusion, but that doesn't soften the film's blow. It's a real nail-biter.
Rated R, 125 minutes.
Extras: The Scream Factory release (available through shoutfactory.com/shop) includes new interviews with Hershey, actor David Labiosa (who plays Hershey's son in the film), composer Charles Berstein (an iconic musical score that even Quentin Tarantino used in Inglourious Basterds) and editor Frank J. Urioste. Compared to other Scream Factory interviews, these are among their best. They are well positioned (I take notice of those things) and contain some of the most interesting stories about the making of the movie. I especially appreciated Hershey's candor about the film's unfaithfulness to the true story and the missed opportunity to be subtle in its final moments.
Rounding out the extras are an audio commentary, an interview with parapsychologist Dr. Barry Taff, a theatrical trailer and a still gallery.
■
The Universal Horror Collection: Vol. 1 (★★★½) It takes an incredible amount of patience to get through the Universal classics. But I love them. As I have expressed in my home entertainment reviews countless times, there's nothing quite like popping in an old black-and-white movie into the Blu-ray player (especially horror) and letting history unfold. I always like to pretend I'm watching the movie when it was released, which makes the story more intriguing. The lighting, the music and the performances within these Universal classics have shaped horror into what it is today.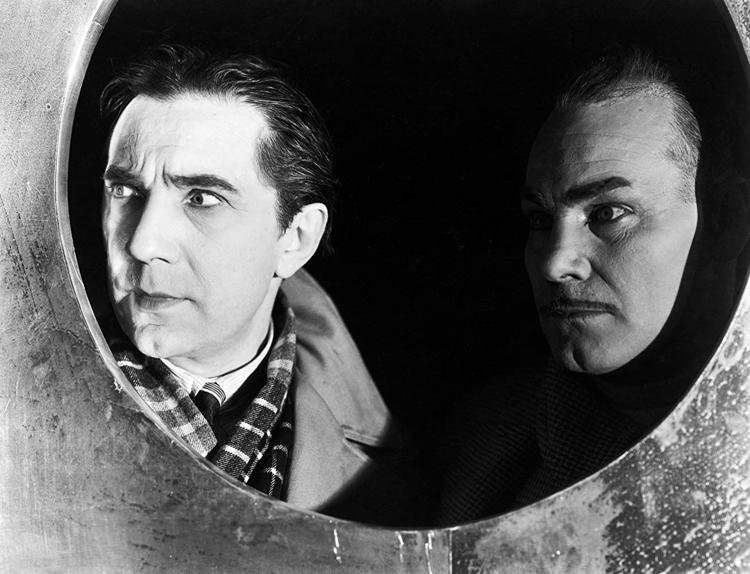 In Scream Factory's stunning four-movie collection pack, you will find 1934's The Black Cat, 1935's The Raven, 1936's The Invisible Ray and 1940's Black Friday. All four films star horror legends Boris Karloff and Bela Lugosi and have strengths and weaknesses that make them unique.
The two best titles in the collection, The Black Cat and The Raven, ooze with atmosphere. There's an ominous tone and genuine chills that make them memorable. I don't see myself forgetting one scene from The Raven (a film about a surgeon inspired by the torture devices in Edgar Allan Poe's work) that show the uncomfortable marriage between a disfigured man and hysterical laughter. It's got all the fuel for nightmares you wish you could empty before bedtime.
The Black Cat, undoubtedly, offers the most bang for your buck. It showcases the most masterful storytelling techniques and the best performances from the two horror icons. They each take command in this story, about honeymooners on a trip from hell. It's slick, spooky fun.
The Invisible Ray and Black Friday are more problematic. They do not reach the point of needing a stake pierced through them, but they fail to achieve a consistent flow of captivation. The Invisible Ray, about a radiation-exposed scientist who becomes a killer, has racist undertones and cringe-inducing scenes that I can't even imagine viewers at the time escaping unscathed. Meanwhile, Black Friday lacks horror altogether. It details a story (oddly similar to Get Out) involving brain swapping with dangerous side effects. The idea is rife with possibilities, but the style isn't as present as the other films in the collection.
So, overall, the collection is a mixed bag. But there are enough moments to strike fear and send the imagination running wild. Plus, these movies aren't the easiest to find. If you like Karloff and Lugosi, might as well get a four-in-one collector's set.
All films are not rated. The Black Cat is 66 minutes, The Raven is 61 minutes, The Invisible Ray is 79 minutes, and Black Friday is 70 minutes.
Extras: The Scream Factory release includes a fancy cardboard slipcover and a booklet that features posters, stills and release information. Each film is a 2K scan of the original film elements and they include new audio commentaries with notable film historians and authors. Other features include vintage footage, special featurettes, still galleries and trailers.
■
Also available this week on Blu-ray and DVD: Crypto, Killing Eve: Season 2, The Running Man (1963, an Arrow Video release), The Scorpion King (2002) on 4K, Will & Grace: The Revival — Season 2 and Wonder Park.