Many horror franchises focus on the kills and recycle material to make a quick cash grab. Very few of them attempt to evolve the central terrorizer and deepen the mythology.
The Omen Collection — Deluxe Edition (★★★★)
Rated R (or not rated), about 533 minutes.
Available Tuesday on Blu-ray through Scream Factory.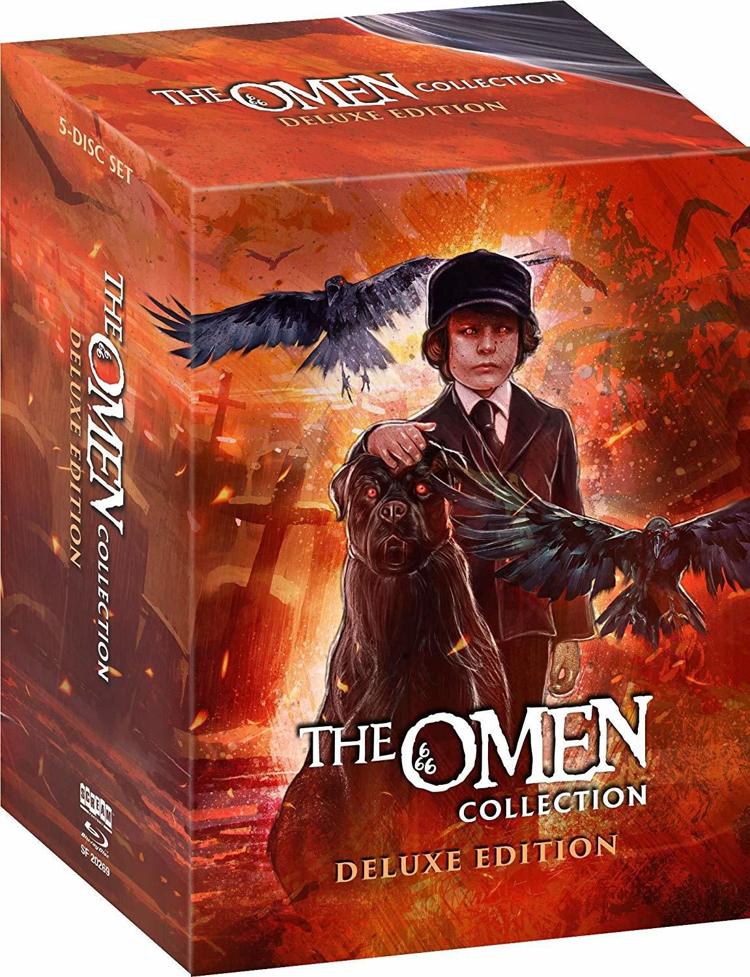 The Omen series ventured into new territories with each chapter, especially the first three films. While the results are relatively mixed as a whole, it at least made grand efforts to keep from being stationed.
There have been five films in The Omen franchise — the original trilogy, a barely related fourth film and the 2006 remake (mainly made so distributors could release it on 6/6/06). This isn't the first time the collection has been released in bulk fashion, but Scream Factory certainly gives it some shelf appeal and sprinkles some new features to make any horror hound bark.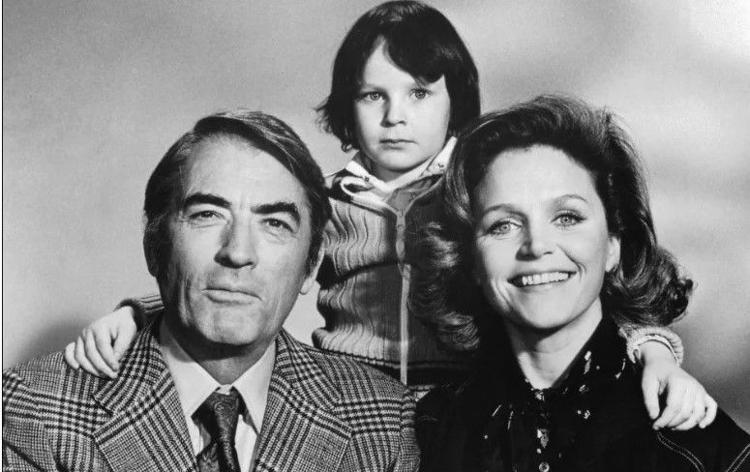 The 1976 original film, starring Gregory Peck and Lee Remick, is considered one of the most chilling horror titles of all time. When you consider its story about a (secretly adopted) child who is the Antichrist, all the death scenes ("Look at me, Damien! It's all for you!") and the parents' fear of who they are raising, it is damn scary. Maybe not in an in-your-face kind of way, but it will haunt you. The famous decapitation scene alone will burrow in your brain.
As a parent, I may question the logic of the characters (like why the hell would you allow a mysterious nanny watch over your child when you don't know their full story?). However, director Richard Donner (The Goonies and Superman: The Movie) deserves credit for maintaining a consistent mode (balancing horror and drama). He assembled a first-rate cast and gave the film staying power.
Even 1978's Damien: Omen II manages to be an adequate sequel. It details the larger religious mythology and chronicles Damien as a troubled teen at a military academy. You could sum it up as a coming-of-age film about a kid who discovers his malicious purpose. Strange things start to happen, and people become suspicious. Some challenge Damien while others support him. (His relationship with Lance Henriksen's sergeant character is frighteningly captivating.)
How things wrap up, particularly what transpires between Damien and his cousin, feels like you're getting an origin story of an iconic supervillain. It may take some time to generate speed, but once it finds its footing, Omen II runs and chases you to your nightmares.
The third film, 1981's The Final Conflict, might be the most ambitious of them all. Damien (portrayed by Sam Neill) is now all grown up and looking for his place in the political hierarchy. He's following in the footsteps of his father but has a whole other agenda.
Circumstances cause Damien to fear the second coming of Jesus Christ, so he starts killing newborns who entered the world on a particular date. There may be a lot of political chatter, but this is a concept that terrifies. All the Final Destination-like scenarios are fun to anticipate. Although The Final Conflict doesn't close the book on Damien's arc excitingly, it concludes one of the better horror trilogies out there.
The made-for-TV reboot, 1991's Omen IV: The Awakening, is not even worth a try. How difficult it must have been to follow what came before and box it into a new product with a downsized budget. The Awakening is simply lazy and silly. The musical score (which is pretty close to the ridiculousness of Halloween 5) and the shot composition are frankly embarrassing.
The 2006 remake is competently made (aside from all the frantic editing), but it doesn't add anything fresh to the original. It's just a modern polish. A lot of the dialogue is the same, and the performances (including Liev Schriber and Julia Stiles) lack believability. It feels like they are reading the original script word for word and are afraid to contribute anything of their own. Only the death scenes have been punched up, as one would expect with a remake. But it's not enough to raise your pulse.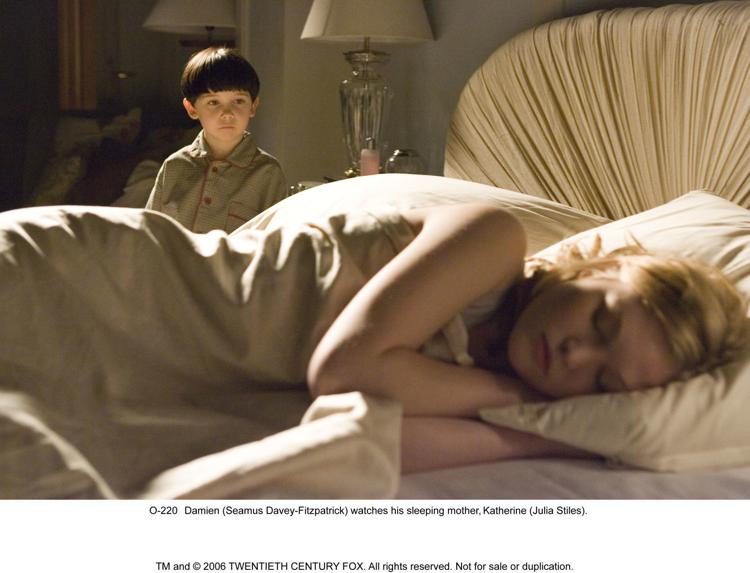 Overall, the collection is an opportunity to watch and own three exceptional horror offerings in their best presentation. The other two films are there to complete the set but not push the boundaries. So, if you're looking for some high-class thrills as we inch closer to Halloween, Scream Factory's set is a must for high-def horror enthusiasts.
Extras: The Scream Factory Deluxe Edition (available for preorder through shoutfactory.com/shop) includes an impressive candy shell. It fits quite nicely with Scream Factory's thick-cased collector's editions of Halloween, Critters and The Amityville Horror series. The original artwork for the glossy cardboard box (with illustrations by Laz Marquez and the package design by Mindy Kang) is a magnificent work of art. Rather than package everything together in one booklet, each film gets its own Blu-ray case to be individually unique.
The collection features all-new interviews with various talents of the series, including actors Lee Grant, Robert Foxworth, Holly Palance and Elizabeth Shepherd. There are also sit-downs with author and writer David Seltzer, director Graham Baker (The Final Conflict), writer Andrew Birkin and production assistant Jeanne Ferber, among others. The information is boundless and will compel you to explore the series' mythology further.
Additionally, there are two killer documentaries (The Omen Legacy Documentary and 666: The Omen Revealed Documentary), still galleries, audio commentaries, trailers and other marketing materials, and vintage featurettes from previous releases. Trust me. You'll stay busy with all of what Scream Factory delivers.
The Haunting of Hill House: Extended Director's Cut (★★★★) Most of Netflix's media is on the streaming platform to stay, which is a bummer because its films and series are good, too, and warrant having special features and additional materials. Fortunately, Target released the Stranger Things seasons on snazzy VHS-like Blu-rays and 4Ks to make up for that stinging disappointment.
However, now Paramount is packaging one of Netflix's best series on Blu-ray. And it isn't simply the already-available 10 episodes of The Haunting of Hill House. The three-disc release also includes three extended episodes ("Steven Sees a Ghost," "The Bent-Neck Lady" and "Silence Lay Steadily" — pretty much the front, middle and end episodes of the show) and four filmmakers' audio commentaries to spice it up.
Mike Flanagan (director of the upcoming Doctor Sleep) is arguably the most exciting horror filmmaker working today. Of course, directors Ari Aster (Midsommar) and Robert Eggers (The Lighthouse) are keeping the genre interesting with their experimental narratives, but Flanagan offers accessibility, genuine scares and emotionally complex characters. You admittedly want to revisit his work more often than the work of Eggers and Aster.
The new material makes the bond between you and the story's characters stronger. You better understand the surrounding roles and the relationships among the central family. It's nothing drastic that steers the story in a new direction, merely more moments to give the film more impact, especially during its final moments. It was already a show that sends you on an emotional roller coaster, but now there are a few more inclines along the way.
The best facet is perhaps the audio commentaries with filmmaker Mike Flanagan. He's all-knowing. He knows what audiences may pick apart (his pointing out particular inconsistencies was unexpected but welcome). There's a scene in the Bent-Neck Lady episode (my personal favorite) where he discusses how the manor's wallpaper wouldn't look a certain way in reality and how the glass windows of a car don't all match (if you notice the way rain moves on its surface). It's pretty much a masterclass on how to adapt to circumstances and accept deviation. He'll also blow your mind by pointing out all the Easter eggs (all the ghosts hiding in plain sight).
Not rated, about 569 minutes. Extended episodes are 212 minutes.
Crawl (★★★) This killer alligator movie didn't screen for critics during its theatrical run, which was a shame because the film is not bad at all.
Directed by Alexandre Aja (High Tension and the 2006 remake of The Hills Have Eyes), Crawl is a relatively no-nonsense monster movie. There may be some forced drama about the story's protagonist (Kaya Scodelario) being a champion swimmer and having a complicated relationship with her daddy (Barry Pepper). Still, whenever the film isn't trying to manipulate your emotions, it'll have you locked in for its ride.
The story is simply about a Category 5 hurricane that rolls through a small town. A young woman braves the weather to find her dad trapped in a flooding house with hungry gators.
Simple, but it's no crock.
Extras: Paramount is blowing mainstream home releases out of the water with all their packed content. There are deleted and extended scenes and an all-new motion comic of an alternate opening.
But what really gives the release a severe bite is a documentary featurette that explores every aspect of making the film. It shows how the actors prepared for the physicality of their roles, how the visual effects artists worked with Aja to create his stormy vision (this includes weather and wind machines) and maps out the characters' journey in this (mostly) one-location showdown.
Also available Tuesday on Blu-ray and DVD: The Art of Self-Defense; Haxan (1922, a Criterion Collection release); Hellboy (2004) on 4K; The Fearless Vampire Killers (1967, a Warner Archive Collection release); My Samurai (1992), a MVD Rewind Collection); Night Hunter (2018); Scarface (1983) on 4K; Star Trek: Picard Movie & TV Collection; and Ultraman: The Complete Series.