As much as we wish everything that's going on today were an April Fool's Day joke, alas, here we are, trying not to lose our minds amid screaming kids and boredom. Fortunately, during all this time off, there are plenty of great Blu-rays set for release. You can spice up your quarantine with some classic spooks, insightful and mesmerizing experimental works, and even a little romance.
If you were a horror video browser back during the VHS days at Blockbuster, you might recall the cover art for this 1986 release.
Not rated, 88 minutes. Available Tuesday on Blu-ray through Scream Factory.
On the cover, a group of hard-partying college students can be seen gathered around a table that looks plucked from Rory Gilmore's grandparents' house. At the front of the table is a young woman toasting to her friends with a knife prominently hidden behind her back and hair braided as if it were a noose. It's arguably one of the most creative art pieces made for a horror movie, as it perfectly sums up the fun and twists that endure over the film's 90-minute runtime.
April Fool's Day is receiving a collector's edition treatment by Scream Factory. It comes with a sparkly film print, new interviews with filmmakers and actors, and a cardboard slipcover with newly commissioned illustration by Yannick Bouchard. Additionally, Scream Factory recognizes the importance of the original artwork because disc owners can reverse the artwork to spotlight the old design.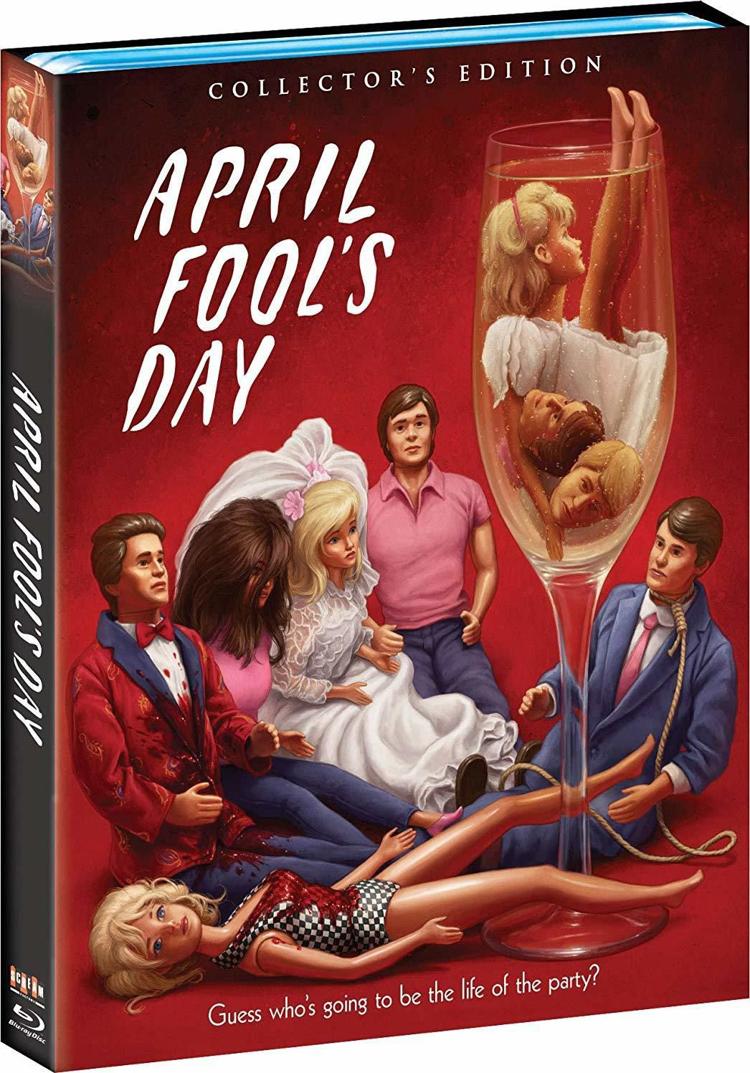 Directed by Fred Walton, the film is anything but ordinary. If you've seen Walton's previous work, such as 1979's When a Stranger Calls, one should anticipate a journey that continually throws you off the path. The story involves nine undergrads (including Amy Steel, Clayton Rohner and Back to the Future's Thomas F. Wilson) staying at a friend's remote island mansion. Slowly, they begin to fall victim to an unseen killer over the titular holiday weekend.
Horror loves to decorate holidays in blood and guts. This is because the holidays are times of the year when people come together so that a masked murderer can turn hopeless individuals into slaughtered works of art. The idea behind the holiday in April Fool's Day is perfect for the genre. It's about as genius as a terrorizer mowing down crowds in a haunted house theme park. No one knows what's real and what's part of the act. The characters in this film have a field day pulling off elaborate pranks, some of which fool you.
Newcomers may notice that some of the kills aren't as inventive as they could have been, outside one disturbing act of violence that leaves someone's eye pulled out of their socket. It certainly sets the tone. But it's the relationships between the characters that matter most. If you can't buy them as friends, then this is a throwaway dead teenager fest. Of course, the characters fill out obvious stereotypes, but even the movie has a blast poking fun at it. It's not far off from the kind of sense of humor that's in The Cabin in the Woods.
If you favor horror satires that deconstruct the mechanics of the genre, like Behind the Mask or Scream, this is the must-buy of the week.
Extras: Available for preorder through shoutfactory.com/shop, the Scream Factory release comes loaded with interview content — maybe too much. This has become a problem lately with many of Scream Factory releases. The interviews with each subject run a tad too long and repetitive.
No offense to the hardworking talent, but we don't need a beginning-to-end story of everyone's career. Keep the material focused on the film at hand, or turn everything into one feature-length documentary. You have to be a big fan of the film to keep from dozing off during the special features.
Bamboozled (★★★) Spike Lee's career is arguably a bit all over the place. But there's no denying he's a smart filmmaker who has produced some of the most thoughtful pieces of cinematic art. From Do the Right Thing and Malcolm X to BlackKklansman, Lee uses the visual medium as a true means of expression. He has a lot on his mind, and film is an avenue in which he pours out those thoughts, with some titles being better than others.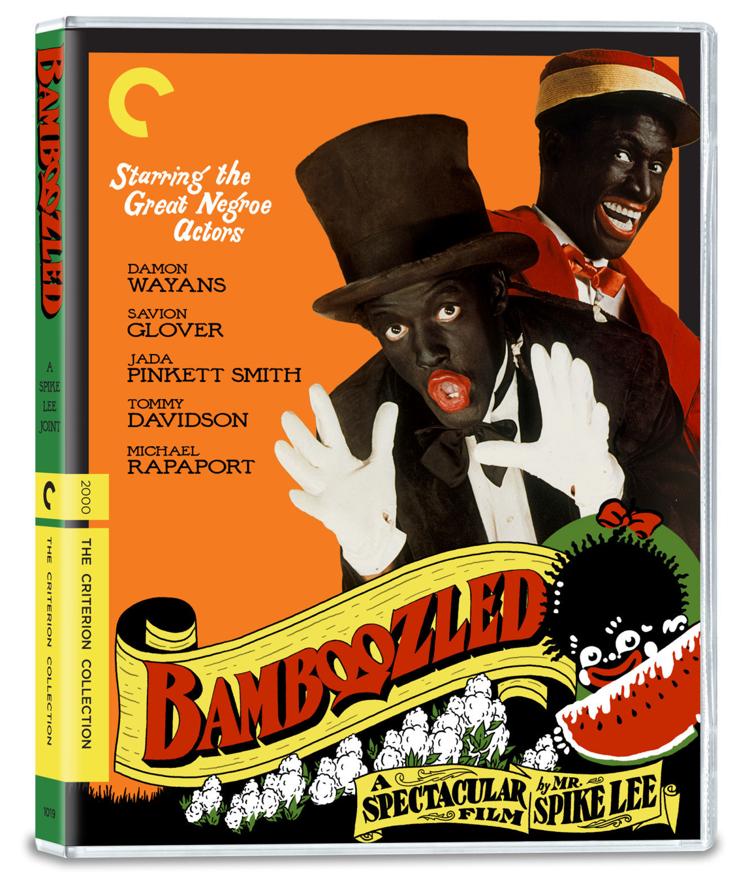 Entering the Criterion Collection this week is 2000's Bamboozled, one of Lee's most challenging films. Through the story of a frustrated black TV writer (Damon Wayans) who proposes a blackface minstrel show, Lee examines the past, present and future of racism in American pop culture.
As powerful as many scenes are, they are somewhat scattered. It's a heavy-handed experiment that is more fascinating to talk about than endure. (This is why Criterion's bonus features are the best thing about this release, making it land on the positive end of the scale.) The fact that the film was shot primarily on unvarnished digital video doesn't make it easier. While the approach provides a televised feel and has the advantage of capturing more natural reactions, it distracted me from absorbing the thematic elements.
Extras: The Criterion Collection Blu-ray release features a new 2K digital restoration, with a 5.1 surround DTS-HD master audio soundtrack. The bonus content includes a 2001 audio commentary with Lee, a new conversation between Lee and critic Ashley Clark, new interviews with various cast and crew members, a new interview program featuring media scholar Racquel Gates, a 2001 making-of, deleted scenes, music videos, alternate parody commercials, a poster gallery, a trailer, and an essay by Clark that can be found in the liner notes.
1917 (★★★★½) Employing a two-hour-long feature shot — in what is designed to look like a single unbroken take — director Sam Mendes (Skyfall, American Beauty) crafts a film that's both a technically innovative entry in the genre and an incredibly rhythmic event.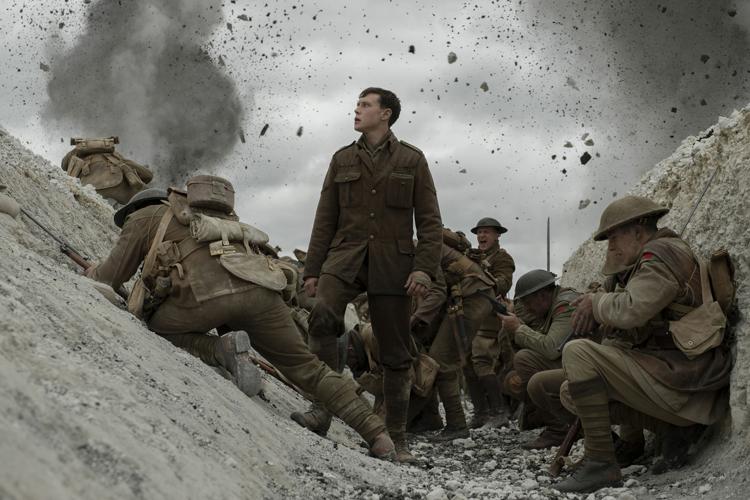 Set in northern France around spring 1917, the film follows two fictional British lance corporals — Schofield (Captain Fantastic's George MacKay) and Blake (Games of Thrones' Dean-Charles Chapman) — who are tasked with preventing a battalion of 1,600 men from walking into a German ambush. Blake has a personal stake in the mission (evocative of Saving Private Ryan) that involves the two privates keeping his older brother (Richard Madden) from falling victim to the trap.
1917 is a fluid marriage of film technique and storytelling. With its lived-in situations, committed performances and creative direction, we witness a war movie that is sure to cement itself as one of the most impressive war feats.
Extras: As one might suspect with such a technical achievement, Universal Pictures' home release fashions a slew of unique features that break down the filmmaking process. Many behind-the-scenes featurettes were released during the film's awards campaign. Still, the Blu-ray packs more thorough segments, including ones focusing on the direction, the story's significance to its filmmaker, the musical score and, of course, the camera work.
There's an audio commentary with Mendes, who's a walking encyclopedia of film knowledge and technique. However, the most surprising addition is an audio commentary with two-time Academy Award-winning cinematographer Roger Deakins. Deakins points out all the moments that they blended shots to appear as one continuous take, as well as how they transferred the camera from crane to Steadicam within seconds. It definitely will satisfy anyone curious to know how the technical magic tricks were done.
Warner Archive Collection
Similar to Mill Creek Entertainment, the Warner Archive Collection is a home distribution company that focuses mostly on the film itself. There's a consistency to the collection's cover art and spine text that gives the releases that collector's quality. However, all the extras boil down to mere trailers.
Victory (★★★½) This 1981 movie doesn't ever get talked about, despite having a great story and an incredible ensemble cast (including Michael Caine, Sylvester Stallone, and Max von Sydow, who died earlier this month).
Directed by the legendary John Huston (The Treasure of the Sierra Madre), Victory centers on a team of allied POWs preparing for a soccer game against the German national team in Nazi-occupied France. Think The Longest Yard, but swap slapstick humor for intense war themes.
It's a compelling process film. In great detail, Huston highlights the strategic planning stages for not only the soccer match but also their potential escape. Great performances and the occasional cheese (a lot of slow-motion shots) snowball into one thrilling sports war drama.
Rated PG (more like PG-13), 116 minutes.
A Little Romance (★★★½) This 1979 bittersweet romance drama is nothing you haven't seen before. It's a forbidden love story between a French boy (Thelonious Bernard) and an American girl (a very young Diane Lane in her screen debut). The girl, Lauren, is attending school in Paris and soon meets Daniel. They frolic around town and befriend an older man (Laurence Olivier) who enchants them with his storytelling. When they hit some trouble, they decide to run away to Italy before Lauren returns to America.
As much as you could probably play this movie out in your head by just reading this, there's a lot of delight to soak up. It's not all puppy love, though. The film has surprising bursts of truth that give it weight.
Also available this week on Blu-ray and DVD: Beyond the Door (1974, an Arrow Video release), Come to Daddy, The Cranes Are Flying (1957, a Criterion Collection release), Dodsworth (1936, a Warner Archive release), Frankenstein: The True Story (1973, a Scream Factory release), The Grudge (2020), Leave Her to Heaven (1945, a Criterion Collection release) and The Wizard (1989, a Shout Select release).