How can you possibly make a good, compassionate movie about a dog-snatching Disney villainess? That's the million-dollar question, isn't it? Somehow, in Cruella, director Craig Gillespie has brought sympathy to the devil with his punk-rock origin story that bleeds with style, attitude and thematic complexity.
Many critics have made comparisons to The Devil Wears Prada and The Joker, both of which are valid. They all undoubtedly have similar story and character beats. In Cruella, we are dropped into the rockin' era of 1970s London as our central character, Estella (a firecracker Emma Stone), before she adds the "cruel" part to her name — climbs the haute couture ladder.
She goes from pickpocketing the clueless and scrubbing the floors of a clothing store to working for Baroness von Hellman (Emma Thompson), a titaness of the fashion industry. Estella's punk-infused creations and ideas catch the eye of the Baroness, and they form an Anne Hathaway/Meryl Streep type of relationship as a result. Both of them are holding tricks and secrets up their sleeves, eventually leading to a feud to die for.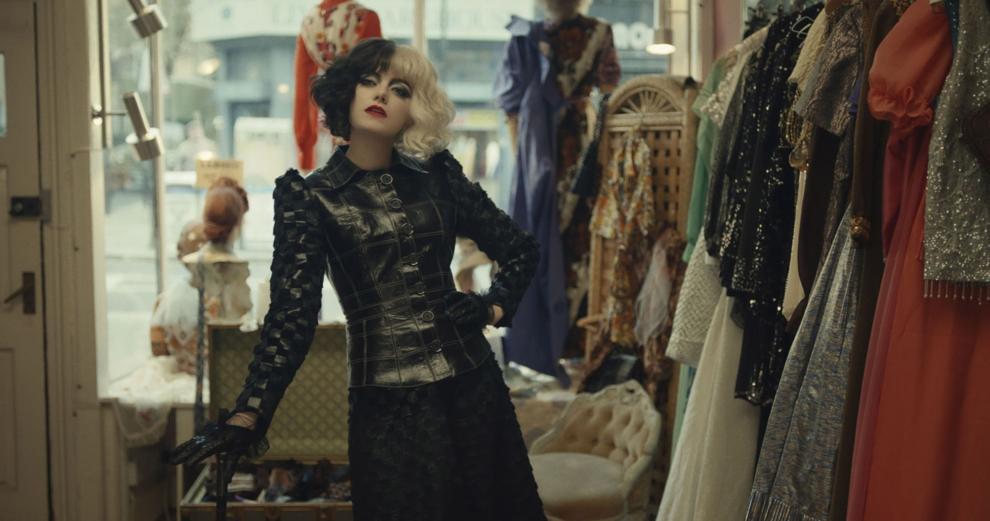 Don't expect this to be a sweet, puppy-dog kind of movie. Cruella is rated PG-13, and it takes some creative risks that pay off tremendously. It may have a few moments reminiscent of Solo: A Star Wars Story (you know, when you learn how the character got their name and all the signature costume elements), but it's a little more dialed back. Whenever we are introduced to Cruella's blood-red colors, her Panther De Ville car and her henchmen, Horace and Jasper (the terrifically cast pairing of Paul Walter Hauser and Joel Fry), the moments don't wink too hard at the audience. The scenes move along at a playful pace and with a devilish Cruella laugh (which she may have picked up from watching Alfred Hitchcock's 1944 war drama Lifeboat).
Stone's performance is simply magnetic, with her raspy accent, smoky eyes and two-tone hair. And Gillespie's shooting style complements it. Just as Cruella takes an unorthodox approach to her fashion art, Gillespie takes bold swings by capitalizing more on his running shooting style. In some scenes, it looks as if the camera will run right into the talent and action. The shots have a kineticism that sees them constantly pulling toward and away from whatever occupies the frame.
The tone definitely leans into the anarchy aspect of the character. Even the musical score is lightly used to favor an excellent soundtrack, which cranks up the sounds of the Rolling Stones, the Zombies and Deep Purple.
Cruella is easily the best in the Disney live-action lineup. It may not have the song-and-dance numbers to hold the attention of those who would rather see the House of Mouse produce more shot-for-shot remakes of animated classics. However, its daringness to be character-driven and different (in a Tim Burton/Batman kind of way) isn't so black and white. It's killer fun!