As you know, if you watched any of Shark Week last week on the Discovery Channel, sharks are not interested in eating humans. But don't tell that to the Syfy channel or Hollywood, which love to feed well-oiled, dumb teens to the relentless teeth of the sea. Whether the sharks fly through the air, attack in freshwater, or turn into ghosts to get their revenge, these ridiculous but extremely entertaining movies continue to keep people out of the water.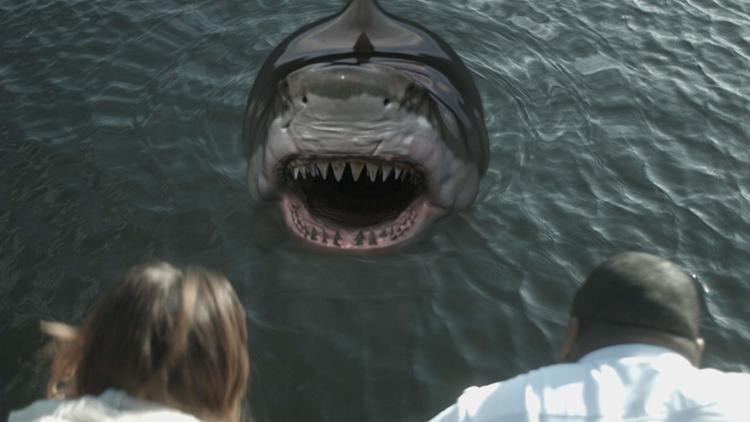 On the cover of Mill Creek Entertainment's release of Shark Bait: 6 Killer Shark Films is a young woman wearing what barely qualifies as a bathing suit while a giant great white shark waits to turn her into a snack.
Looking at that cover art, you know exactly what you're in for. The exaggerated graphics do not give off the feeling that you're about to watch a collection of films that are on par with Jaws — the godfather of shark movies. That Steven Spielberg classic is untouchable, and anybody who makes a shark movie knows it. So, they don't even attempt to blow it out of the water. Instead, they've created a bloody match for what movie can get more stupid and entertaining.
On the first disc, there's 2013's Ghost Shark, 2017's Mississippi River Sharks and 2016's Ozark Sharks. None of these movies are trying to hide how dumb they are. Within the first few minutes of Ghost Shark (my personal favorite of the bunch), you will see people making idiotic decisions and witness some of the worst special effects and acting you've ever seen.
I mean, the fact that this movie is about a dying shark that finds itself in a cave that miraculously turns it into a ghost is something. It's even more of something when that shark can kill anyone anywhere there's water. If you're swimming in a pool — you're dead. If you're sliding down a water slide — you're dead. Hell, if you're drinking water — you're dead. These are all actual scenes from Ghost Shark, and it's gloriously terrible.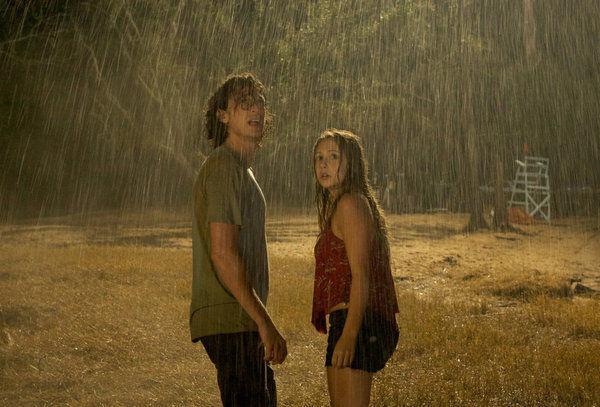 Mississippi River Sharks is the meta-movie that people will likely enjoy the most, especially if you're a fan of horror films like Wes Craven's New Nightmare and Scream 3. It's a dumb shark movie that comments on how it's a dumb shark movie.
Dazed and Confused actor Jason London pops up and plays a jerk version of himself. He'll make statements to the townspeople at a local event about how he's the star of all the best Shark Bait movies, and how he can be of service if a shark attack were to occur. Well, just like that, sharks appear out of the Mississippi River. The movie is a bit too full of itself for me to say it's above the quality of Ghost Shark, but I'd be lying if I said I didn't laugh and enjoy myself.
Ozark Shark is like getting to the third chapter of the Friday the 13th franchise when you realize all these movies are the same. All that's different is the sharks are put into a new setting. Now we have the mountain rivers, a sweet family and the same bad luck. You know people will die in the movie and you know the shark will die in the end, but it's how you get from A to B that gives the movie its worth. Ozark Shark is fine enough, but it doesn't have the creative sting as the other titles.
Disc 2 features Swamp Shark, Zombie Shark and the most absurd one in the collection, Santa Jaws. Now imagine Santa's hat on a shark fin, and you'll find yourself sucked into its insanity. However, how Santa Jaws (assuming that's what the shark would like to be called) comes into existence is what gives the movie some flavor. If you like movies like Ruby Sparks or Stranger Than Fiction, you'll appreciate the new angle Santa Jaws brings to the table.
It still has all the bad acting and frighteningly awful FX (somehow it's even worse), but these movies are at least trying to shake things up when they can.
Swamp Shark has the most notable cast, including Kristy Swanson, D.B. Sweeney and former pro baseball player Wade Boggs. This cast pulls off the most believable performances, probably because they're seasoned pros and not young kids who walked off the set of Jersey Shore. In terms of quality, this might be the film that sees the most talent on display, even if it doesn't really separate itself material-wise.
What does separate itself is Zombie Shark. Similar to Ghost Shark, it just loses its mind with its premise. What makes Zombie Shark worth a damn is how when the titular shark eats people, whatever is left can turn into a zombie. The ending of the movie raises the bar for both this franchise's silliness and its creativity.
Unfortunately, there are no bonus features. But there is a bonus movie! It's not a shark movie, but it's a nice setup for a potential gator collection. The film is 2013's Alligator Alley. The film operates similarly to the shark movies, but it capitalizes on the idea of Betty White's character in Lake Placid: What if alligators could be friendly? A lot of people have to die to figure out that question, but it's a nice bookend for a stupid creature feature collection.
The films in this collection are not rated — except for Swamp Shark, which is rated R — and about 87 minutes.
Mothra (★★★½) Mothra is a creature feature with a lot of class. Hence, this film is packaged in a snazzy Blu-ray SteelBook and not a mere DVD. This 1961 kaiju eiga (monster movie) is wildly impressive. Of course, you will notice a lot of Mothra is made up of models, toy cars and puppets, but that's what gives it its charm. The amount of work that went into crafting all the little details (building fixtures, sea storms and all the destruction) is a sight to behold. The film presentation even has a 35mm appeal, where the frame shakes like it's struggling to stay in the projector.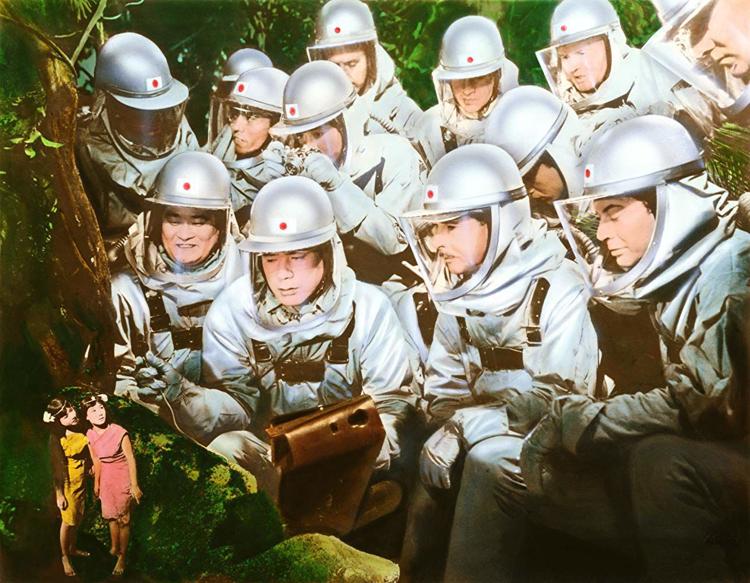 Like the Japanese Godzilla movies, Mothra has goofy English dubbing. However, the benefit of owning Mill Creek's release is it also includes the Japanese version, which features an additional 11 minutes. Some viewers may be bored by the film's lack of monsters (the giant moth doesn't appear until the last 20-30 minutes), but the film's ultimate goal will surprise you. It's an anti-monster movie, in fact.
So, if you're chasing something akin to a Michael Bay movie, you won't find it. But if you allow yourself to dig deeper into this film's meanings and get lost in the discussions within, you will be wowed.
Not rated, 90 minutes for English version and 101 minutes for Japanese version.
Extras: The Mill Creek Entertainment Blu-ray SteelBook comes at a super affordable price and a cover design that reflects monster movies of the early 1950s and '60s. There's also a protective plastic slip that fits around the SteelBook packaging, which comes in handy and helps to guard against wear and tear. Bonus features include an audio commentary with authors and Japanese sci-fi historians Steve Ryfle and Ed Godziszewski, a photo gallery and trailer.
Also available this week on Blu-ray and DVD: 1984 (a Criterion Collection release), Alita: Battle Angel, Critters Attack!, The Doors (1991) on 4K, Do the Right Thing (1989, a Criterion Collection release), Hellboy (2019), Missing Link and Weird Science (1985, an Arrow Video release).