Film distribution company Kino Lorber laces November's home viewing with edgy crime thrillers and wacky comedies.
Thunderbolt and Lightfoot
Now available on Blu-ray through Kino Lorber.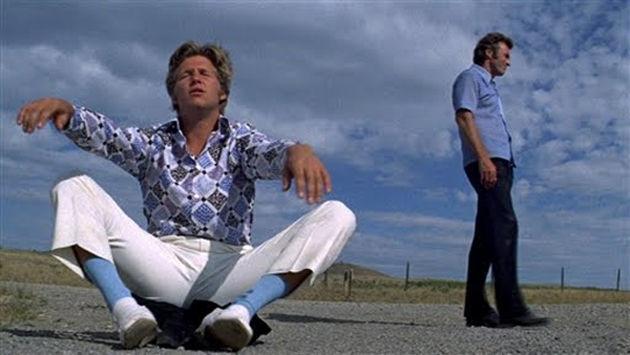 For a Clint Eastwood film that wraps up with its criminal characters using an anti-tank gun to blow open a state-of-the-art safe, Michael Cimino's directorial debut is not your average heist feature. There's more subtext packed into this 1974 caper film than two handfuls of most contemporary materials combined. Thunderbolt and Lightfoot slips on its grim boots in record time and sees its performers dancing up an intense storm of chaos.
Cimino, who went on to release the Oscar-winning The Deer Hunter just four years later, directed only eight films in his lifetime. It's astonishing how patient he was with his stories and how trusting he was of audiences to fashion such bold movies. Every once in a while, you'll come across a film from 40-plus years ago that was far ahead of its time. Thunderbolt and Lightfoot has the ingredients of a high-dollar buddy comedy, but it also steers toward quieter, more mature territory that ultimately gives it greater cinematic electricity.
The film centers on a Korean War hero-turned-criminal-turned-country-parson, known as "The Thunderbolt," who is trying to live a simple life like Viggo Mortensen in A History of Violence. That is, he wants to settle into the life of a family man. However, his past life comes knocking at his door before he knows it. On a peaceful morning of prayer, an armed man shoots up his church and proceeds to gun Thunderbolt down in the country fields.
Fortunately, devil-may-care drifter Lightfoot (a very young Jeff Bridges) saves the day when he spots Thunderbolt in trouble. The two strangers form a bond akin to Butch Cassidy and the Sundance Kid. Together, they float through Montana's shaded areas, stealing cars, picking up women and hanging out.
While Thunderbolt may have dodged death, others are looking for him. His old partners Red (George Kennedy) and Eddie (Geoffrey Lewis) are ready to bury him. Will it end in a bloody mess, or will the central duo flee far enough to keep the bad guys off their scent?
There's a playful energy to the film. But every so often, it'll pump the brakes to dirty up its heels. Thunderbolt and Lightfoot encounter a lot of strange cats, including one crazed individual with a death wish who picks up the two and drives carelessly around the highway. Did I mention he has a trunk full of bunnies and a caged raccoon in his front seat? It's a wild scene that seems so randomly inserted but contributes to the left-of-center world created by Cimino.
Thunderbolt and Lightfoot is one of the most underrated heist films. It deserves to be placed in the spotlight again. Thankfully, Kino Lorber gives it a platform to flex its storytelling strengths with new viewers. The brand new 4K master gives it a subtle sparkle, too. You'll almost question its age and think it could've come out within the last few years — if the old cars and department stores didn't indicate otherwise. It's an exceptional film, with an ending that still haunts me.
Extras: All the titles are available to order or preorder through kinorlorber.com/shop.com. This particular release includes an audio commentary by film critic Nick Pinkerton, a character featurette with Cimino, TV and radio spots, and a theatrical trailer.
Return to Macon County () Compared to its darker original from a year before, 1975's Return to Macon County is a lighter (sort-of) sequel that seemingly takes its inspiration from Bonnie & Clyde and Rebel Without a Cause. Even though there are aspects about it that are sleazy and creepy, you can't take your eyes off of the adventure.
Nick Nolte and Don Johnson star as drag racers Bo Hillinger and Harley McKay. They are young and raising Cain in 1950s America. The duo gets in all sorts of trouble and race to earn cash as they cruise from place to place. The real difficulty kicks in when they meet exuberant waitress Junell (Robin Mattson). After a scuffle in a local restaurant, Junell joins the buds on their journey of hustling.
Return to Macon County may be less gritty than its predecessor, but there are shocking avenues it ventures down. Most of the jolts come from Junell, who test the boys' tolerance. She removes Bo and Harley's security blanket and raises the stakes of the film. By the end, when the story goes off the rails, it unfolds in a way that feels true to the human experience. It doesn't have the most Hollywood conclusion, which separates it from being your standard buddy movie of crime.
Extras: Theatrical trailer and TV and radio spots.
Mr. Wrong (½) As great of a president and father actor Bill Pullman has made in Independence Day and Casper, he makes a terrible romantic lead. I'm sure Mr. Wrong has its fans. (It was one of my wife's favorites growing up.) But trying to get through it today is a chore, even if stars the beloved Ellen DeGeneres.
Directed by Michael Myers himself (Nick Castle), the goofball comedy tells a Jekyll and Hyde-like narrative. DeGeneres plays single and lonely Martha Alston. She appears to have found Mr. Right in Pullman's Whitman Crawford, but as their relationship progresses, he shows his teeth.
What could have been an infectiously sweet comedy of errors rather is an unfunny and senseless chore that is void of sparks. It's after the tone of City Slickers, but it's dust in the wind.
Gone Fishin' () Gone Fishin' was a title I would watch on repeat as a kid. But I'm willing to admit when you put sentimental reasons aside today, this 1997 movie is hardly a catch.
Danny Glover and Joe Pesci reteam to play fishermen who merely want to place their busy lives on hold and enjoy the sea. However, in Coen brothers fashion, it's not going to be an easy trip to find relaxation. The two amigos face an unyielding series of mishaps that would have Jim Carrey and Jeff Daniels' characters from Dumb and Dumber falling over in their chairs.
Gone Fishin' is straight-up dumb. It's childish and nonsensical, which is why I probably favored it as a kid. It's desperate to make you laugh, robbing the best comedies of its situational humor. Let this one float on.
Street People () As ambitious as early Italian filmmaking was, it's challenging to push yourself through gratuitously lousy dubbing. Despite starring the likes of Roger Moore and Stacy Keach, the 1976 Euro-crime thriller barely makes a splash and is completely disjointed.
It focuses on a Mafia deal gone south, which is a wealthy goldmine of opportunity to have fun. However, despite its best efforts and Keach's amusing performance, Street People is a stale exploitation movie with all the typical one-liners, car chases and shootouts.
Extras: An interview with Keach, a radio spot and theatrical trailer.
Also available this week on Blu-ray and DVD: Abbott & Costello: The Complete Universal Pictures Collection (1940-1965, a Shout Factory release), American Me (1992, a Shout Select release), Betty Blue (1986, a Criterion Collection release), Cold War (2018, a Criterion Collection release), Dora and the Lost City of Cold and Suspiria (1977) on 4K.