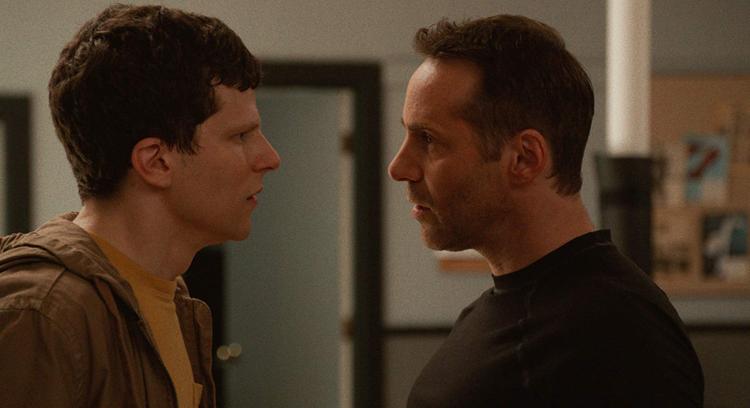 RICHARDSON — The Art of Self-Defense screened at Alamo Drafthouse theaters around the nation last Thursday — including Dallas-Fort Worth's Richardson location. Movie fans got the opportunity to see Riley Stearns' dark comedy starring Jesse Eisenberg and Alessandro Nivola a week in advance. And they got to see the cast and filmmakers walk the red carpet at the premiere screening at the Alamo Drafthouse in downtown Brooklyn, New York, via telecast.
Eisenberg, Nivola and Stearns all spoke with Fandango managing editor Erik Davis. The curbside interviews were livestreamed at all the participating Drafthouse theaters to give fans a piece of the Hollywood action.
Davis first spoke with Stearns (Faults), who was sporting a bleach blond look akin to Zach Efron during his Sundance Film Festival press run. Stearns discussed his inspiration for making a film about a young man (played by Eisenberg) who is brutally attacked by a biker gang and turns to the world of karate to understand the art of self-defense. Stearns said he was inspired by his study of jiu-jitsu. He liked the concept of a young man wrestling with his masculinity, surrounded by a dojo full of men trying to look as manly as possible. How would guys like this project their alpha status? By jamming only to metal music and raising Cain and masking any sign of weakness or femininity.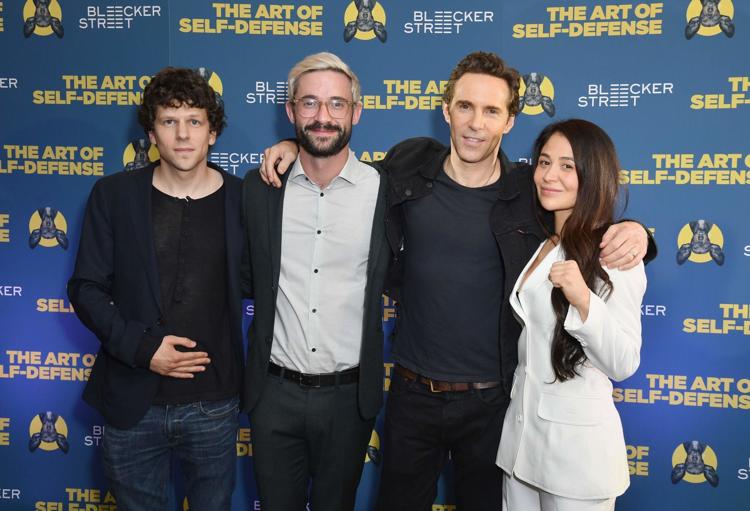 Stearns' film doesn't ignore toxic masculinity. That's what makes The Art of Self-Defense such a compelling feature. Stearns clearly has a lot on his mind, and he's using the avenue of comedy to explore social issues more deeply. It's an alternate route to show the world's dilemmas, and a way to avoid lecturing audiences. That said, The Art of Self-Defense isn't a pure message film. Don't expect it to shove anything down your throat. It's all good fun and seems to exists in a world far different than our own.
Nivola made it clear to Davis at the Brooklyn premiere that he had a blast making the film. The interviews with Nivola and Eisenberg got hilariously awkward, and both actors seemed thrown off and amazed that their words were being telecast all over the nation.
"Oh, I should have prepared something if I knew I was going to be omniscient," Eisenberg anxiously said after Davis asked him if he could say anything to Drafthouse audiences.
Eisenberg poked fun at The Art of Self-Defense script for being such an obvious character for him to play. In The Social Network, Zombieland and Adventureland, his characters were all socially awkward or uncomfortable in their skin. This hits the extreme in The Art of Self-Defense. Eisenberg initially didn't want to be involved in Self-Defense, but was so taken by Stearns' bizarre dialogue and strange world-building that he couldn't pass it up. The screenplay undermined and subverted his expectations — an effect that translates well on screen, as audiences in Richardson erupted into laughter at nearly every turn taken in the film.
Nivola shared Eisenberg's sentiments.
"I thought the dialogue was so weird," Nivola acclaimed. "I really wanted to say those lines. It's so different from anything I've done before [like Jurassic Park III, The Neon Demon and Face/Off]. I liked the idea of playing somebody [the sensei of the dojo that Eisenberg's character joins] who is both scary and funny. Somebody described it as 'cunning and stupid,' and that cocktails into something tasty."
After the red carpet ended, the Richardson audience waited for the film's introduction with Stearns and the two actors, which also was broadcast for nationwide consumption. While waiting for the intro to start, a fake advertisement for Nivola's sensei character's karate services took over the screen. The ad paid homage to silly 1980s and '90s marketing materials, where the sensei is seen in fighting mode throwing a punch with a cross image of the sensei's face looking intimidated. The sales-y text in the ad reads: "Do you feel weak? Are you afraid of everything? Karate is the answer! Call 1-855-Y-KARATE."
If you actually call the number, you get a hilarious interactive recording with Nivola as the sensei.
After filmmaker Alex Ross Perry introduced Stearns and the cast to the audience, hilarity ensued. Stearns and Perry gave each other an awkward hug, couldn't decide how to pass each other the mic and couldn't come with an organic way to set up the movie. As disastrous as it may sound, it was the perfect prelude to get the audience in sync with the film's humor.
The Art of Self-Defense is a film that throws all the right punches. It has just about everything you could want out of a cinematic experience. It's unpredictable, offbeat like a Yorgos Lanthimos movie (The Lobster, The Killing of a Sacred Deer) and laugh-out-loud funny. But it's most impressive facet is what's written between the lines. It manages to explore the pressures society puts on us — and the pressure we put on ourselves. There's plenty to talk about and lots to enjoy.
The Art of Self-Defense opens on July 19.