The Mitchells vs. the Machines
Available Friday to stream on Netflix.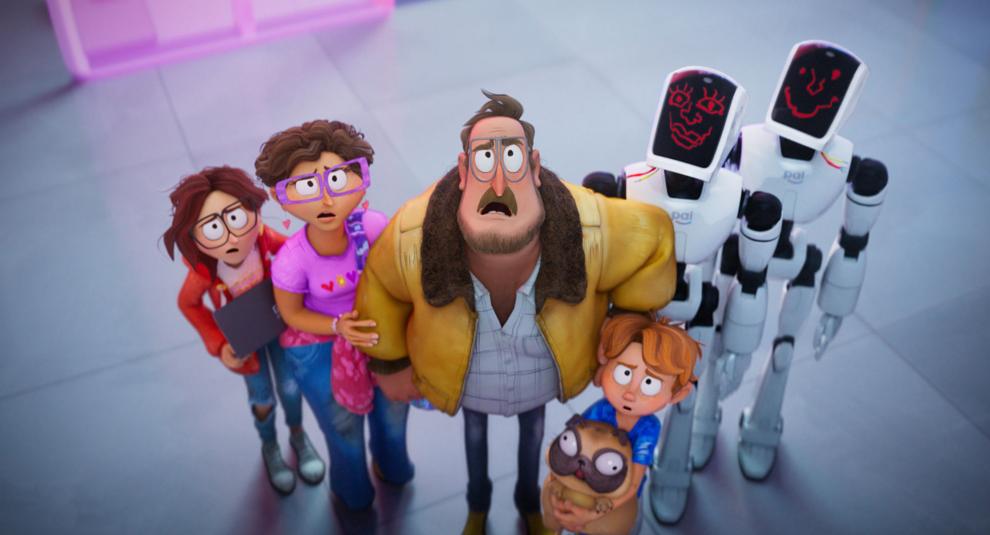 Please, please, please start your weekend off right with an animated movie that features a two-story-tall, evil Furby exclaiming, "Let the dark harvest begin," before unleashing a laser beam large enough to make the Avengers sweat.
This is the kind of zany, side-splitting humor you'll get in the new Phil Lord-and-Chris Miller-produced film The Mitchells vs. the Machines.
Written and directed with incredible love and pizzazz by Michael Rianda and Jeff Rowe (Gravity Falls series), here's a ball of joy that rolls right into your heart. It mixes stylish animation, real-world issues and fears, and the struggles of a family facing change and growth. You'll laugh throughout, feel it tug at your heartstrings more than once, and want to spread the word about its awesomeness as soon as it's over.
The Mitchells vs. the Machines has a title that pretty much lets you in on what to expect. It's a film that pits a dysfunctional suburban family against a world-threatening robot uprising. Abbi Jacobson, Danny McBride, Maya Rudolph, and Michael Rianda voice the titular Mitchells: Katie, Rick, Linda, and Aaron. Eric Andre portrays Mark Bowman, the head of a tech company whose creations start to go haywire.
'Mitchells vs. the Machines' hits all the right notes
The leader of this digital revolution is PAL (a perfectly cast Olivia Colman), an older A.I. that's upset that its creator is ready to move on with the next hot model in the groundbreaking tech line. (Think: Woody from Toy Story activating sinister mode after Buzz lands on Andy's bed, or a robot embracing the principles of 2001: A Space Odyssey's HAL 9000.)
So, the whole world is going down, and it's up to the last remaining free humans — the Mitchells — to save the Earth.
For movie fans somewhat in touch with the new, TikTok-obsessed world and all its eye-hogging gadgetry, you'll get an extra kick out of this movie. It never stops being clever and fun. Similar to Lord and Miller's Spider-Man: Into the Spider-Verse, it's so infused with style and energy that you won't dare step away. Straight out of the gate, where it throws Snapchat filters over the opening Sony animated graphics, you're hooked. The wall-eyed pug dog named Doug that pops up shortly after might as well be the picture image next to the definition of "delight" in the dictionary.
As hilarious as it all is, especially a pair of wisecracking turned-robots (Fred Armisen and Beck Bennett), it's the father-daughter story at its center that gives the narrative its ultimate value. The family's home videos, beautiful character moments, and one wooden moose figure will turn on the waterworks at full blast.
The Mitchells vs. the Machines is an exciting, comical, and poignant family adventure. Rianda and Rowe impeccably craft unforgettable characters and shape a story told with wit and depth. It's a real treat that you'll want more helpings of.