As the world continues to shift and accommodate the movie industry, a wide range of theatrical and in-home viewing opportunities are still available for cinephiles. This week's entertainment includes streaming flicks, awards contenders, and new studio and indie releases. Browse your options below!
The Little Things (★★★) - Honestly, it's not as riveting to watch a serial killer thriller when David Fincher isn't at the helm. There's a quality that the Mindhunter and Se7en filmmaker brings that cannot be reached by others, even when you're a good director like John Lee Hancock (The Blind Side and The Founder).
After an hour of watching the characters in The Little Things look around rooms, chat about hunches, and take many, many food and coffee breaks, the unmatched caliber of Fincher's storytelling technique becomes abundantly clear in Hancock's latest effort. However, as slow as The Little Things can be at times, the performances are quite explosive, most notably Jared Leto as a suspicious man who may or may not be the serial killer.
Starring Denzel Washington and Rami Malek as a pair of detectives trying to track down a small-town murderer, The Little Things has a commendable narrative beat that hasn't been explored before. It doesn't come into play until all the cards are laid out (and to call it out would spoil the experience).
Some viewers may be disappointed by the story's destination. It's not too far off from the underwhelming feeling that many endured at the close of No Country for Old Men. Although the questions asked at the end of the Coen brothers' award-winning film have a much mightier swing than what's here, The Little Things still has ones to wrestle with, like: How often does this happen? And the answer is where the true terror lies.
Points for an original ending. If only the rest of the film was up to snuff.
Opens Friday at Cinemark 14 and Movie Tavern in Denton, and it will be available to stream on HBO Max.
Nomadland (★★★★½) - Chloe Zhao's patient and tender drama is as comparable as it gets to embarking on a long, meditative bike ride. Combining many of the themes and dramatic thrills of Into the Wild and The Florida Project, the story centers on a free-spirited woman (Frances McDormand) who travels in a van across the American West after losing everything in the recession.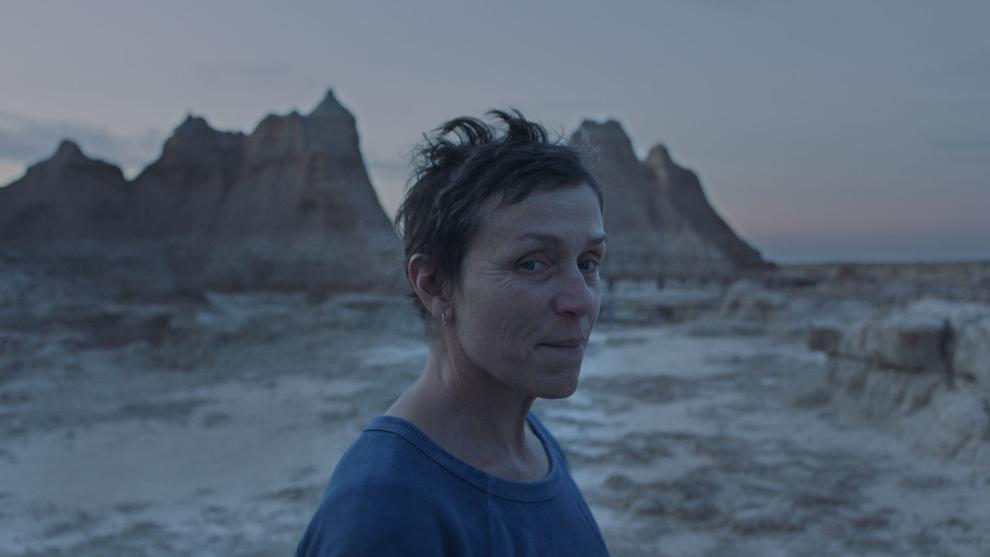 Zhao's film breathes what life is — the intermingled feelings of regret, happiness, depression, community, loss, and all the mess in between. Beautifully carried by McDormand (a performance that's sure to earn her another Oscar nomination), Nomadland presents with love and authenticity a subject matter that society often chooses to ignore, and it teaches us to embrace the world's natural state, with all its ups and downs.
Rated R, 108. Opens Friday at AMC Northpark in Dallas.
Palmer (★★★) - Each year, we get a film that tackles real-world issues in a crowd-pleasing manner. There's nothing wrong with a little predictability and a comfortable presentation when it's a sweet and moving movie like Palmer.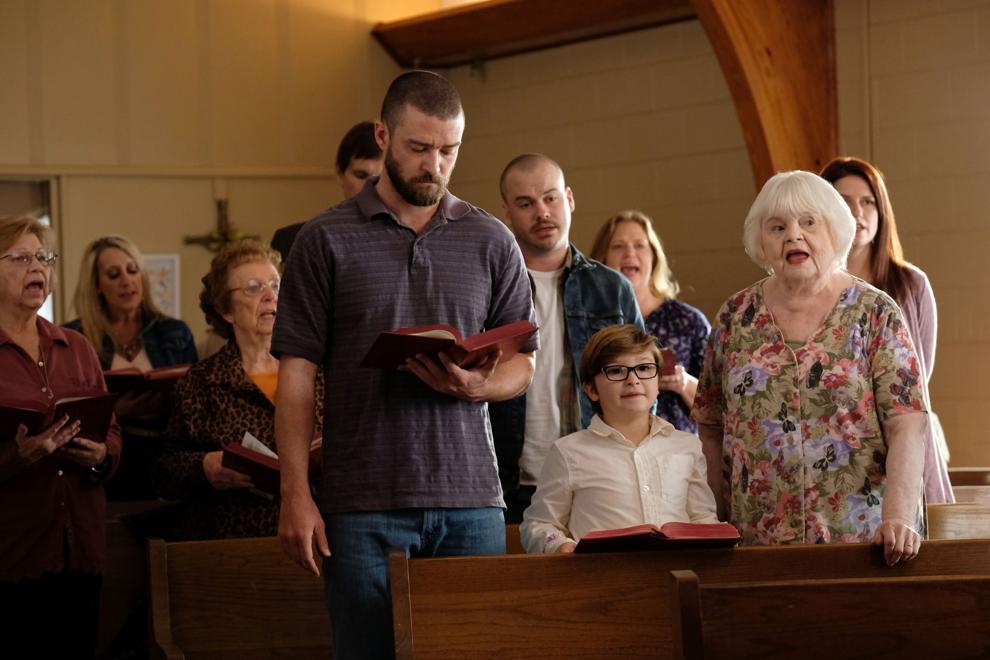 Justin Timberlake is a likable rebel as the titular Palmer, a former high-school football star who returns to his backwater Louisiana hometown after a decade of imprisonment. Palmer moves in with his grandmother (June Squibb) and works to rebuild his life. That's when he unexpectedly begins to care for an adorable, neglected neighbor child (a terrific Ryder Allen).
You'll know how the story will unfold as soon as it starts: a parental figure enters a child's life, they unpack their complexities together, and help save each other (a la Big Daddy, Terminator 2, and A Perfect World). Within its narrow, unambitious, and commercial boundaries, one cannot ignore the film's positivity and overall warm touch. The relationship that transpires between the two primary characters is beautiful, and there are enough dramatic points to win your tears.
Rated R, 110 minutes. Opens Friday at the Angelika Film Center in Dallas and will be available to stream on Apple TV+.
Saint Maud (★★★★) - 2020 was a surprisingly exciting year for horror movies, with titles like His House, The Invisible Man, and Relic giving us plenty to be terrified about. And 2021 is off to a great start with A24's latest fright, Saint Maud.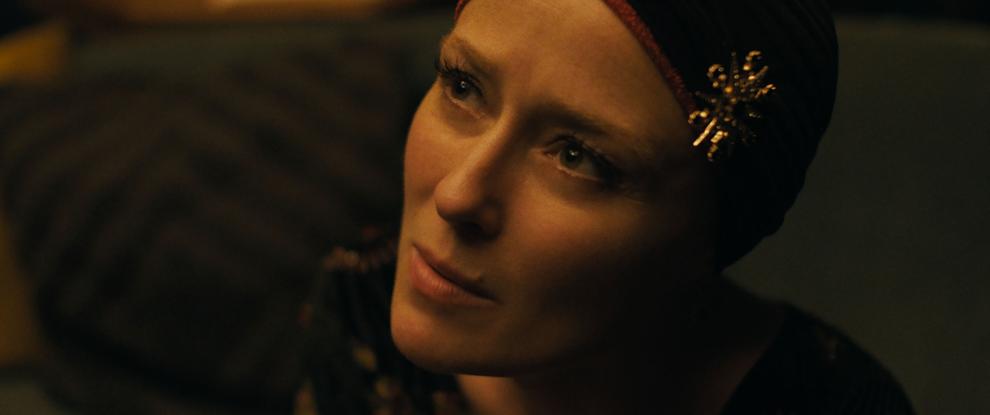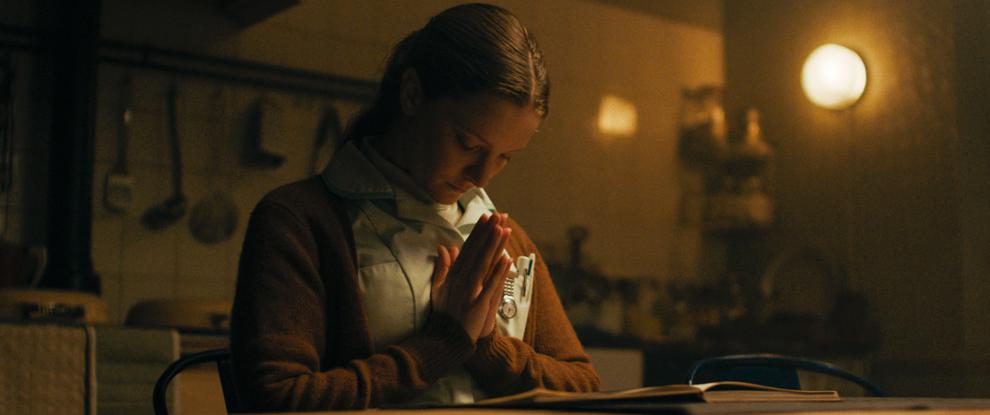 Brought to the screen with feverish imagination by newcomer Rose Glass, Saint Maud is a compelling character study about loneliness taking hold of two women at different stages in their lives. Maud (Morfydd Clark), a recently converted private duty nurse, is going through a crisis of sorts that may or may not involve God speaking to her. She decides to care for and save an embittered former dancer, Amanda (Meryl Streep-look-alike Jennifer Ehle), who's dying from lymphoma.
What follows is a deft, devastating rendering of internal struggles as filtered through a genre lens. The spookier, more surreal moments (primarily seen during the last 15 minutes) don't overpower the social commentary. Glass takes her time, giving her film the look and feel of classic late 1960s or '70s terror (akin to Rosemary's Baby and Carrie). It's its own beast and petrifying cinematic experience.
With Glass' nightmare visuals and Clark's deliciously wicked performance at the center, Saint Maud just may crawl into your soul and make a home there for a good while.
Opens Friday at Cinemark West Plano.