Looking for a scary movie to watch with the kids and family—or a weird horror flick that won't traumatize your children before they head back to school tomorrow? 
Well, depending on the age of your child - and how tired you all are of Hocus Pocus and The Nightmare Before Christmas - LAIKA Studios has two kooky and spooky movies that are very much worth the plunge. And it just so happens that genre home distribution company Shout Factory has recently put them out on deluxe editions. You and your family can enjoy these titles in all their frightful glory while learning more about what it takes to pull off stop-motion animation with its educational and fun disc extras. Who knows, maybe it'll send your children's imaginations running. (It certainly had my four-year-old engaged.)
Head to your nearest Target (or purchase online if you're looking for a horror encore session after today) and snag Coraline and ParaNorman!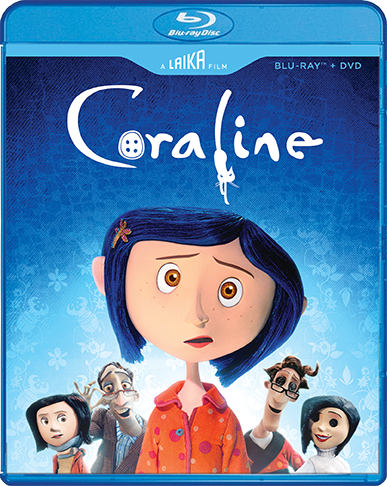 Official story: Coraline Jones (voiced by Dakota Fanning) is bored in her new home until she finds a secret door that leads into a world that's just like her own...but better! But when this fantastical adventure turns dangerous and her "other" mother (Teri Hatcher) tries to keep her forever, Coraline must count on her resourcefulness and bravery to get home.
Review: LAIKA has truly created some of the most beautiful movies, and it all started with 2009's Coraline. Twelve years ago, the stop-motion animation studio crafted a touching (pretty much literally), captivating and extremely creepy first entry. It maintains the gothic quirks of Henry Selick's other great family terror, The Nightmare Before Christmas. So, if your kids can handle that 1993 Disney spook-fest, Coraline should go down relatively easily. Otherwise, I'd say it's better suited for bigger kids. 
A couple of scenes had me making an anxious face throughout my viewing with my son, but I was surprised that it didn't have too much of a scary impact on him. He got lost in the intricate visuals, which is the biggest draw, for sure. The picture image on the new Blu-ray release is crystal clear. This animated world's lighting, colors, and texture dazzles, mostly because it's 100 percent controlled by the filmmakers. 
When you start breaking into the bonus material and see how these storytellers, animators and sculptors shape and shift all of what fills the frame, you'll feel your mind expand and your eyes widen. The idea of them creating stormy environments, where the wind is blowing, and the filmmakers have to move every single part of a character's body, frame by frame, is mesmerizing. It certainly drives up your interest in the material. 
Overall, Coraline is a visually stunning and narratively satisfying animated tale. All these years later, it still manages to give you the creeps, pull you into its experience and fill you with wonder. The voice performances are perfectly cast, especially Keith David as a cat. It's so incredibly ambitious and is not afraid to weird you out. For that alone, I have to give it major props. It's one that my son plans on watching, again and again, so owning it is a must in this household.
NEW Inside LAIKA featurette – discovering the characters of Coraline (featuring never-before-seen test footage)
NEW Inside LAIKA featurette – revisiting the puppets with LAIKA's animation team
NEW character art and concept art photo gallery
Audio commentary with director Henry Selick and composer Bruno Coulais
The making of Coraline
Original featurettes
Deleted scenes
Feature-length storyboards
Art & essay mini-book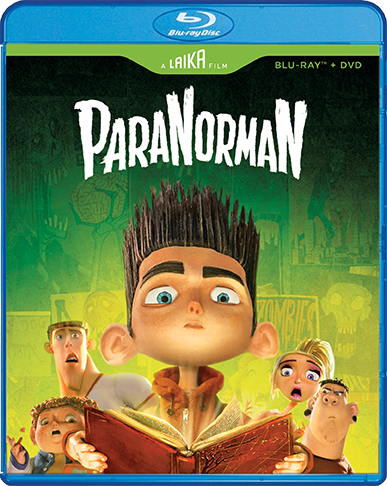 Official story: From the makers of Coraline comes the story of Norman, a boy who must use his ability to see and speak with the dead to save his town from a centuries-old curse. In addition to spooky zombies, he'll also have to take on mysterious ghosts, wily witches, and, worst of all, clueless grown-ups. But this young ghoul whisperer will soon find his paranormal abilities pushed to their otherworldly limits.
Review: Of all of LAIKA's work, ParaNorman might be the best. It's as close as it gets to imagining Peter Jackson's The Frighteners mixed with a healthy serving of The Breakfast Club, which is totally my brew. Between all its well-rendered ghostly creeps and goofball energy, it's an oddly mature film that has a great message for all ages. 
It's that rare breed of kid movie fun that doesn't end with an antic dance-off. (Color me guilty. I still love the Hotel Transylvania movies.) Instead, it offers a sweet and delicate conversation about people's differences, bullying and having compassion. (I wouldn't doubt if the creators of Moana borrowed from it.) 
Flesh-eating zombies and witch curses hardly sound like kid-flavored material, but LAIKA stirs its surprising extremes with a good-natured touch. No blood or violence really appears to raise an eyebrow. Even when death or zombie thrills enter the screen, it's never too much to handle. Situational comedy keeps it all moving entertainingly. The horror movie references are fantastic, too. 
With its smart characters, boasting eye-catching design and timely satiric highlights, ParaNorman is a spooky delight for all ages. How it portrays an awkward child trying to navigate his way in the world is exactly the kind of content I want to place in front of my son over the overstimulated experiences out there. It's just a bonus that it happens to be good and beautiful to look at.
NEW Inside LAIKA featurette – discovering the characters and effects of ParaNorman (featuring never-before-seen test footage)
NEW Inside LAIKA featurette – revisiting the puppets with LAIKA's animation team
NEW Feature-length storyboards
NEW character, concept art and behind-the-scenes photo galleries
Audio commentary with writer/director Chris Butler and co-director Sam Fell
"Peering Through the Veil"
Original featurettes
Art & essay mini-book
ParaNorman also returns to theaters for a one-night-only event on Nov. 16 through Fathom Events. Visit FathomEvents.com for more info and tickets!